A Back-to-School Change for our Family & How I'm Getting Ready for School Lunches (plus Cinnamon-Raisin Quick Bread)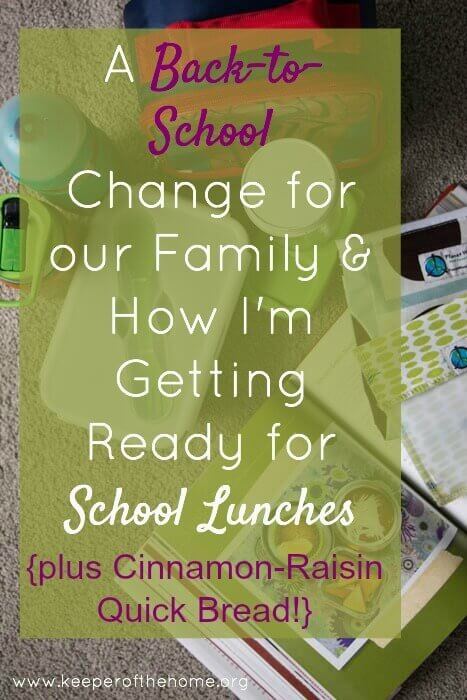 The school year is upon us. And didn't it happen so;fast?;Where did the summer go?;
For our family, this is a novel year.
We're trying out a special program, just for homeschoolers in our area. It's called Innovations, and it means that our two biggest (Abbie, 9 1/2 and Caden, 7 years old) will be attending "school" twice a week.;
In a nutshell, the program functions sort of like small one-room schoolhouse, with a max of 16 kids per class and one teacher. Each child is guided along in interest-driven, "lifestyle of learning" type projects according to their own skill level, current interests, parent's goals, etc. They'll do research, create models or structures, put together presentations for their classmates, write reports, code programs, start businesses, make masterpieces and much more. Sometimes the teacher will find ways to help students collaborate. Other times they'll be on their own, but alongside other children of mixed ages (Gr.1 right up into high school).;
It's an experiment for us, really. They'll have two full days a week in class, then three days home.
For the past five years, we've never had the children in any sort of classroom except for a few brief co-op stints, but since we love the model of the classroom (both the lack of structured curriculum, the interest-driven learning, and the multi-age format together with siblings), we're excited to give it a try.;Johanna will still be 100% at home for Kindergarten, along with the toddler, Kepler
So not only will this shake up our traditional home educating approach, but it means that for the first time ever I'll be making school lunches. I have to confess — it feels a bit bizarre! I'm so used to simply cleaning out the leftovers, making smoothies or sandwiches, setting out fresh fruits and veggies from the fridge, or just scrambling up a pan of eggs.;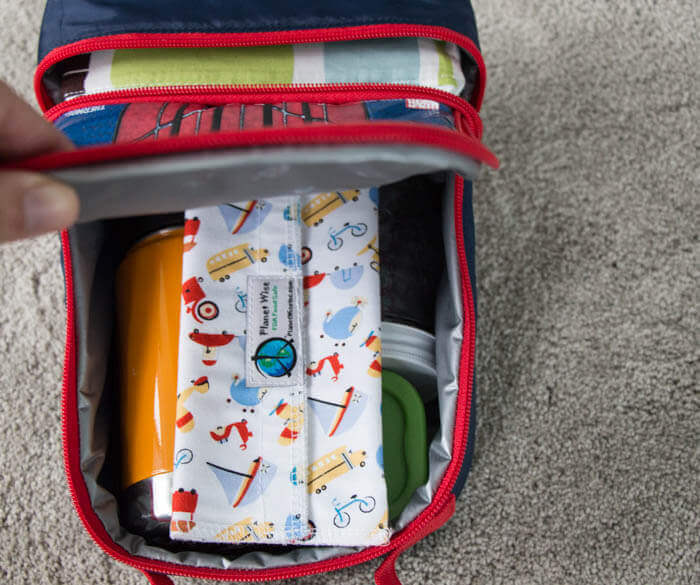 Since we've known that the children would be enrolled in this classroom for about a month now, I've begun to stock up and prepare with bags, containers, bottles, and all the things that will make lunches easier.;
One of my main goals is to keep the waste as minimal as possible. I'm aiming to have a nice collection of reusable bags and containers of various types and sizes, so that we can avoid having to use baggies, plastic wrap, or one-time containers that ultimately end up in the garbage.
My primary reason is because I like to tread lightly and make eco-friendly choices whenever possible, and teach my kids to do the same. A secondary reason is to save money by not buying disposable items. It can make a big difference over the course of a year!
Since we're new to this whole school lunch thing, I'm just beginning to get stocked up on what we need, but here's what we've got so far: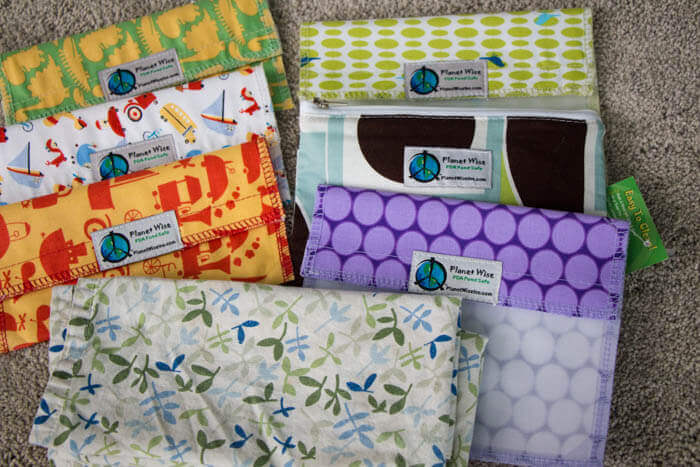 I picked up these awesome Planet Wise sandwich bags and snack bags when they went on discount at Nicki's Diapers. Usually around $6 each, I picked them all up on 50% off, so $2.99 plus free shipping. I did check and there are a few left (click SALE then "Closeout sales!").
The flowered napkins in the front are just cloth napkins that we've had for ages, but I figure they're just fine to send along with them instead of napkins or paper towels. I might see if I can find something a little less flowery, though, for Caden. I'm thinking he might appreciate that ("awww, Mom! Girly napkins, again?").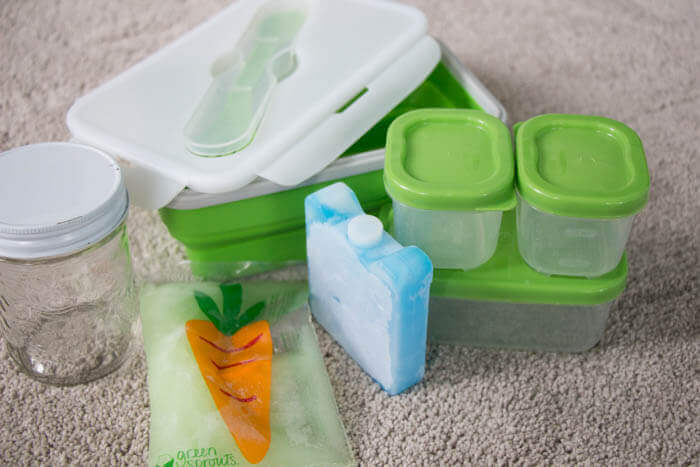 These are some of the containers and ice packs I have so far. The awesome green collapsible container and the cute green ice packs came from Sweetbottoms Baby. I've got plenty of mason jars and they're always handy for food. The blue ice packs and green-lidded plastic containers are just from a local store, and will do until I can get my hands on something else.
Ideally, I'd like to buy some stainless steel containers with lids rather than use plastic. I'm eyeing ones like these or these. I'd also like to get a stainless steel thermos so that the kids can bring a warm dish like soup in the winter.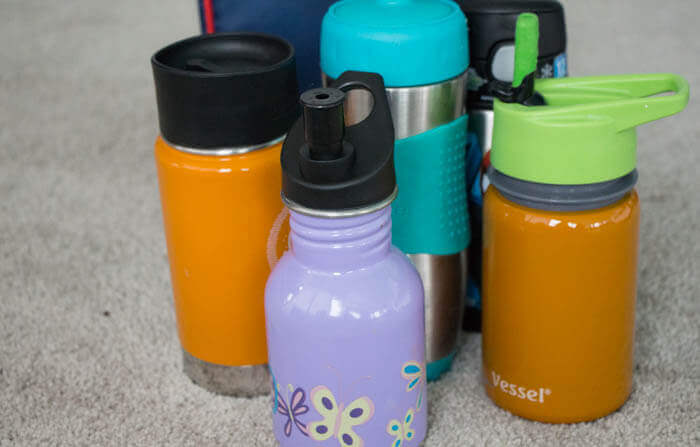 For drinks, we'll stick with stainless steel water bottles (several Kleen Kanteen, one Eco Vessel, one Safe Sporter, etc.). We have lots in our home, this is just a sampling. Our kids mostly drink water and milk anyways (other than smoothies or if I make a special drink on occasion), so no need to buy juice boxes and certainly no need for buying bottles of water.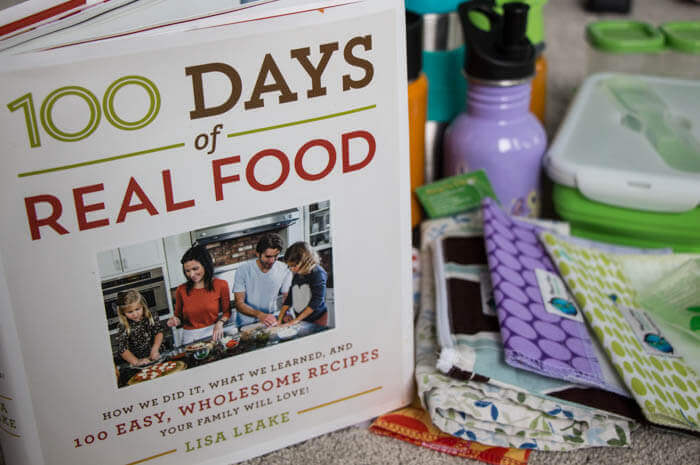 Finding school lunch inspiration
One book that has inspired me is Lisa Leake's new one, 100 Days of Real Food: How We Did It, What We Learned, and 100 Easy, Wholesome Recipes Your Family Will Love.
You may know her from the popular website, also called 100 Days of Real Food. She shares a lot about making healthy, real food lunches for kids, how to pack them, tips for what to put in them, and more.
In her new cookbook, she also gives some fantastic recipes, packing ideas, and then a really useful chart for how to put together school lunches. She suggests that you combine a main dish (usually has protein) with a produce item (fruit or veg) with a snack (often nuts or whole grains), and a whole bunch of ideas to choose from to make your own mix-and-match combinations. I think her chart will really help to take some of the thinking out of lunch prep!

Image by Carrie Vitt
Here is one of Lisa's many school lunch examples – and below is the recipe for the Cinnamon-Raisin Quick Bread (used with permission from her book) that you see made into a sandwich with cream cheese in this lunch example. I know my kids will love this and her recommendation to use it for french toast sounds amazing.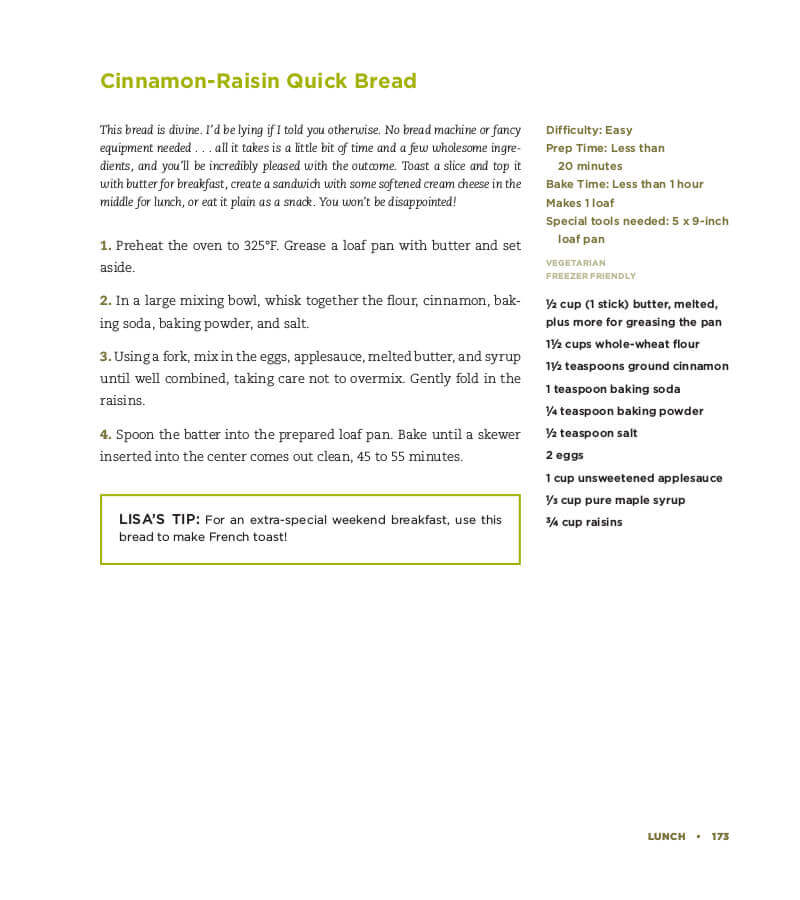 I know that many you are still in the early part of your journey into eating real food as a family (which is awesome, by the way — I am a huge fan of making slow and steady changes, and I am so happy that you're here!).
Believe me when I say I've read a LOT of healthy recipe books over the past 10 years, and 100 Days of Real Food stands out clearly as one of the best, and has definitely become a new go-to recommendation for me to those who need a starting place. She walks you through all of the concepts and important information, offers a ton of tips for making it easier to eat real food instead of processed or convenience foods, and then offers 100 recipes to help you make it happen.
One of my favorite things about Lisa's approach to food is that it's very simple, unfussy and family-friendly. She uses shortcuts (that still fit within her real food "rules") to make things easier and faster. I even found a delicious homemade tomato sauce recipe that was perfect for using up the oodles of fresh tomatoes coming out of my garden last week, and it was such a quick and simple way to preserve them for the winter, without canning them.
Looking for more back-to-school recipes inspiration? Check these out:
How do you do school lunches? I'd love to know which containers you like best, and what foods or combinations work best for your kids!
Disclosure: This post contains affiliate links.