A Day in the Life: Andrea {Stay-at-Home Mom to Teenagers}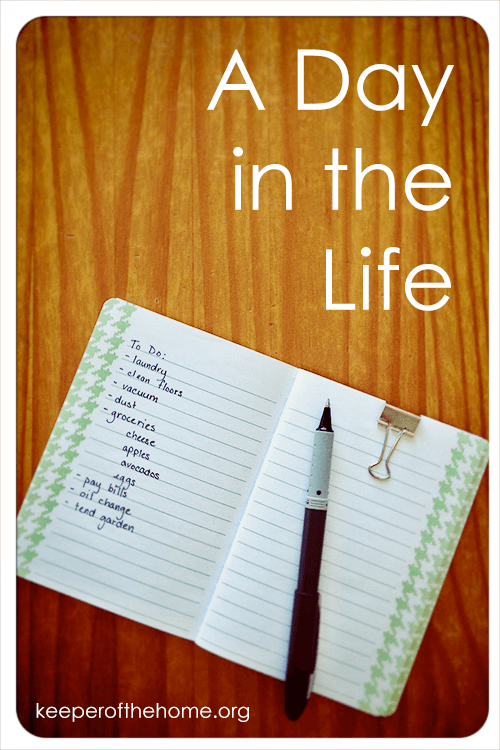 By Andrea Green, Contributing Writer
I captured our day in the life on the first day of school for my girls. This first day of school is extra special in our house because my oldest daughter is a senior this year.
Just typing that brings me to tears. My goal for this year is to soak up every moment I have with both girls at home.
So this is how our day goes:
5:45 a.m.;
I'm out of bed and head straight to the coffee pot
.
Armed with coffee I head into the girls' room and let the dogs out of their crates and turn them loose in the backyard.
5:55 a.m.
I hear the first girl get in the shower so I whip them up breakfast: French toast, cantaloupe and milk.
6:20 a.m.
Breakfast is finished, so I start on the lunches.
;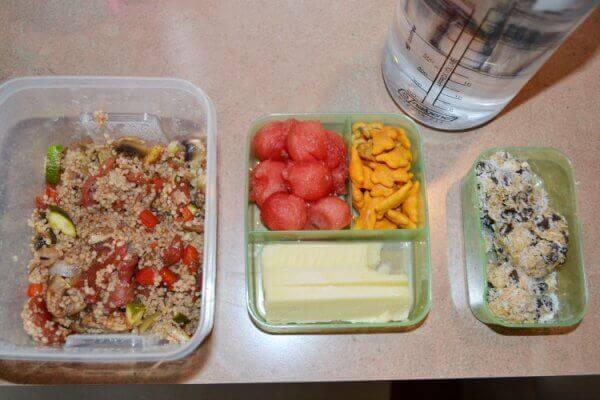 Couscous with roasted vegetables, watermelon, cheese slices and a little Annie's Homegrown snack mix
.
I also pack up Healthy No-Bake Energy Balls and a large water bottle.
Both girls do sports after school and so are gone from 7:30 a.m. to 5:30 p.m. I find the energy balls help give them the energy they need.
What this picture doesn't tell you:
Although my girls enjoyed the couscous salad, they both report back that everyone at the lunch table thought their lunch was "weird." Although these comments always get under my skin, I'm grateful to have two girls who will eat more than a PB&J sandwich.
On the other hand, everyone wants to know if they will share their energy balls.
7:00 a.m.
I take the girls' first day of school picture realizing that next year I'll only have one sweet face smiling at me from the front porch step.
;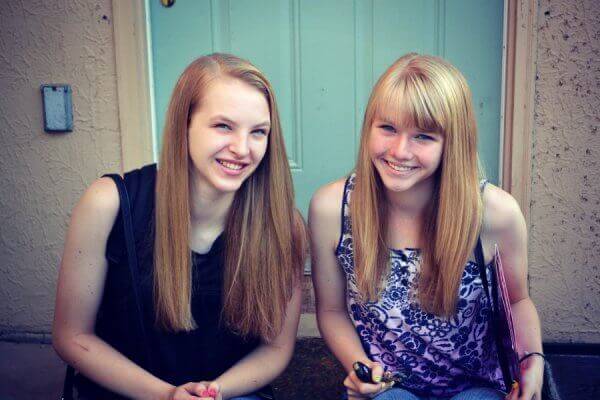 I take a deep breath and savor this moment before watching them drive off to school.
7:05 a.m.
It's time to take care of my two other charges.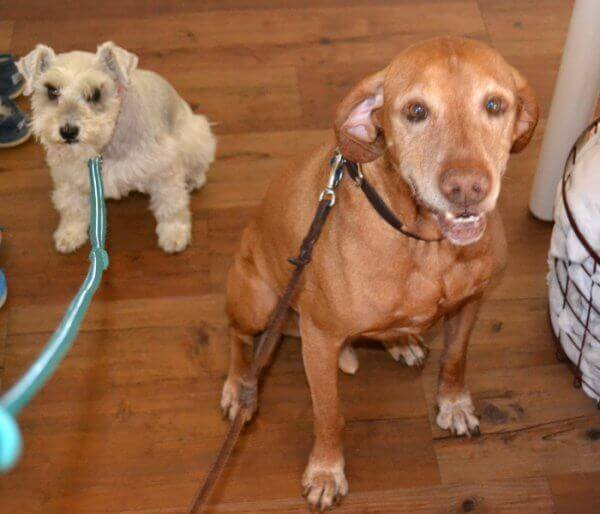 Meet Nina and Copper. The girls worked at odd jobs around the house to "earn" Copper's adoption fee.
What this picture doesn't tell you:
Nina came into our lives 8 months ago. In December we purchased my husband's grandmother's house when she moved into assisted living.
Once our GG (nickname for great-grandmother) moved, she could no longer care for her dog. We now have Nina part-time and bring her to GG's to visit her for several hours everyday.
7:40 a.m.
The dogs and I are back from our walk and I realize I have 20 minutes to shower and get dressed. Looks like it is going to be a ponytail day!
8:00 a.m.
;The workmen start to show up at the house.
The house we purchased is a one bedroom. We are trying to make it a 3 bedroom. This is not for the faint of heart.
8:30 a.m.
After a 30-minute meeting and walk-through with the contractor, I need to load Nina up in the car and deliver her to GG.
9:10 a.m.
On my way home from GG's, I hit the local grocery store.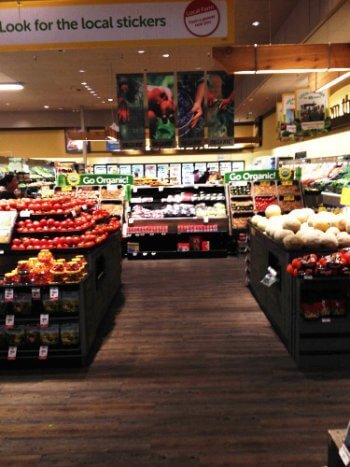 What this picture doesn't tell you:
I'm in a white shirt. Apparently when I lifted Nina out of the car, she had muddy paws. Not realizing this, I am now cruising the grocery store with mud streaks all over my front and I have no idea.
Also, what you don't see: I am in a white and gray striped skirt.
I don't realize it, but I am cruising around the store with a dryer sheet stuck to my booty.
Mud streaks down the front. Dryer sheet stuck to the back.
It isn't until I get home that I catch my reflection in the front hall mirror and see the mud streaks.
The same mirror reveals to me the dryer sheet.
It's just a suggestion, but if you don't have one, you might want to get a mirror
. It'll point these things out to you even if no one at the grocery store has the heart to.
10:00 a.m.
I'm taking tennis lessons! Knowing that my years as a full-time mom are quickly coming to an end, I've decided to learn how to play tennis. It's something I've always wanted to do, and I'm finally doing it!
11:15 a.m.
I'm back home AND I'M ALONE IN THE HOUSE FOR THE FIRST TIME IN THREE MONTHS!!!!
Since I have my website, I decide to sit down and answer e-mails, work on finding deals, and indulge in a bit of Facebook!
1:00 p.m.
Knowing that the whole family will be going different directions tonight, I put my P.F. Chang's Lettuce Wrap Copycat Recipe in the Crockpot. It's a family favorite and everyone will be able to help themselves.
1:45 p.m.
My oldest daughter gets home from school. She is only taking 5 AP classes this year, so she gets out early.
We decide to get her school supply shopping done.

3:00 p.m.
School supply shopping is done for one kiddo, and she is off to her cross country practice.
3:15 p.m.
Nina needs to be picked up from her visit with GG.

3:45 p.m.
I realize I never bought milk at the grocery store so I quickly go back to pick up a gallon.
4:00 p.m.
Rice is my favorite side dish to go with our lettuce wraps, so I decide to put some in the rice cooker.
We are out. I then remember that just yesterday I received this text: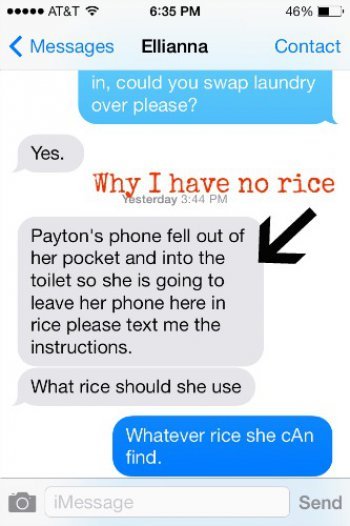 Let's review. I've been to the grocery store twice today. Not going back a third for rice. We'll go without.
5:00 p.m.
I decide to catch the last half hour of volleyball practice since I need to pick up my youngest daughter.
5:45 p.m.
Everyone is home… for 15 minutes. My husband takes my oldest daughter shoe shopping for new cross country shoes.
My youngest daughter and I sit down to eat.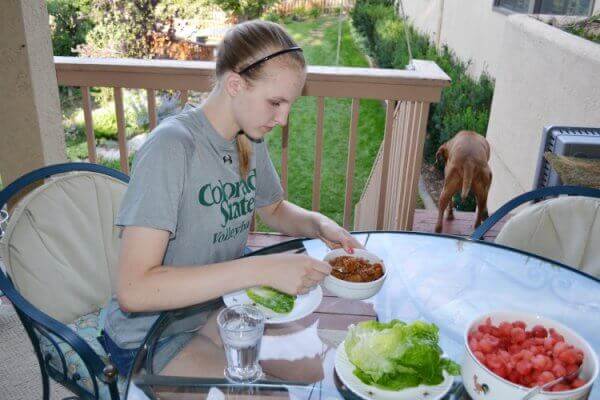 Thanks to the renovations, we have no place to eat inside. We are enjoying eating on the patio.
7:00 p.m.
Kiddo number 2 needs her school supplies so we are back at the office supply store.
7:45 p.m.
Don't be jealous, but my man does dishes.

8:00 p.m.
My favorite spot and how you'll find me most evenings.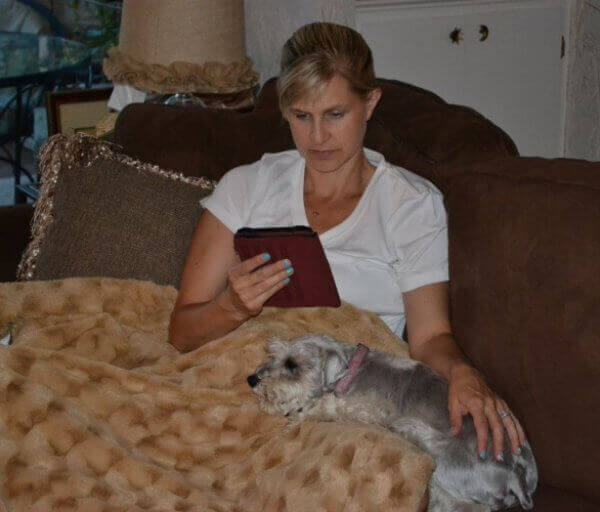 Do you have teens? Do you find it is hard to get everyone home for dinner at the same time?
Disclosure: This post contains affiliate links. When you buy through our links, we earn a small commission, which helps to keep this site going so that we can continue to offer free and useful content, so thanks!