A Totally Overwhelmed Day In The Life: Jessica {Mom of three: 5, 3, and 2-week-old}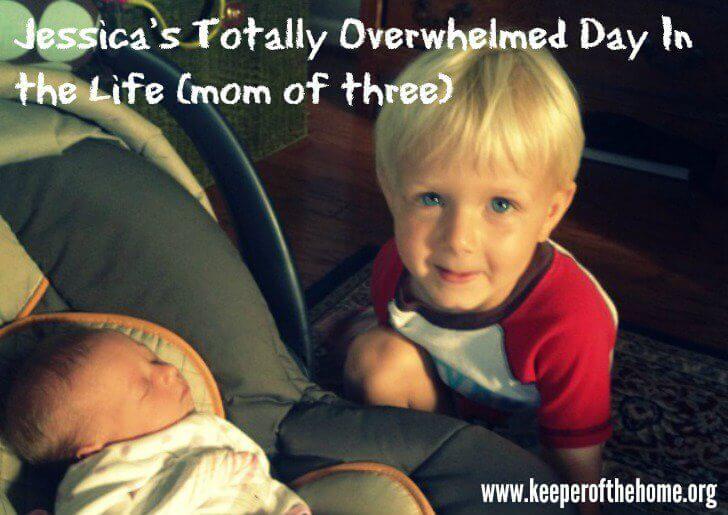 By Jessica Smartt, Contributing Writer
If you read my title, you might be thinking:;of course;it's an overwhelming day. She has a 2-week-old baby!! Was she thinking it would be otherwise!?
And you're right! When Stephanie told us that September would be the "day in the life" posts again, I thought about taking the month off, as I knew I'd have a little one. But I remembered how much I enjoyed Erin's post from a few years ago with a newborn. I figured my post would be at least slightly entertaining, and besides, I liked the idea of having something to look back on and remember from these chaotic days.
I guess I wasn't prepared for exactly how chaotic things would feel, and that it would be the kind of day I wasn't sure I wanted to broadcast to an audience!
As I said, I have a 2-week old baby. We are thrilled to the moon and back to have sweet Ellie Marie .. .her birthday was an incredibly crazy day. We're so glad to have her home with us. But of course,;she's a baby, so our nights and days are busy.
Start of the day
2:30 a.m.
My "day" started in the early morning hours for a 2:30 a.m. feeding.
5:30 a.m.
The sweetie woke again and, despite my best snuggling and swaddling
efforts, decided she was wide awake. (Why are they always cute and perky at night?!)
7:30 a.m.
I nurse her again and just when the two of us finally settle into sleep, I hear the boys waking up. Even in my exhaustion, I have to smile as I hear the older one ask, "Ty, what'd ya dream about last night?" So cute.
My husband (the kind soul) went to manage the two boys (who are 5;and 3) so I could sleep a little longer.
8:00 a.m.
I shower while the boys watch "Wild Kratts
" (one of the few shows we let our kids watch). TV is not a usual part of our mornings, but since having Ellie, it has allowed me some margin in my mornings, and I've decided I'm okay with it for a time. Before the shower I grab a fistful of Cheerios so I don't faint from hunger. Breastfeeding makes me starving.
8:20 a.m.
I'm out of the shower, and Ellie is still sleeping, so I start making breakfast. It's oatmeal day. Peaches and raisins for the boys, and berries and cinnamon for me. Those of us with food allergies have a side of all-natural sausage, and the rest have eggs.
While I'm stirring oatmeal, frying eggs, filling water bottles, and making hubby's sandwich, I hear Ellie starting to fuss. Fortunately the 3-year-old comes over to soothe her.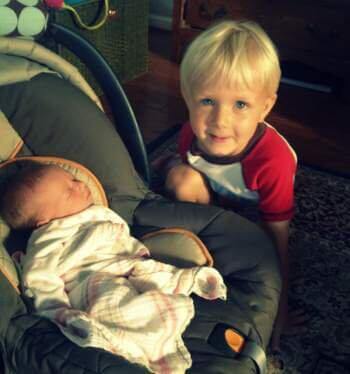 Moments like these are joy to my sleep-deprived soul.
8:45 a.m.
I'm blow-drying my hair when I see a slug crawling across the bathroom floor. Yes, disgusting. But also, a teaching moment.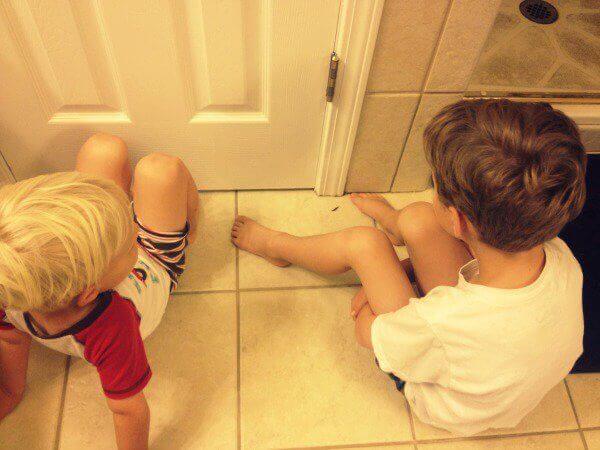 The boys examine him squish him a little too hard. When we're done in the bathroom, I tidy up a little, stopping briefly to chat with the boys about discussing their body parts in public. (Sigh.)
9:00 a.m.
My sister (who lives in our neighborhood) arrives with her kids for a play date. I am so grateful to have my sisters – both of them – and some wonderful friends in our neighborhood. Really makes the days better!
Usually the play time is a smattering of semi-unsupervised rough and tumble boy-play, but today my sister is ambitious, and brought along the supplies for cornstarch painting.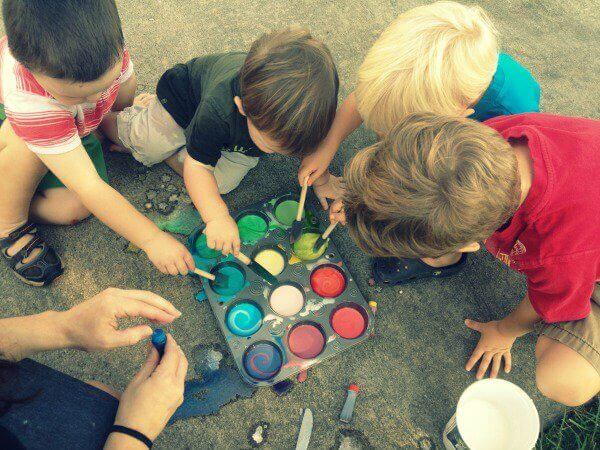 The kids are thoroughly entertained for a good 23 minutes. Not bad, right?
9:45 a.m.
The baby is hungry again, so I nurse her outside, in the driveway. I wouldn't have ever done that with my first, but now? Why not.
10:00 a.m.
A family friend drops by with some games her older kids don't use anymore. Do we want to look through them? The kids rifle through old Yahtzee
pieces on the sidewalk while the moms chat.
10:45 a.m.
Our company is gone, and I'm starving again. I feel like I eat three lunches and two dinners while I'm nursing. The baby's starting to fuss, and the boys are starting to wrestle, but I manage to shovel in a few spoonfuls of chicken salad on pita chips before things get completely crazy.
11:00 a.m.
I can't believe it's only 11:00. I'm already daydreaming about nap time and the chance to close my eyes for a bit. The 3-year-old has been beckoning me to see his little project upstairs, so I go admire the "bed" he's created with his stuffed animals.
Meanwhile the baby, who seems to have her days and nights thoroughly confused, has settled into a nice deep sleep. The boys and I work on a puzzle, then Snap Circuits, and then we all play a game of "Trouble
," which goes nicely for about seventeen minutes, and then erupts in pushing and tears. Ironic, no?

12:00 p.m.
Around noon, I start making lunches.
As the boys start eating, I hear the baby awake … with a dirty diaper. I change it and put her in the Ergo carrier
. Suddenly, I can't stand the the sticky, crumbly, gritty mess on the kitchen floor for another second. With the baby in the wrap, I sweep and mop the floor.
When I finish, the baby has fallen asleep in the wrap, and the 3-year-old is having a meltdown. Seems like a good breaking point for the whole house to enjoy some rest time. Besides, my eyes are starting to feel that deep, glazed-over sort of fatigue.
I put the sleeping baby down and take the boys upstairs. We read two stories, they collect their stuffed "friends" (all 874 of them) and head to their respective spaces to rest. The older one won't sleep but entertains himself with lots of independent "rest time" activities.
I'm heading back downstairs for – finally – the chance to close my eyes. My feet land on the final step when I hear little Ellie waking up. Big sigh.
I feed her. I change her. I shush her. She's crying. Repeat, times about 4.5. She's still crying.
Okay, I'll be honest. We're both crying. Me, sort of begging the baby and God for just 20;minutes of rest. I try her in all the various sleep-inducing baby swings and devices we have, to no luck.
Finally, I give up hope that either of us are going to nap. It's been about an hour, so Sam, the oldest, is done his rest time. I call him downstairs, and we work on some coloring pages. After about 30;minutes, my younger son's rest is over, too.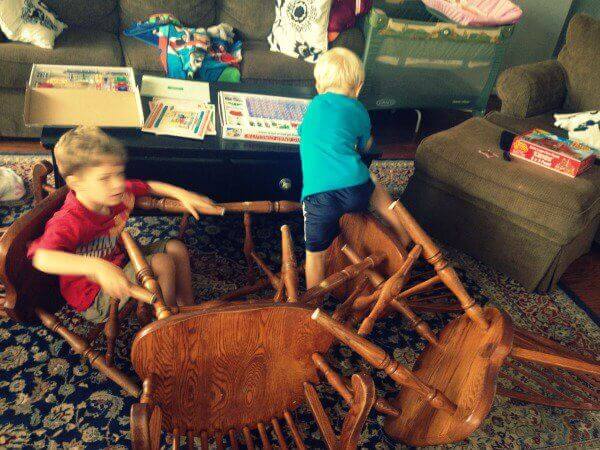 The boys start making a "fort" with the kitchen chairs. It's all cute and fun until one of them informs me that a chair rail has splintered apart.
And then I'm suddenly thankful for two things about my sweet husband: One, that he does not get all upset about things like broken chairs, and two, that he can fix about anything with super glue. I make a mental note to put the broken chair pieces away before they're used as daggers.
As I clean up some of the pieces, I notice that ants have invaded the trash can. "It's ant day!" the kids announce. They get way too excited about mounds of indoor ants.
2:30 p.m.
By now the boys are hungry, so they enjoy a snack of bacon and homemade granola bars. Not a typical snack, but sort of seems fitting for the day we're having.
After snack, Sam asks me for the 157th time today if he can watch "Mighty Machines
," the one with a tow truck. My resolve has weakened, and I agree. Yes, if you're counting, this is the second time in six hours my kids are watching TV. But if the baby stays asleep, maybe I can close my eyes for just a few seconds…
I put the show on, lay my head on a sofa pillow, and just like clockwork, the baby stirs and starts to cry.
At this point it almost seems cruel. I pick her up to feed her, and the tears start falling. Call it the hormones, or the lack of sleep, or whatever, but I'm starting to feel really overwhelmed. I call my mom. She commiserates with me, and we decide a cup of coffee would make the afternoon a little brighter.
3:00 p.m.
The doorbell rings. It's my aunt, who's in town and wants to meet the baby. I answer the door looking like the stereotypical mom of a newborn: I'm crying, holding a snotty wad of toilet paper, balancing a nursing baby under a receiving blanket, and the TV's blaring a kids' show in the background. We share a good laugh.
What a help my aunt is: rocking the baby to sleep, chatting with the two boys, telling me that, why, no, I don't look like a garbage truck just ran me over four times.
But I'll be honest – the rest of the day is kind of a blur. My notes sort of fade off, and I think I stopped taking pictures.
The boys spent the afternoon playing out in the sandbox, my aunt held the baby, and I …;well, I'm not exactly sure what I was doing. Probably wandering around the house like a sleep-deprived zombie, pretending to clean house.
4:30 p.m.
A;friend arrived with dinner: a gorgeous salad with grilled chicken and berries. Bless the dear souls who bring meals for new mothers. I never want to forget how helpful it is. (I even came up with a list of suggestions for my friends. How helpful of me, right?!)

6:00 p.m.
The heavens opened, and my husband arrived home. I honestly cannot remember if we all ate together, or if we had already eaten before he got there. But I do remember shortly after, I said to him, "I'm going to faint if I don't lay down for a little." And – what a real man I married – he snuggled our daughter in the driveway while admiring the boys' fishing tackle boxes.
After 20;minutes, I feel a little more like a human and less like a dish rag. We bathe the boys and put them to bed, I nurse the baby, and then I ask my husband if he minds if I take a little walk around the neighborhood for some fresh air. Of course, he agrees.
As I walk around, I'm grateful for the solitude, the perfect weather, and the chance to stretch my legs.
As I think about my day, I'm humbled that something so wonderful as a newborn baby can stretch me and stress me so much. It seems every time I log onto Facebook or listen to the news, I see so many serious, tragic, difficult things happening.
It's so humbling that my "breaking points" are silly things like missed naps and toddler tantrums.
Still, the truth remains – His strength is made perfect in our weakness.
It sounds like a cliche phrase. But it's not to me. It's very real. It was made very real during those difficult moments of Ellie's birth a few weeks ago. And I find it to be still true in these days of new-motherhood, when I wonder how in the world I'll balance the fatigue and the hormones and manage to home school and somehow still enjoy this stage…His strength is right there!
How do you deal with fatigue as a mom?
Disclosure: This post contains affiliate links. When you buy through our links, we earn a small commission, which helps to keep this site going so that we can continue to offer free and useful content, so thanks!