10 Foods to Include in Your Summer Meals (And Fruit Salad with Poppy Seed Dressing Recipe)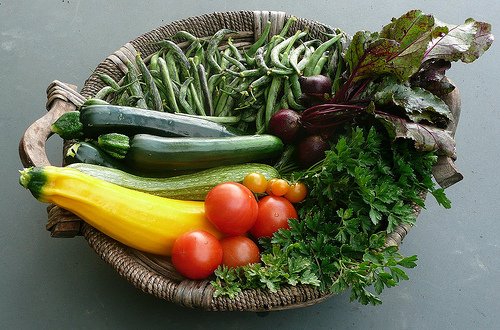 In the summer time, there is an abundance of fresh food available, no matter where you are. At farmer's markets and even local grocery stores, you'll find locally-grown fresh produce in all varieties. Some of these you may not be familiar with. Time to try some new foods, and celebrate interesting ways to prepare familiar ones!
Additionally, summer lends itself to some unique preparation methods. I always crave fresh, simple, and often cool dishes in the summer, like salads, grilled meats, and ice cream desserts. It's no wonder – who wants to eat a heavy, hot meal when it's so hot outside?
Try these ten foods this summer, or try a new way to prepare an old favorite. You'll love it!
1) Tomatoes
Tomatoes are an old standby. Chances are you're familiar with them in all sorts of dishes. In the summer time, though, when they're fresh off the vine, they're delicious in a way that tomatoes never are otherwise. Try stuffing them, creating fresh salsas, adding them to sandwiches and salads, or just eating them plain! Try Bacon, Spinach and Tomato Pasta from my new book, Simply Summer.
2) Zucchini
Zucchini are pretty common too, so chances are you've had them. Try adding them to salads, creating an "au gratin" dish, adding them to stir-frys, or grating them to make some zucchini bread! These are also delicious when combined with tomatoes (in my opinion).
3) Peaches
I only learned that peaches could be grown in my area (Ohio) a couple years ago. Prior to that, I thought they only grew in the south! Fresh peaches off the trees are unbelievably sweet and delicious and nothing like the grocery store variety. Enjoy them fresh, make them into ice cream, try peach tea, or try peach upside-down cake from Simply Summer.
4) Swiss Chard
This is admittedly not my favorite, but a lot of people love it. Swiss chard is an extremely high-producing leafy green. The leaves are large and taste like a cross between lettuce and spinach. Try serving them in salads or cooking them in bacon grease. They're easy to grow, too, so you could even plant your own if you like it!
5) Basswood Honey
This is a harder-to-find variety of honey, made from basswood trees (hence the name). It's a very light honey with a slightly minty flavor. It goes great in summer iced tea drinks and more. If you can find some, snap it up! Make black or green tea with a fresh mint leaf and a bit of this honey for an awesome summer treat.
6) Okra
Okra is a traditional southern food, so you may have had it already. It's often added to gumbo, or fried. If you haven't had it, try cooking it in one of these ways. You can add it to stir-frys or mix with sausage and rice for a unique Cajun-style dish.
7) Kohlrabi
This is a pretty weird vegetable, but a lot of CSAs are offering it now. It can be sliced or chopped and cooked, or served in salads. It's supposed to be tender and delicious, although I admit to being a bit afraid of it. I hear my father-in-law loves it!
8) Garlic scapes
These are a curious, curly green vegetable. They are the tops of garlic plants and have a very mild garlic flavor. I was first introduced to these just a couple years ago, and indeed, they've really only been on the market for a few years. They can be sliced and added to stir-frys, baked potatoes, or used in place of chives or green onions in many dishes.
9) Fresh herbs
Chances are, you usually cook with dried herbs. Why not? It's convenient, and they last a long time. Fresh herbs need to be used quickly or they go bad. But they're so flavorful and they're easy to obtain in the summer. Toss some fresh thyme into soup or ground meat; try some fresh sage with a chicken dish. Use fresh cilantro in salsa. Fresh dill goes great with fish, or to make dill pickles! Bunches of herbs are pretty cheap, so buy one or two and give it a shot!
10) Sugar snap peas
These are tender, young pea pods that are sweet and great in stir-frys. I only just tried them this year! Try adding them to salads or even just eating for a snack. Look for other unique recipes too!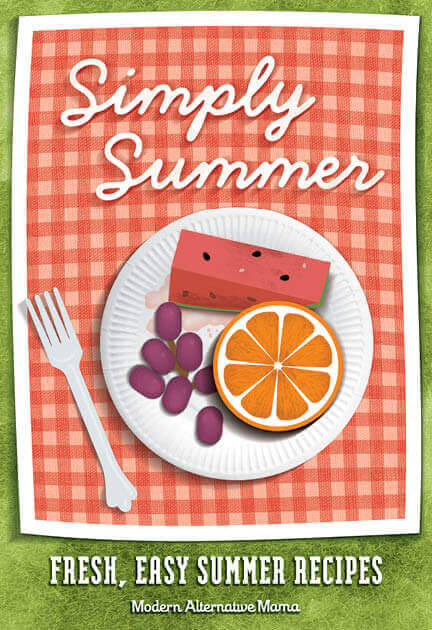 Simply Summer Cookbook
These are some awesome summer foods! I love to eat these fresh foods in the summer…which is one reason I wrote Simply Summer, my new cookbook that was released yesterday. You can get 35% off through tonight with code SUMMER35.  If you miss that, you can get 20% off through Friday, 6/22 with code SIMPLY20.
You can also participate in a fun contest!  If you make the recipe below, send comments on how you liked it and pictures to contest@modernalternativemama.com for a chance to win a free copy of the book! 10 people will win, and winners will be announced and emailed on July 5th.
Today I want to share with you one recipe from this cookbook: Fruit Salad with Poppy Seed Dressing. It's a sweet, fresh and versatile treat. Try the basswood honey in this recipe; it's amazing!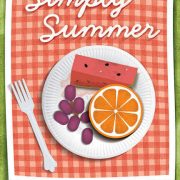 Print Recipe
Fruit Salad with Poppy Seed Dressing Recipe
Ingredients
Instructions
Choose whatever fruit you like that is in season – these fruits are suggestions.  Try raspberries, sour cherries, pineapples, bananas, papayas, mangoes, etc. if these grow in your area.  Use about 3 lbs. of fruit, wash it, and cut it into bite-sized pieces.

Put your fruit in a large bowl, preferably glass or wood.

In a small saucepan over low heat, mix the honey, water, and lemon juice.  Heat very gently, just until honey and water is slightly warm and combined.  Add the lemon juice, vanilla, and poppy seeds and stir until combined.  This is a great project for small children to help with!

Pour the dressing over your fruit and toss gently to combine.  Serve immediately.
What summer ingredient are you most looking forward to?