Perfect Grain-Free Pumpkin Bars
With just one taste, I'm sure your family will be amazed at just how delicious grain-free baking can be! With its aromatic fall-inspired spices paired with rich pumpkin flavor and light, moist texture, this easy-to-make pumpkin bar recipe is a delight to each of the senses.
Developing healthy and delicious recipes the whole family will enjoy – whether they're living gluten-free or not – is a real passion of mine. It's the reason I spent an entire year writing and photographing my first published cookbook, Everyday Grain-Free Baking.
Grain-Free Pumpkin Bars
As you may recall, last fall when I was neck deep in recipe development, I shared a little behind-the-scenes look at my life as a cookbook author and food blogger. I'm excited to now be able to share this exclusive pumpkin bar recipe with you, as just one tasty example of this labor of love.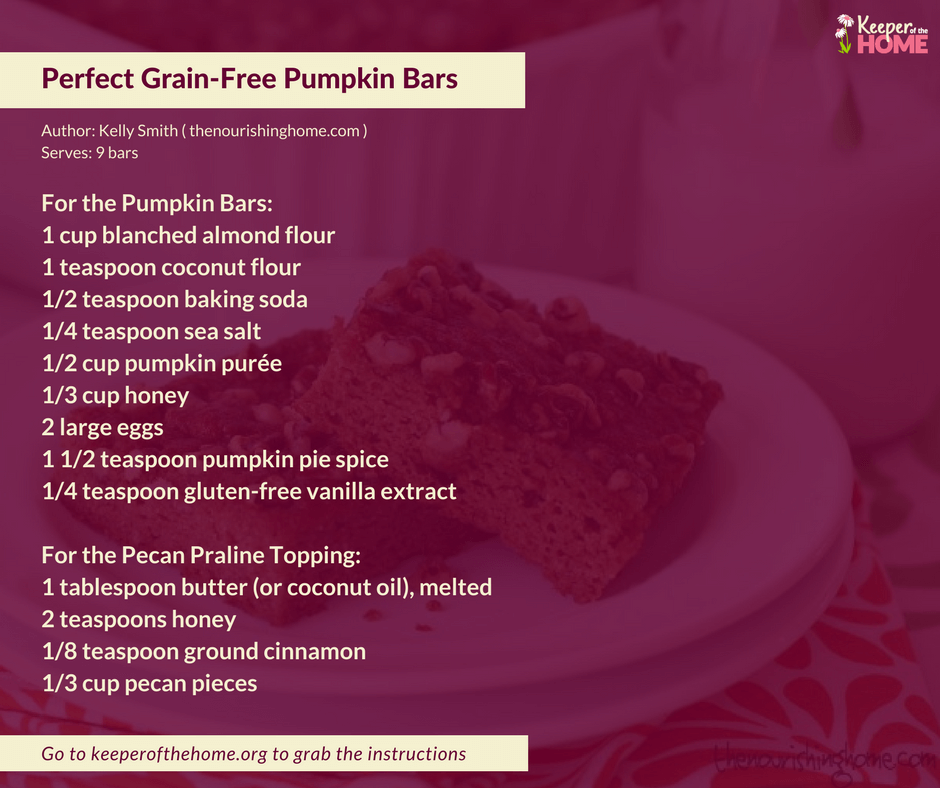 Print Recipe
Grain-Free Pumpkin Bars Recipe
Instructions
Preheat oven to 350°F. Lightly oil an 8x8-inch baking dish; set aside.

For the pumpkin bars: In a small bowl, combine the almond flour, coconut flour, baking soda, and salt. Set aside.

In a large mixing bowl, add the pumpkin, honey, eggs, pumpkin pie spice, and vanilla. Whisk until well combined.

Add the dry ingredients to the wet and continue whisking until thoroughly combined. Add the batter to the prepared baking dish and use an offset spatula to even out the top.

For the pecan topping: In a small bowl, whisk together the melted butter (or coconut oil), honey and cinnamon. Add the pecan pieces and toss well to coat.

Sprinkle the pecan topping evenly across the top of the pumpkin bar batter, making sure to gently press it into the batter a bit.

Bake for 22-25 minutes, until a toothpick inserted into the center comes out clean. Allow to cool before cutting into bars. Enjoy!
Notes
Recipe reprinted with permission from Everyday Grain-Free Baking
By the way, if you enjoy pumpkin as much as we do, you'll definitely want to pin our special Healthy Pumpkin Recipes Round-Up to refer to throughout the fall season! From savory soups and side dishes to decadent desserts and treats, you'll discover more than 30 delicious, gluten-free, grain-free, real food pumpkin recipes perfect for autumn entertaining.