Gingerbread Fruitcake: A Holiday Tradition Improved
If there's one running joke at any Christmas celebration, it's fruitcake. I personally happen to love fruitcake, complete with the shiny oddly colored faux-fruits. But once you know what kind of strange alterations those fruits have been through, it tends to take all the joy out of it.
Here's one of my favorite recipes for a delicious alternative to white flour, processed sugar, and fake fruit. The spice from the gingerbread is the perfect complement to the sweet fruit pieces and crunchy nuts.
Just a note: this cake is not a sweet treat as written. This recipe is often used for breakfast at our house, and it does not contain much sugar. If you'd like to up the sugar, you're welcome to do so, and I would increase it if you're planning on giving it as gifts to others who are not used to less sugar.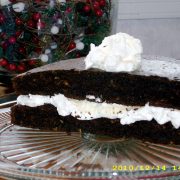 Print Recipe
Gingerbread Fruitcake Recipe
Ingredients
3

cups

whole wheat pastry flour

1

cup

buttermilk

1/2

cup

melted butter

3

teaspoons

ground cinnamon

3

teaspoons

ground ginger

2

teaspoons

dry mustard

2

teaspoon

freshly ground black pepper

2

teaspoons

ground allspice

1 1/2

teaspoons

sea salt

1/2

cup

Rapadura or Sucanat

1

teaspoon

baking soda

1 1/2

cups

unsulphured molasses

2

large eggs

beaten

1

T

vanilla extract

3

cups

dried unsulphured fruit

finely chopped - apricots, cherries, cranberries, raisins, figs, dates, apples

1

cup

chopped nuts

it's best if they have been soaked and dehydrated first - I usually use a mix of walnuts and pecans
Instructions
The night before you'd like to make the cake, combine:
3 cups whole wheat pastry flour

1 cup buttermilk

1/2 cup melted butter
Let sit on the counter, covered tightly overnight.
Preheat the oven to 350 degrees

Butter and flour 2, 10-inch cake pans (I like to use cacao powder to flour the pans - it adds a nice color and flavor when finished)

Mix the eggs, Rapadura, molasses, and vanilla together until creamy.

Gradually add the soaked flour mixture, beating until combined.

Add the rest of the ingredients, and stir until just blended. If you don't have extra muscle, an electric mixer might be best for this part![/cap]

Gently fold in the dried fruit and nuts.

Pour the batter into prepared pans and bake for about 35-40 minutes, or until a toothpick inserted in the middle comes out clean.

Place pan on rack and let cool.

Transfer cake to serving plate. (The plate on top, and flip is my method of choice. 🙂 )

Top with whipped cream, and a sprinkle of cinnamon and serve warm or cold. We also like to serve this plain, with warm vanilla pudding alongside.
Enjoy!
;
Here are some substitutions for those who might need them:
Coconut milk + 1 tablespoon lemon juice for the buttermilk; coconut oil for the butter; 1/2 c. applesauce for the eggs; spelt or your favorite gluten-free blend for the wheat flour;  1/2 cup maple syrup or honey for the Rapadura.
You can also bake these as muffins, which is one of my favorite ways to make these. It makes for quick breakfasts, desserts, or (who are we kidding), snacks! Reduce the baking time to 15-20 minutes, and enjoy warm. The above recipe will make enough for 24 muffins.
What are some holiday traditions that you have improved to make healthier this year?