The Magic of Making Things Yourself {Plus a 5-Minute Salt Scrub for Tired Feet}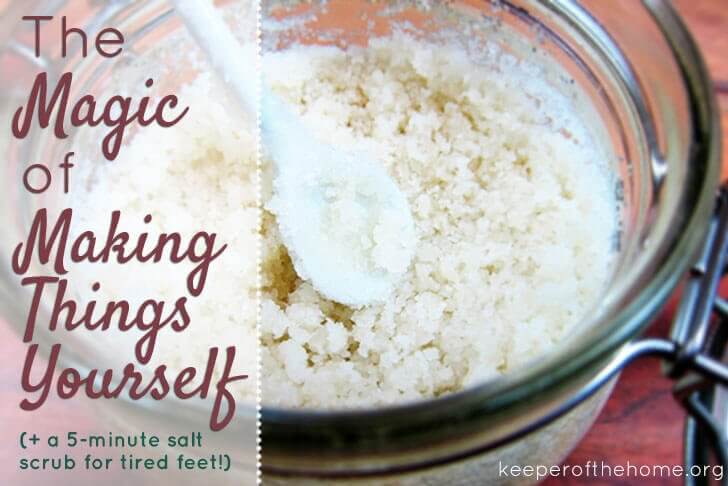 "Hi, my name is Stephanie and I like to make things that normal people just buy from the store."
I'm not sure at what point in my natural living journey I became a "make-it-myself" junkie. The first time that you create a product you would otherwise have purchased, and then marvel at how awesome (and cheap and natural and easy) what you just made is, I think that's when the magic (and then, the addiction) begins.
Being on the road this year, I have far less opportunities to make homemade products than I usually would. I can't always find the right ingredients, I sometimes lack the tools I need, and more often than not, I'm lacking in the time and energy, because living in new cultures just saps a lot out of you (much as it's a wonderful and enriching experience).
This week, however, I was in the mood for some magic. It had been too long and the kitchen messer-upper in me was feeling restless.
I find there's something satisfying and soul-soothing about being a creator, whether it's penning words to paper, making my own deodorant, kneading and baking fresh bread, or putting seeds into the soil to watch them grow.
What to make, what to make
If you get around the internet much (or Pinterest, heaven help me), you'll realize that there is more to make yourself than you could ever possibly dream of doing.
The biggest thing for me right now was knowing that I could find recipes with simple ingredients, to suit my needs. I came up with two projects that fit the bill (both from ebooks that are included in The Ultimate Homemaking eBook Bundle that's available right now), double checked that their ingredients would be readily available, and set to work at making:
Classic Mayonnaise from Restocking the Pantry
Basic Salt Scrub from Simple Scrubs to Make & Give
We've been buying mayo so far this year, even though I prefer to make it, because I don't usually have any sort of mixer/hand blender/food processor or even whisk available to me. This particular kitchen has a stick blender, and I rejoiced.
The salt scrub is for my feet. Since we don't have a car while traveling, we take public transportation and we walk. A lot. I only have two pairs of shoes, one a closed toe sandal, and one pair of flip-flops. My feet were getting very rough and needed a bit of TLC.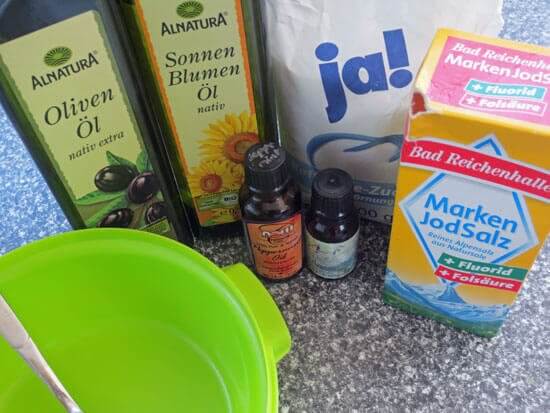 5-Minute Foot Scrub for Tired Tootsies
I love making scrubs. I used to think that these were expensive and luxurious, something that I could never really buy or have around. Since learning how completely easy they are, they're one of my favorite things to make for myself, or for gifts.
Here's what you need for this recipe from Simple Scrubs to Make and Give:
1 cup salt (you can use sea salt or even plain table salt if that's all you have– I used a combination of table salt and some white sugar, because there wasn't quite enough salt)
1/4 cup oils (olive oil and sunflower oil were what I found easily at the store- other oils you could use include sweet almond oil, jojoba, grapeseed, etc.)
About 10 drops essential oils (optional, but nice). I chose peppermint and eucalyptus, because I wanted something really refreshing.
Method (taken from the book) :
Add the salt to the bowl, then pour the oil on top.
Mix it thoroughly.
If it's too dry, add a bit more oil. If it's too wet, increase the salt little by little. You want it to feel a bit oily, because this moisturizes the skin, but not so goopy or liquidy that you can't easily scoop it up and rub it on without making a mess.
Add your essential oils, and mix again.
That's it! It literally took me 5 minutes from start to finish.
Then, I got to do this…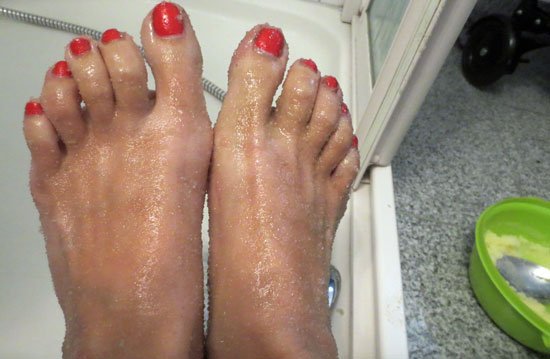 And my feet went from this BEFORE picture, to the much softer (not to mention cleaner) AFTER picture…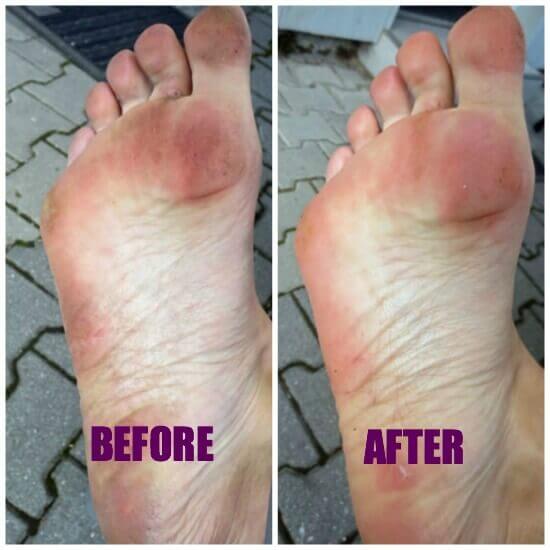 Seriously, the things I do for blogging. Showing you my dirty feet? *blush*
I will say, though, that my feet felt so much better and smoother after using the scrub. I made enough to use for the next couple days, each time I take a shower, and my feet are very grateful.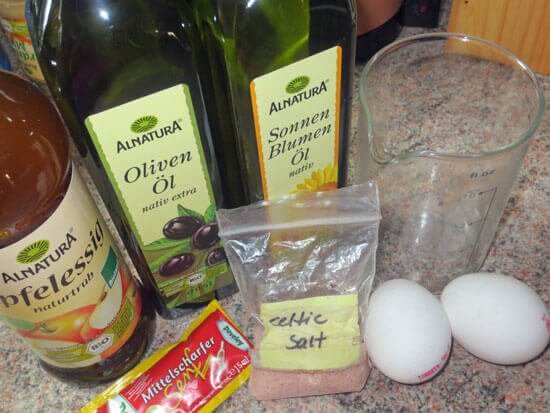 Mayonnaise from scratch
Next, I moved on to mayonnaise.
My basic ingredients were:
egg yolks
a blend of olive oil and sunflower oil
sea salt
dijon mustard
apple cider vinegar
Stacy will actually be sharing a simple and delicious mayonnaise recipe with you in just over a week, so I'll leave the details to her, but essentially with mayo you combine your ingredients with a blender or in a food processor, except the oil. Then continue to mix as you slowly pour in the oil, allowing time for the mixture to emulsify (thicken). That's it!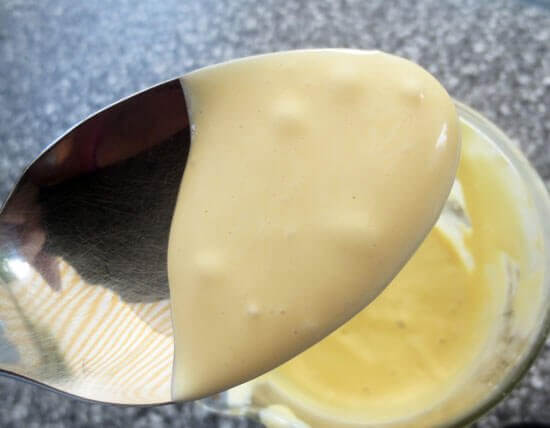 Again, another 5 minute project, and voila. Healthy, homemade mayo to spread on our sandwiches.
Do you love making things yourself?
Note- This sale has now ended. Hopefully we'll be doing it again next year! 🙂
Besides the two books that I mentioned in this post, the Ultimate Homemaking eBook Bundle (available this week only!) is bursting with books that will inspire and satisfy the creator in you:
One Bite at  a Time: 52 Projects for Making Life Simpler (various home projects)
Not a DIY Diva (simple home decor)
Clean Enough: Simple Solutions for the Overwhelmed Homemaker (natural cleaning recipes)
Wholesome Mixes (easy-to-use mixes for your kitchen, or to give as gifts)
Real Food Kids (homemade fun for your kids- my daughter ADORES this!)
Just Making Ice Cream (this one is obvious, right? Yum!)
First Bites (homemade baby food)
My Buttered Life: Summer Edition (sunscreen, after-sun lotion, tan enhancer, bug repellant, foot protector bar)
Festive Traditions (real food holiday favorites, like eggnog, spicy nuts, and cranberry sauce)
Holiday Gifts & Mixes in a Jar (simple and healthy recipes specifically for Christmas giving)
Flourishing Spring (boredom busters for kids, meals and snacks, and gifts)
Family Camping Handbook (delicious real food anywhere you go)
Truth in the Tinsel (ornament crafts and activities to inspire with the real meaning of Christmas)
Healthy Homemaking (baby steps towards homemade food, simple cleaning and beauty, and reducing waste)
The Cottage Mama's DIY Guide (cleaning, beauty and body, natural remedies, and lots more!)
Reuse, Refresh, Repurpose (soo many great ideas for giving new life to old clothes)
You Can Do This! The First Five Steps to a Real Food Kitchen (Laura will have you making healthy, from-scratch food in no time)
You can see a full list of the ebooks that are included here.
Not to mention, there are a few bonuses that come with the bundle (there are actually 10 altogether) which are also awesome for those who love things homemade:
Cultures for Health. One of either a FREE heirloom sourdough starter OR a yogurt starter– both so easy and delicious to make yourself – read more about sourdough and yogurt-making here)
Wheatgrass Kits. Get a 12-pack of culinary herb seeds for FREE! Anybody can grow herbs, even if you've only got pots on your patio.
Plan to Eat. 3-months to use their completely customizable meal planning software, so that you can put more homemade food on the table.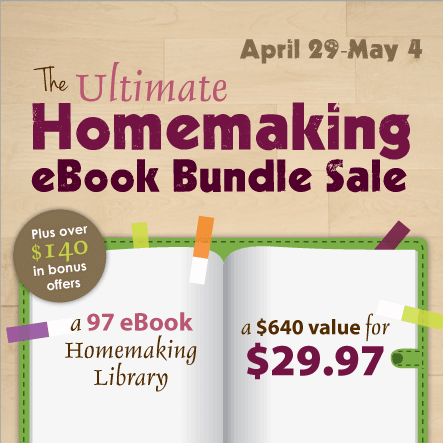 There are just 4 days left to grab your own Ultimate Homemaking eBook Bundle— if you know you want to get it, don't wait!
Tonight, I read this comment below from a reader who purchased a bundle already, and it made me smile.
Here's what Sara said:
I am so excited about this bundle! I've been working since our oldest (3) was born while my husband went back to school after being laid off. He is now working on getting into his new career field and this month we are starting to live off of the average entry level salary. God willing he finds a job soon, I'll go from working mama to SAH mama (and feel a little overwhelmed). I purchased the bundle yesterday and started organizing all 97 e-books based on topic.

There were quite a few I already noticed don't really apply to our current stage, but for now I'll hold on to them and see what I may find I need over the next year. I can't begin expressing the peace of mind I have with so many resources, covering so many topics, that are now at my finger tips when we make the switch!
This is exactly the point of the bundle– giving you resources to inspire and equip you. Which of us mamas doesn't need some extra help to make life a little easier? 
Do you love creating and making things yourself? What are your favorite homemade items?
Top photo by Berlin