Living Simply Saturday: Simple Yet Substantial Small-Space Schooling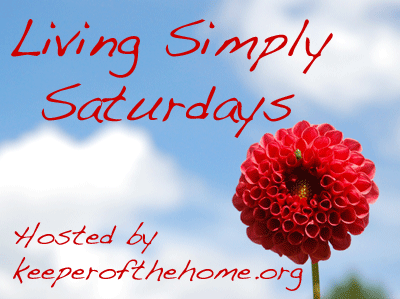 **I'm interrupting my series on From Clutter to Clarity, because I thought this guest post by Kate just fit so perfectly into this carnival. I'll be back to Chapter 9 next week, promise!**
Our family lives in a 1000-square foot house. We have 4 children whom we homeschool. Do you see the problem?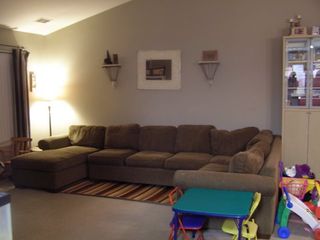 Actually, I say that it is a problem, but I really don't mean it.
After 5 years of homeschooling, we've learned to make the most of our
small space by schooling simply, yet substantially. Space just isn't
much of an issue for us because when we really need a new space for
something, we always find a way somehow.
Our oldest daughter is 9 and working through 4th grade currently.
Then we have a 4 and 3 year old who are unofficially "preschoolers." To
that fun mix, add in a 21 month old who MUST do everything her brother
and sisters do. My husband and I have always strived to provide equal
learning opportunities and private spaces for our children.
It has become a little more difficult as our oldest has grown
though. Her schooling used to take place at the breakfast bar between
our kitchen and great room. However, her work began to get harder and
require more concentration at the same time that her brother and
sisters began getting louder and more active. We decided at the
beginning of this school year to find a new way. We had to be fair to
all of the kids and give them adequate space for their own activities.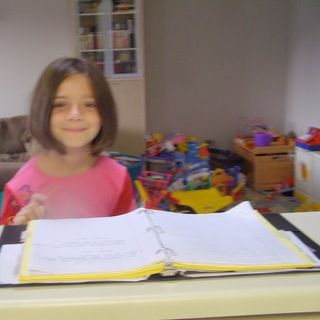 My husband and I re-evaluated our home to find the best space to provide
our oldest with the quiet she so desperately needed while studying.
Even though we had always tried to keep our bedroom as our little
sanctuary, we knew what had to be done. So we cleared out a corner in
our bedroom and purchased a nice desk from Salvation Army. We set our
daughter up with own private schooling corner. All of her books are at
her fingertips. She has the option to close the door when needed. Yet
she knows I'm always within earshot and available whenever she needs
me. We had to adjust our attitudes in order for this to work, but
fortunately, our simple approach to life made this very easy.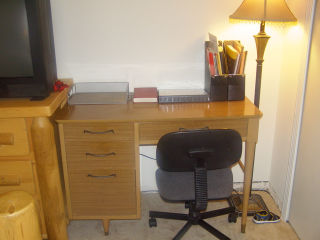 Here are some other ways we keep schooling in a small space simple.
We think outside of the box.
We quickly made the decision to give up a corner of our bedroom because
it made sense. But beyond that, we're always looking for creative ways
to make the most use of our space. We also remember that school doesn't necessarily equal tons of textbooks, workbooks, notebooks and other paraphernalia.
We're not duplicating a public school classroom. Sure,
I sometimes dream of a large classroom with desks for myself and all
the children. Then I come back to reality. We're homeschoolers. We
don't need to replicate a school classroom in our home. Even if we did,
I'm sure it would never get used because we like to read on the couch,
or take our art lessons outside. Our kiddie table is a great spot for
the younger children to sit and "do school."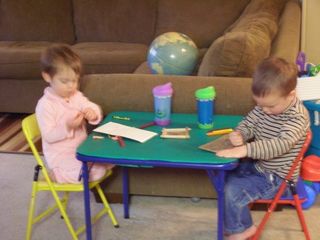 We take advantage of double-duty furniture. A cabinet
doubles as decoration and storage space for the younger children's
school belongings and our eldest's craft and book storage. Bookshelves
hold stuffed animals on lower shelves and books on the top.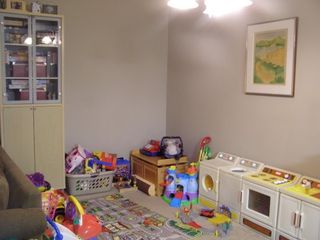 We do our best to provide an overall environment of learning.
Learning does not only occur in a formal setting. The natural curiosity of children means they are always learning, so we worry less about having room for all of the standard school things and more about
having room, toys, books, paper and crayons to explore with.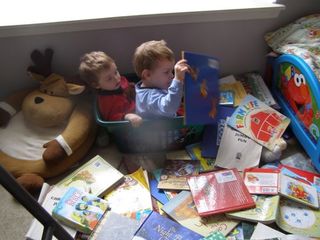 Kate is a happy wife and stay-at-home,
homeschooling mother of four children, ages 9, 4, 3, and 1 1/2. When
not cooking from scratch, preparing lesson plans, wiping noses, folding
an unending heap of laundry, or changing diapers, Kate spends her time
writing and blogging. She maintains two personal blogs, A Simple Walk and Cooking During Stolen Moments, as well as co-founding Happy To Be At Home.