What On Earth Do You Do With 97 eBooks?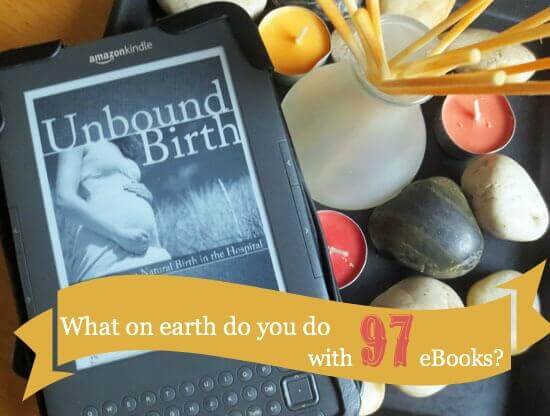 I was hesitant back when I bought my very first eBook, and even more so when my husband encouraged me to purchase a Kindle a couple years back.
The feeling of holding a book, its pages beneath my fingers, being able to flip from section to section, and all of those tangibles that make a book a "book" had me questioning whether eBooks were really something I would ever come to appreciate in the same manner.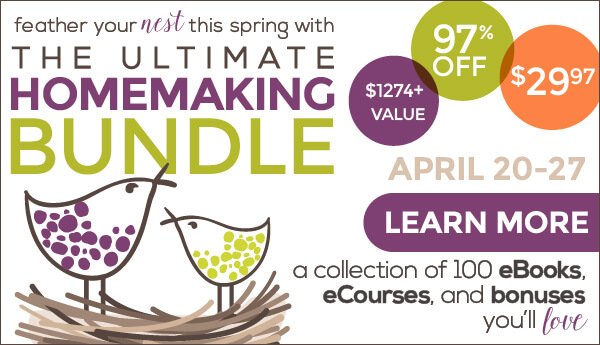 Note: This post is from last year, but the brand new Ultimate Homemaking Bundle is here, with a totally fresh collection of books and bonuses!! This year's bundle has 84 digital resources, including ebooks, ecourses, printable packs and audio files. All of the things I wrote below about ebooks completely still apply, so read on…
Some of you may be feeling the same way when you look at The Ultimate Homemaking eBook Bundle sale that I announced yesterday and you're thinking "But what on earth would I even do with 97 eBooks???".
Seeing as I'm one of the organizers of this sale, that should tell you that over the years I've become a big fan of eBooks, which I definitely have!
Allow me to share with you why eBooks have become my books of choice, why I almost prefer PDF files over regular Kindle files (despite owning a Kindle), and how I would approach such a large and potentially overwhelming amount of resources in a bundle like this one…
Why I love ebooks
They cut down on clutter. I'm a bit of a book-a-holic, so having a library of books on my small and lightweight Kindle is so much nicer than having a large shelf of books somewhere in the house.
They're cheaper. Ebooks are almost always cheaper than their paperback version, plus I never have to pay shipping for them.
They make it easy to bring multiple books when I go places, without the weight and bulk. Obviously this is key for us this year, while traveling. But even before we began to travel, I loved the convenience of having a whole bunch of books in one small device when I would take a planning or personal retreat day, or even for when I was going to be sitting in an office waiting for an appointment. It's nice to have a selection of books to choose from no matter where you are!
They're available instantly. There are times when I find a book that I really need or want to read, and not having to wait to have it shipped or wait until I have time to go to a bookstore is huge for me. I can buy it right then and there, from my home, even late at night, and have the file instantly ready for me to read. Just call me a fan of 21st century technology.
They've allowed more writers to get their fabulous content out there. It's no secret that landing a traditional publishing contract is hard, and it's often more an issue of who you know, rather than how great your ideas or writing is. Self-publishing through ebooks does have its downfalls (yes, there are some authors who don't put in the effort and their books are inferior in quality). Most self-publishers, however, pay attention to detail, work very hard to craft their book and make it just right, have excellent writing, and are able to share tutorials, recipes, and ideas that may not have made it into a full-length, traditionally published book, but are valuable in their own right. I'm thrilled to be able to get truly useful, practical content on specialty topics that I'm interested in, for lower prices than if I bought paperbacks or hard covers from a bookstore.
Curious about how to keep all of your eBook files organized and easy to find? Erin gives a great tutorial here.
Why I love PDF files
One comment that I hear frequently about eBook bundles is that the files are PDFs, not specific Kindle or Nook files, and that's a turn off for some people.
While I do understand that sentiment as a Kindle owner myself, because it's true that some PDFs are simply not as easy to read on an eReader, here are a few reasons why PDF files are still usually my preferred format:
They're printable. You can't print from a Kindle or Nook file, at least not easily. When you're talking about recipes, or books that have printable resources in them (chore charts, personal planners, etc.) this is a huge deal.
They can still go on my Kindle. It's very easy to transfer a PDF to your Kindle. Even though the formatting or font size isn't always perfect, most PDF eBooks that I own are definitely still readable on my Kindle.
I can ALSO read them on the computer. With a PDF, I have the option of whether I want to read on my Kindle or on my computer. This is a file type that gives me more flexibility.
You don't have to have an eReader device to read a PDF. For those who don't own such a device yet, you can still freely read PDF files, either through your computer's Preview program, through Adobe Acrobat, or by downloading a free eReader software (these are available for Mac and PC- just google it).
They're ideal for viewing images. For something like cooking a new recipe, or trying out a tutorial for a homemade product (like lotion or lip balm, for example), I love being able to see large, full color photos. Most images look terrible on the small eReader screens, especially if you have a black and white eInk screen.This gives me some of the benefit that I would get from a hard copy version of the book, but still with the convenience of it being on my computer instead.
They save me from printing out a recipe and wasting paper until I know for sure that it's really a recipe worth printing. I can pull up recipes on my computer, put the laptop near me on the counter, and easily read as I cook or prepare something. Once I know I truly like a recipe, then I can decide to print it out and store it in a binder.
They're easy to navigate through. Though I love reading on my Kindle, it isn't very useful for books that you want to use as more of a reference, and be able to flip from one section to another. For example, I bought the eBook version of Trim Healthy Mama about 6 weeks ago. I purposefully chose the PDF version, rather than the Kindle file. The reason is that I have the file loaded on my Kindle in PDF format, and I can use this to just sit there and read straight the book, but it's super inconvenient if there's a particular recipe or chapter that I want to look at. Having the PDF on my computer means that finding a page or recipe is a snap, and then I can view it in large print for easy viewing while cooking.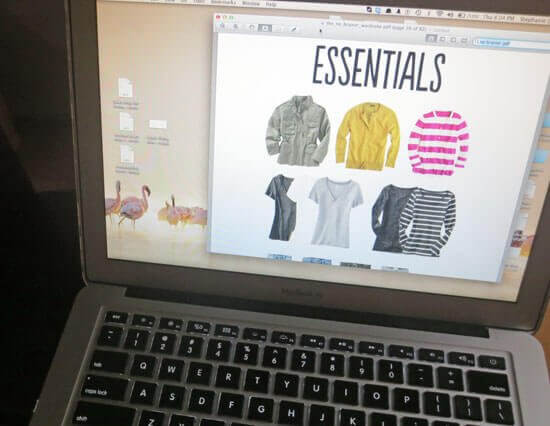 But seriously… 97 eResources? What will I ever do with them all?
Create your own custom library
Here's a little secret… you don't need to use them all.
Being the frugal type, you might (as I would) initially feel aghast at the idea of not making use of every part of something that you've paid good money for. I get it, believe me.
The thing is, we didn't pull together almost 100 products because we expected that you would want to read and use every single one of them. No way!
The idea is rather than you have full access to an incredible collection, a library of resources. You get to go through them all, picking and choosing the ones that most appeal to you and that you actually want to own. There is NO need to feel like you should download or use every book in the bundle!
So go through the list, making a note to yourself of each one that really sparks your interest or seems applicable to you and your family. As you're doing this, try to think forward to future seasons and things you might want to learn about down the road.
Certain books for certain seasons
Don't expect to use all of the books you've downloaded right away. Some books are for different seasons than others.
It's nice to have eBooks stocked up, so that you have them when you want them, especially when you're able to get them for such an unbelievably low price (did you know that this bundle works out to just over 31 cents per eBook or eCourse?!).
A few ideas on when you might make use of the various eBooks:
Devotional books. You won't speed through these, of course, but it's nice to have a stash of books ready to use when you need something new.
Mothering books. Personally, I like to read several books on mothering each year that offer me encouragement. I would put these in my Kindle "Mothering" folder and read them gradually.
Homeschooling or educational books.  I usually read homeschool books in the late winter, when I'm tired and discouraged, and in summer, to help me ramp up and plan for the next year (plus look at new curricula or resources I might want to use). I rarely read them at other times during the year, however.
Recipe books. My preference is to go through recipe books one at a time, explore a book for a little while, trying out several recipes, and then I set it down and pick up another one for a month or two. You'll have a nice range of books to slowly work your way through, as you find new recipes to incorporate into your repertoire.
Fitness or health books. These are ideal for times of year when you're prepared to start working on some specific goals.
Homemade books. Perfect for the fall and winter, when you're working on homemade gifts for Christmas, or when you want projects to tackle during those cold or grey winter days when you're more cooped up in the house.
Planners, Scheduling, Cleaning and Homemaking Routine books. They're there when you're ready to make some changes, to tackle spring cleaning, to work at getting more organized, to prepare for the new school year, or when you're going on a personal planning retreat, etc.
Pregnancy and baby books. These are very obviously for when you're in that season! Right now, my "baby" is almost 15 months old, but I might really enjoy using the pregnancy journal or reading the Redeeming Childbirth study guide the next time I'm expecting a new baby (edit: like now!). Or, they might make a wonderful baby shower or new baby gift!
Holiday and special event books. Use those as needed, whether it's Christmas, planning a big birthday bash, or wanting fresh activities for enjoying springtime with your kids. However, the iPhone book is a great one to read soon, since so many of us use our iPhones for taking photos!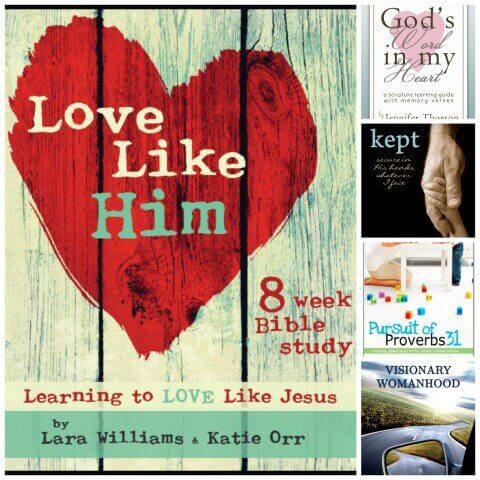 They make great gifts
One last thing to consider with this monumental package of eBooks is that they can also be given as gifts!
If you already own a certain book in the bundle OR if they are books that you personally don't care to read but you know a friend or family member that would benefit from it, you can definitely "gift" these books to them.
Here's how to do it:
Make sure that either you own two copies of the book OR that you don't want to own it and are willing to delete your own copy.
Decide how you want to gift it. You could download the specific file and send it via email to the gift recipient. Another option is to actually print out the book that you want to give, then have it bound somewhere like Staples or Office Depot, or hole punch it and make a classy presentation in a binder or duotang folder.
A third option is that you can even purchase a bundle for the sole purpose of gifting it to someone. To do this, you would buy the bundle, and then send them the purchase email with the link to all of the downloads and bonus offers. (Hint: Mother's Day is coming soon! What about asking for this eBook bundle as a gift from your family?)
Do you use eBooks? How do you organize them and what's your preferred method for reading them?
*Disclosure: I have included affiliate links in this post, which means I will receive a percentage of all sales through my links. Thank you for supporting this site!