Current Reads For the Month of May
I love reading. And I always have wayyyy too many books on the go. This month is no exception. 🙂 Here are the latest ones that I've been really into: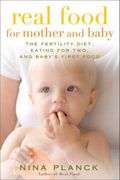 Real Food for Mother and Baby
by Nina Planck
I actually just received a copy of this (literally, yesterday afternoon) for the purpose of reviewing it, and I am already thoroughly enjoying it! True to it's title, Nina focuses on teaching about "real" food (traditional, whole, unprocessed) and how it affects fertility and pregnancy, nursing and feeding an infant and toddler. So far, I'm finding it interesting and well-written enough to keep me going, and definitely full of enough facts and solid nutrition to make me really happy. 🙂 This would be a really solid read for anyone that is hoping to conceive soon, already pregnant, or has a baby. It would also be very helpful for anyone struggling with infertility, especially PCOS, as those very topics are examined and talked about with more real nutritional content (and less fluff) than you can find in most books. More on this one to come!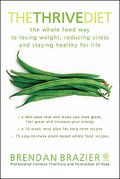 The Thrive Diet
by Brendan Brazier
My husband received this book from a whole foods supplement company that is a client of his. Upon hearing of his interest in health (lived mostly vicariously through his wife!), one of the men at the company proceeded to load him up with supplements to try and this book to read. At this point (I'm about halfway through), I would say that the basic premise of the Thrive Diet is that you want to aim for one-step nutrition (foods that require little effort by the body to digest and thus supply it with nutrients), eat the most nutrient dense foods possible, and avoid stressors on your body (whether they be life-related or due to poor nutrition). The author is a vegan (absolutely no animal products), and eats a good percentage of his food raw. He is also a very successful triathlete.
My general opinion of the book so far is that he has some really good things to say about some of the foods that offer our bodies the most bang for their buck, including the fact that eating foods that are raw, sprouted, etc. are very beneficial. At this point, though, I would say that I think his conclusions and perspective are a bit limited and narrow, and that he hasn't truly proven to me why he would forgo nutrient dense animal foods or conventional grains (he promotes only psuedo-grains like quinoa and amaranth). Because I already know I disagree with him a fair bit, I'm struggling to finish it, but I'm really going to try. 🙂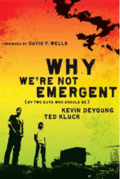 Why We're Not Emergent: By Two Guys Who Should Be
by Kevin DeYoung and Ted Kluck
This is a really interesting read for anyone who has been a part of the emerging church movement, or would like to learn more about it for the purpose of speaking to those involved in it. My husband and I are reading it for both reasons- before we began going to the church we attend now (essentially reformed in doctrine), we had both been a part of our fair share of emerging church movements, and we also still have many friendships with those involved in such churches. Our desire is to strengthen our understanding of the movement and our conviction of it's dangers and weaknesses, so that we can better love and support those we know who are still a part of it. Several chapters in, I'm really enjoying it's mix of down-to-earth, honest conversation and deep, thoroughly Biblical insight into the issues.

So, what have you been reading lately?