Stocking Your Summer Medicine Cabinet (Plus 23 recipes)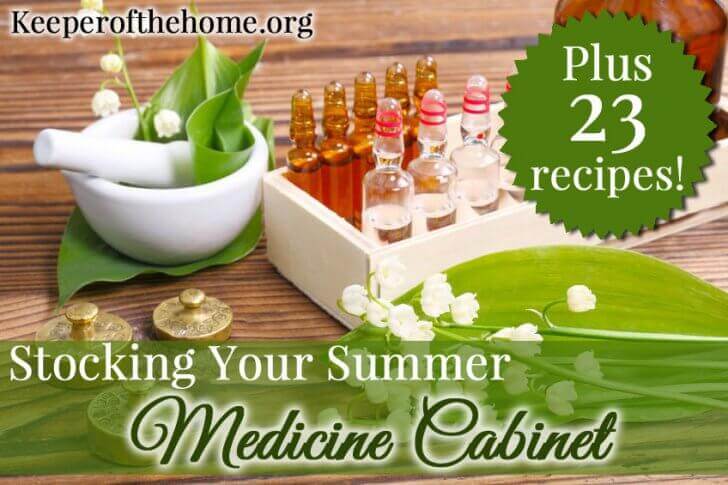 By Jami Leigh, Contributing Writer
As I scroll through my Pinterest board for home remedies, most of the things I see are flu remedies and cough medicine. While you might need these during the summer, it's more likely that you will be hunting for bug bite spray, poison ivy salve, and sun burn relief.
I decided I needed to update my board (and my medicine cabinet) with all my favorite summer home remedies and recipes. I encourage you to pin these recipes and remedies and even make some of them now, before you need them.
Summertime means fun adventures outside and if you have kids, that means lots of boo boos including bug bites, sunburns, scrapes, bumps, poison oak, bee stings, and more. Don't wait until you get home from a long day at the beach – your entire family sun-burnt and exhausted – and try to figure out a natural, home remedy to soothe the pain. Stock your summer medicine cabinet now.
My advice is to order the ingredients and make a few of these ahead of time so you have them on hand to grab at a moment's notice. Here's my guide if you need baby steps for stocking a natural medicine cabinet (including where to buy ingredients).
Dealing with Pests and Bugs
Bugs and their bites are a common problem through summer. The easiest way to deal with these pests is to avoid them in the first place with recipes below, but you might find yourself having to deal with bites!
Indoor/Outdoor Homemade Bug Spray by Your Thriving Home
Essential Oil Insect Repellent Spray by Tasty-Yummies
Homemade, Natural Bug-Spray Recipes by Wellness Mama
Natural Insect repellent Lotion Bars by Thursamaday
Dealing with the Sun
Choosing which sunscreen to use is a big deal as most commercial sunscreens are full of harmful chemicals and can cause more damage than good. But avoiding sunburn is also really important so here are a few natural, homemade sunscreens to try or whip up a batch of sunburn relief if you need.
Homemade Non-Toxic Sunscreen Lotion Bars by Homemade Mommy
Make Your Own Sunscreen Lotion by Keeper of the Home
Natural Shea Butter Sunscreen by Day2Day Joys
Herbal Remedies for Sunburns by Keeper of the Home
DIY Sunburn Relief Spray by Modern Wellness
The Best Natural Sunburn Cream by Modern Wellness
Treating Bee Stings & Bug Bites
Ouch! Bee stings can ruin a great trip to the park and mosquito bites can ruin your camping trip. Have these remedies on hand to quickly help heal the pain and get your family back to fun this summer!
Activated Charcoal for Bug Bites and Other Itchy Situations by Crunchy Betty
How to Treat Bug Bites Naturally by Keeper of the Home
Bug Bite Relief Stick by Live in Art
20 Natural Bug Bite Remedies by One Part Sunshine
Herbal Bee Sting Paste by Keeper of the Home
Dealing with Allergies
Hopefully you are getting over seasonal allergies, but if you are still battling pesky allergies, here are some great natural remedies to try!
Say Goodbye to Allergies with Raw Local Honey by Simply Rebekah
The Ultimate Guide for Dealing with Allergies Naturally by Common Sense Home
Treating Allergies with Essential Oils by The Encouraging Home
How to Treat Seasonal Allergies Naturally and Without Medications by Nourished for Free
Other Essentials for Summer
Here are some other things that you might be really happy to have this summer in your natural medicine cabinet!
Homemade Natural Chapstick (better than Burt's Bees) by Young Wife's Guide
Simple Summer Skin Refreshers by Keeper of the Home
Homemade Daily Facial Moisturizer + SPF by Homemade Mommy
Homemade Calamine Lotion by Nourishing Joy