Review and Giveaway: Eco Nuts Organic Laundry Soap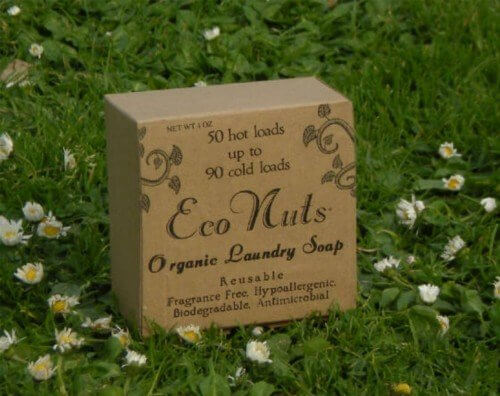 Everytime I read it, I giggle just a little,
"Thanks for using Eco Nuts- you'd be nuts to use anything else!"
Truth be told, I'm nutty in so many other ways that perhaps the fact that I'm now using dried fruit shells (aka soap nuts) to clean my clothes shouldn't surprise me or anyone else!
Why would you want to choose Eco Nuts soap nuts to clean your clothes?
They are completely sustainable, renewable, biodegradable and an organic alternative to chemical detergents and more expensive natural laundry detergents
They are gentle and chemical or allergen free. No concerns for sensitive baby skin, or those with eczema or other skin conditions.
They are mild and don't leave residue, so they are suitable for washing cloth diapers.
They have antimicrobial properties, which makes them a great choice for those with septic or grey water systems.
Wondering how soap nuts actually work? They contain saponin, which is a natural cleaner that breaks the surface tension of the water to penetrate the fibers of your clothing- a fancy way to say that they are able to life stains and leave the dirt in the water to be washed away. They don't foam up, because they don't contain foaming agents. This was disconcerting to me at first, but I decided to get over it and see whether they worked anyways!
I received my trial of soap nuts from The Baby Bum Store, who recently began carrying Eco Nuts for all their cloth diapering customers in particular. I tried them out this past week and they've actually been worked pretty hard in a short amount of time.
I've used them in both cold and hot, regular loads, heavy blankets, and cloth diapers, all successfully. The real test happened today, with an incredibly yucky load of diapers which contained some toddler explosions. I double rinsed before I washed (even though I usually rinse only once), but was shocked and pleased to see that the diapers came out fresh smelling and clean, even though this was already the 5th wash my soap nuts had been through (and they are generally able to be reused for 5-7 washes).
Final score? Indescribably poopy diapers 0, Eco Nuts 1.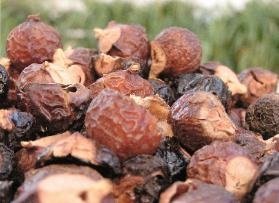 Will soap nuts begin to replace my trusty natural detergents? The jury is still out on that one. I love how small and light they are to carry and store, and the fact that they're entirely sustainable and that I can toss them in my compost. I was impressed with their cleaning ability, despite the lack of bubbles and pretty smells. You just might win me over, little soap nuts.
Would you like to give Eco Nuts Organic Laundry Soap a try?
Courtesy of The Baby Bum Store, I have one package of Eco Nuts, good for 50 hot washes or up to 90 cold washes, to give to one reader with very dirty clothes (because why else would you want to win them?).
To win a package of these little babies, here's what you need to do:
(And remember, please leave a separate comment for each entry)
Leave me a comment telling me the toughest laundry challenge that you're facing.
Visit The Baby Bum Store and tell me your favorite product that they carry (I bought some pocket diapers from them recently that I'm just thrilled with for the best price around!)
Become a fan on my new Facebook fan page!
Mention this giveaway on Facebook.
Follow me on Twitter.
Tweet this giveaway (include @keeperhome in your tweet)
Subscribe to Keeper of the Home through email or RSS.
Become a member of the Forum, or post a new topic or comment.
Someone is going to have some wonderful clean laundry soon. Good luck, all! Giveaway ends Friday, March 19 at 3:00pm.