Pea Guacamole Dip Recipe: Guacamole That Stays Green!
By Andrea Green, Contributing Writer
The first time I made this pea guacamole dip recipe, I served it to my family without telling them what the secret ingredient was.
They could taste the avocado. They could taste the tomatoes. They could taste the cilantro.
NO ONE detected the peas!
On my honor. This guacamole tastes like the real deal.
So why add peas to guacamole? They certainly aren't a traditional ingredient.
The benefit to adding peas to guacamole is it will keep the guacamole looking bright and green overnight.
Think of the possibilities!
You can now include guacamole in a picnic lunch and not worry about it browning before it is time to serve it.
Or, make pea guacamole dip the night before to add to brown bag lunches the next day. It makes for a tasty dip for carrots and red peppers.
Preparing your peas
Now, this recipe calls for peas that are blanched. If you have never blanched peas before, it is quite simple. Boil the peas for 3 to 5 minutes, or until they turn bright green. Then, drain them and immediately plunge them into ice water.
You'll see here how I sink a strainer into the ice water making it easy to drain the peas.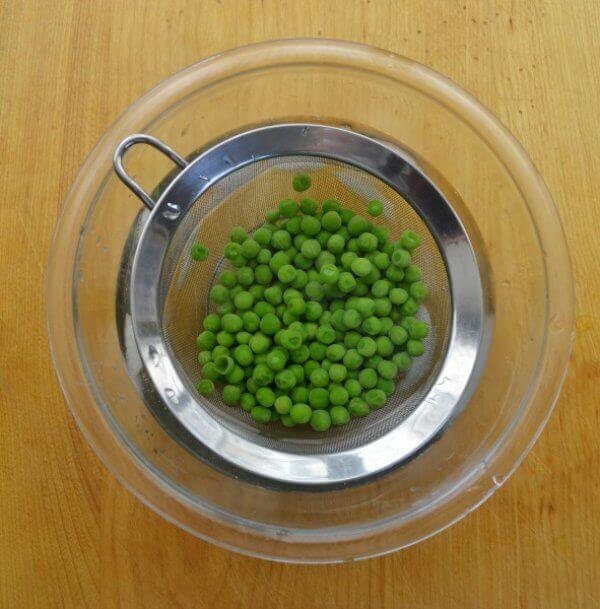 The second trick to this pea guacamole dip recipe is to run the peas and avocado through the food processor longer than you may think is necessary. The pea skins are hard to get smooth. Keep testing it until you get close to smooth.
It isn't necessary to get it completely smooth. Once you add the other ingredients, it gets chunky anyway.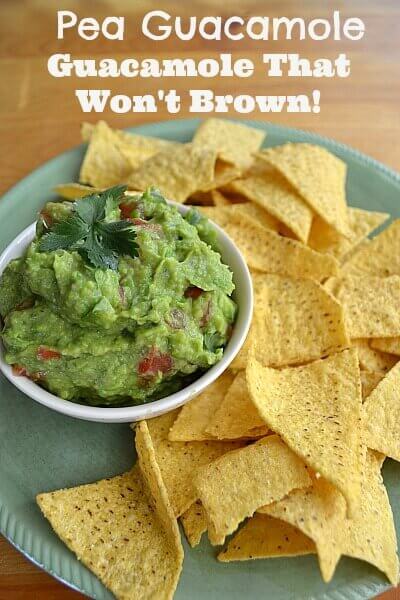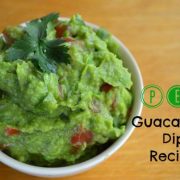 Print Recipe
Pea Guacamole Dip Recipe
Ingredients
1

cup

frozen peas

2

avocados

1

ripe tomato

chopped

1/4

cup

red onion

chopped

2

tablespoons

lime juice

sea salt to taste

chopped cilantro to taste

optional: 1 small jalapeno

finely diced
Instructions
Add peas to boiling water and boil 3 to 5 minutes, or until bright green.

Drain peas and immediately plunge them into a bowl of ice water.

Add the avocados and peas to the work bowl of a food processor and run until relatively smooth.

Stir in tomato, red onion, lime juice and jalapeno if using.

Taste and add salt to taste.
Your guacamole is ready to serve. It is perfect on Mexican Meatloaf with Guacamole Frosting or Lime Baked Tortilla Chips.
Disclosure: This post contains affiliate links. When you buy through our links, you help to support this site (at no extra cost to yourself!), so thanks!