A Step-by-Step Guide to Creating Quick, Healthy Meals for Your Family
;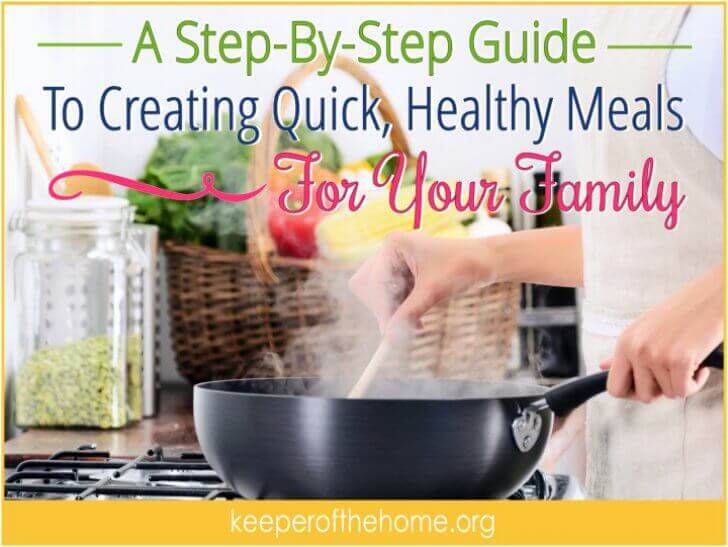 By Leigh Ann Dutton, Contributing Writer
It's five o'clock. What's for dinner?
For many years, if I didn't have a menu plan with printed off recipes, when five o'clock rolled around we'd resort to going out to eat or grab carry out. We had the delivery pizza guy on speed dial and knew which nights had happy hour for cheap appetizers. I didn't know how to create healthy meals for my family without a detailed recipe telling me exactly what to do.
Fast forward a few years into our natural living journey, and I rarely make the same meal twice. I cook most all of our food from scratch, and I don't rely heavily on recipes to get dinner on the table for my family.
Do I love recipes? Yes, of course! I love trying new things and a written recipe can be easier to follow. It takes less brain power to just implement someone else's hard work.
But what about those nights you don't have a plan? What about those seasons of life where you just need to get something healthy on the table but didn't have time to scour the recipe books or Internet for fresh ideas? What if you just need a simple, quick meal right now?
Create your own quick, healthy meal from what you have on hand!
[Tweet "Create your own quick, healthy meal from what you have on hand!"]
Let me teach you how! Remember I relied on recipes heavily for years to get me through the dinner hour. If I can do this, then I know you can.
Getting Started
1. Make a list of your family's favorite meals.
To get started, take a few minutes to write down your family's favorite meals. Aim for at least ten recipes.
If your children are older and your husband is willing, include them in this process. They will love knowing their opinions matter, and you don't have to do all the work!
2. Study the list of your family's favorite meals.
The purpose of this list is to give you an idea of what your family enjoys. More specifically this list will give you an idea of what ingredients your family enjoys.
What ingredients seem to show up a lot? Chicken? Chili powder? Coconut milk
? Lemon juice? Is there a pattern?
3. Brainstorm variations of your family's favorite meals
Now that you know what your family enjoys, brainstorm variations of these meals. Would the seasonings on your family's favorite grilled chicken work on pork as well? What meals could be turned into a meatless meal to save money?
My family discovered that we loved when I made Homemade Chicken Pot Pie, but I didn't always have shredded chicken on hand. One day I tried replaced the chicken with beans, and we loved Homemade Bean and Veggie Pot Pie just as well.
;

10 Quick and Easy Meal Ideas
If you're having a hard time coming up with a list of family favorites, then I've listed below ten quick and easy meal ideas you can use as inspiration.
1. Easy Homemade Burger Patties @ Red and Honey
2. Herb Chicken Skillet @ The Humbled Homemaker
3. Simple Spaghetti @ Intentional By Grace
4. Ultimate Nachos @ Keeper of the Home
5. Shredded BBQ Beef Sandwiches & Slaw @ Gospel Homemaking (I use this BBQ sauce recipe)
6. Chicken Florentine Pasta @ The Pioneer Woman
7. Hemp-Crusted Baked Chicken Fingers @ Gimme Some Oven
8. Pork Diane @ Intentional By Grace
9. Taco Chili Mac @ Live Renewed
10. Easy Roast Chicken @ Nourished Kitchen
;
How to Create Quick, Healthy Meals Without a Recipe
Now that you've spent a little time studying what your family enjoys and thinking about ways you can change up the meals, it's time to put this knowledge into practice.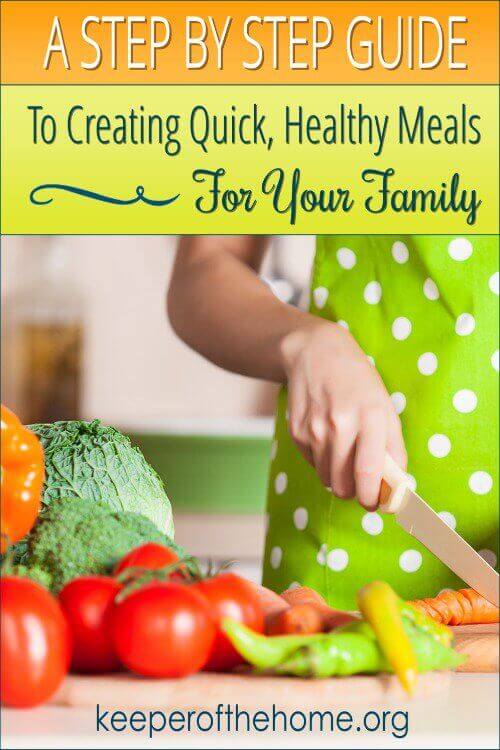 It's five o'clock. What's for dinner? You don't have a recipe. Now what?
1. Determine what you have on hand.
Head to your refrigerator, pantry, and/or freezer. What's hiding in there? What did you stock up on this week? What ingredients are at your disposal for cooking tonight?
Some ideas for what you're looking for:
Source of protein
Carbohydrates in the form of healthy grains or vegetables (or both!)
Sauces and seasonings
Tip: If you can complete this step in the morning, you can get a jump start on five o'clock. I usually pull my meat out from the freezer in the morning so it can thaw. I may not know what I'm going to do with the shredded chicken or ground beef at this point, but at least I have the meat thawing. When I forget to thaw meat, my go-to is always beans or leftovers.
2. Choose your method.
How are you going to cook your meal? Crock-Pot? Stove? Oven? Will it be a one-pot meal, or will there be different components like grilled meat and steamed veggies?
Obviously, if it's the Crock-Pot
, you'll want to take action on this step earlier in the day, but the concepts and instructions remain the same.
3. Make a plan.
Before diving right into cooking, you want to make a plan whether in your head or on paper.
Personally, I like to write out the ingredients I have on hand, and then scratch down the general method I will follow. Basically, I write my own recipe before I get started.
I do this for three reasons:
I like to see that my idea is actually going to work. It's easier for me to troubleshoot on paper than in the moment.
If I have to walk away from dinner prep, my husband can pick up where I left off. We have two small children and we both work from home, our entire day is one big tag team. Planning for that helps us.
If we end up loving the recipe, then I have it written down for later. This is actually how my entire eBook, 20 Minute Meals: Giving Weary Chefs Grace While Keeping Families Healthy, was written. Next time, I'll spend more time creating a shorter tag line. *ahem* Nevertheless, occasionally one of our random meals hits the best meals ever list. So having the recipe sketched out captures it for later use.
Occasionally, I don't write out the recipe before starting, but I do take time to think about the overall method for cooking. You shouldn't skip this step just because you won't be writing it down.
Note: Writing the recipe out before starting really helped me to get the hang of cooking meals without a recipe. This may be something you do when you're just getting started and then eventually skip writing the recipe out.
4. Put it all together.
Now put it all together and start cooking!
You just cooked your meal without a recipe! How fun is that?
I know that when I started creating my own meals without a recipe, it felt so good. It was freeing to know that we didn't have to resort to carry out when I didn't have a meal plan in place.
It also helped make real food easier for me. I realized that I didn't have to cook elaborate meals for my family to eat healthy, real food. I just needed to keep basic ingredients on hand that could be pulled together into a quick, healthy meal.
What about you? Do you cook without a recipe? What tips would you add to this method? What's your favorite easy meal? I would love to hear from you in the comments. I'm always looking for new ideas and inspiration!
Disclosure: This post contains affiliate links. When you buy through our links, we earn a small commission, which helps to keep this site going so that we can continue to offer free and useful content, so thanks!
This post is sponsored by Plan To Eat. If you know you need to make strides towards regular meal planning and you're looking for a tool to make it easier, I highly recommend you check out Plan To Eat's virtual tour. Sign up for a free 30-day trial to see how it works! Plan To Eat was born from a desire to eat real food — great food — prepared at home, together as a family. Plan to Eat is an online menu planner that uses your recipes, scheduled for the days you want them, automatically generating your grocery list, organized the way you like to shop. Eat well. Eat together.