One-Pot Wonders: 23 Quick Dinners with Fewer Dishes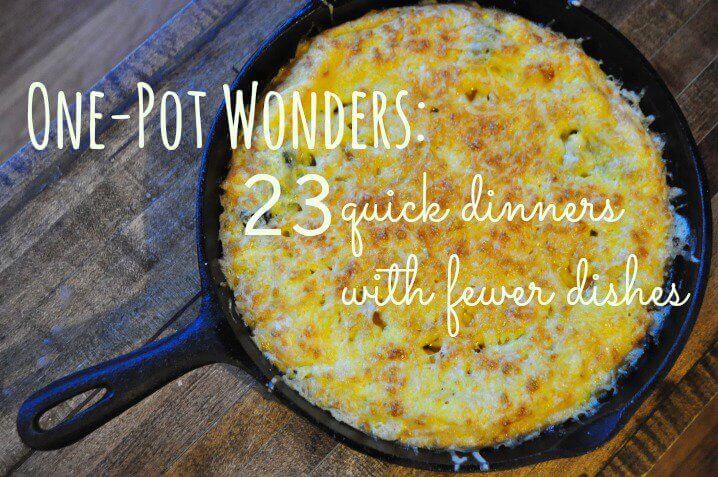 By Emily McClements, Contributing Writer
It's 4:30 pm.
Your stove is covered with the remains of pots and pans from last night's dinner, and the kitchen sink is bursting with the day's dishes because you forgot to empty the dishwasher this morning.
You've been feeling overwhelmed and exhausted lately and don't have a plan. So, what do you cook for dinner tonight?
I have to admit that in this season of life of chasing and cleaning up after little ones, endless days inside because of below freezing temperatures, and working on growing my blog as a family business, these days happen more than I'd like. Not because I want my life to be perfectly planned and organized, but because it makes what can already be stressful and overwhelming days even more stressful and overwhelming.
In these situations, I fall back on making one-pot or skillet meals that are quick and easy to throw together for a healthy family dinner. I love the simplicity of one-pot meals and I especially love less mess to worry about after dinner is over.
Keep this list on hand for those kind of days at your house. You'll be glad you did!
23 Recipes for Quick Dinners with Fewer Dishes

One-Pot Meals
Whip together a healthy dinner in just one pot!
Hearty Lentil Stew from The Nourishing Home
Creamy Chicken and Vegetable Chowder from Intentional by Grace
Stovetop Turkey Rice and Veggies from Healthy Roots Happy Soul
Sweet and Sour Lentils from Keeper of the Home
Roasted Chicken Chili from The Nourishing Home

Simple Skillets
Quick and easy dinners in a skillet on the stovetop.
Taco Chili Mac from Live Renewed
Pizza Cabbage Skillet from Food Renegade
Easy Tortilla Lasagna from Raia's Recipes
Un-Stuffed Peppers from Vintage Kids Modern World
Homemade Hamburger Helper from Healing Cuisine
Paleo Taco Skillet from Paleo Gone Sassy
Homemade Cheeseburger Helper from Kitchen Stewardship
Tuna and Rice Noodle Stir Fry from Paleo Diet Basics
Southwestern Frittata from Live Renewed
Chicken Picatta from Real Food Whole Health
Tomato Chicken Skillet from Healing Cuisine
Staple Weeknight Stir-Fry from Green Plate Kate
Herb Chicken Skillet from The Humbled Homemaker

Still Simple Plus-One Pot Meals
These meals use an extra dish or pan, but are still simple and quick recipes to help you get a healthy dinner on the table for your family!
Mexican Chicken Skillet from Live Renewed
Creamy Green Chili Beef at Red and Honey
Chicken, Peas, and Brown Rice from The Greenbacks Gal
Black Bean and Corn Quesadillas at Babble
Zucchini and Ground Beef Skillet Casserole from Live Renewed
Do you have any favorite quick one pot or skillet meals? Share a link with us in the comments!