5 Ways to Use Blueberries this Season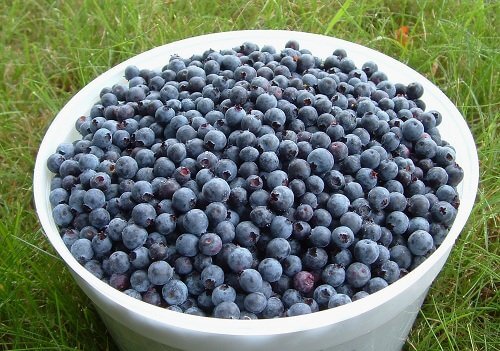 Full of flavor, sweet and nutritious, a blueberry in season is one of summers greatest pleasures.
Fresh blueberries are delicious on their own and need no special preparation. However, they do go bad quickly, so it's important to have a plan for using and storing them in order to minimize waste.
Below are 5 simple ways to use blueberries this season:
1. Add blueberries to food you are already preparing
Blueberries are an excellent addition to smoothies, pancakes, yogurt, muffins and as part of a fruit salad. They are also great in a bowl of oatmeal and tasty sprinkled over leafy greens.
Tip: When storing in the fridge, don't wash the berries until you need to use them. They will last longer.
2. Make Blueberry Sauce
Blueberry sauce is delicious served over pancakes, ice cream, sorbet, cakes and pies (and many other things, I'm sure!). The sauce can be made with blueberries and sucanat only, however, adding a little molasses and lime really enhances the blueberry flavor.
The follow recipe is adapted from Deborah Madison's, Vegetarian Cooking for Everyone.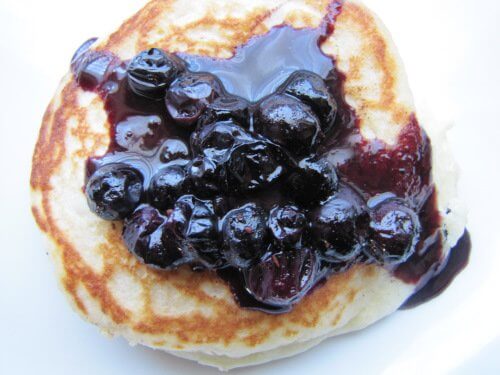 3. Freeze or dehydrate for future use
How to Freeze Blueberries:
Freezing blueberries is my favorite way to store them. It is simple and doesn't require any special tools.
Frozen blueberries can be thawed to make sauces and jams, and may be added to muffins in their frozen state (then they won't make the entire muffin batter purple!). Frozen blueberries are wonderful in smoothies and are a delicious snack all on their own.
Stephanie has already demonstrated how to freeze blueberries. If you find they are freezing in a clump, lay a tea towel on a baking sheet and spread berries over it in a single layer, then place in the freezer. Once frozen solid, store blueberries in a ziplock bag or air-tight container. Freezing this way will ensure they remain loose so you can scoop out the desired amount.
How to dehydrate blueberries:
To dehydrate blueberries, wash the berries then blanch them for 30 seconds in boiling water. Blanching helps the blueberries dry more evenly and retain a softer texture. (Shannon shares more details about blanching blueberries for dehydration at Nourishing Days.)
Place berries in the dehydrator and dry at 130 to 135 degrees, until leathery. Store in an airtight container.
In some parts of the country, it is possible to dry blueberries in the sun. One commenter said she uses cookie sheets to dry blueberries on the dashboard of her car!
4. Make Blueberry Jam
Making jam is one of the most popular ways to use fresh berries. It is a simple process and takes very little time.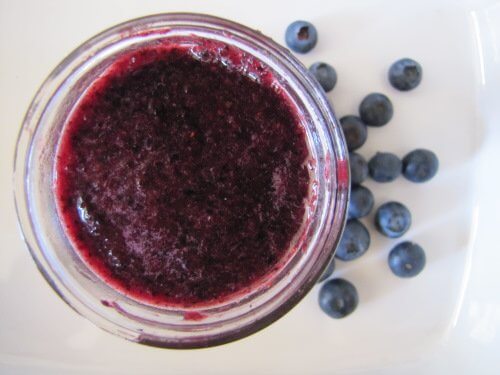 My preference is to make freezer jam since it retains more of the fruit's nutritional value and taste (and it is much quicker than canning). I recently made the raw, naturally sweetened freezer jam from Passionate Homemaking, and was pleasantly surprised at how easy it was. (Note: If using honey as the sweetener, be aware that it does have a very strong flavor. If you don't like honey, try sucanat instead.)
Whether making raw or cooked jam, be sure to check out Pomona's Pectin; natural pectin that is free of sugar and preservatives.
5. Make a Blueberry Dessert
There are many ways to serve blueberries for dessert! Simple desserts include ice cream topped with blueberry sauce and Parfaits made by layering blueberries and granola with yogurt. This fruited yogurt dessert is also quick and easy.
Other favorite blueberry desserts include baked goods such as cobblers, crisps, and pies.
The following Berry Crisp has become a new family favorite. I had to make it twice just to get a picture of it!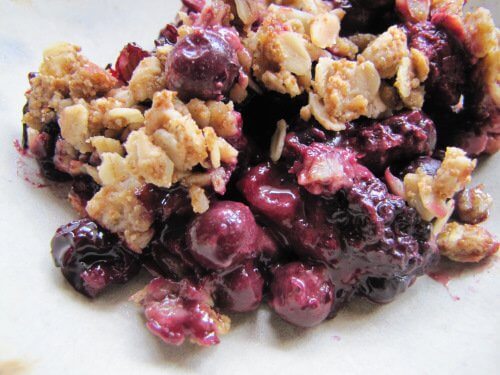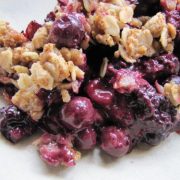 Print Recipe
Summer Berry Crisp Recipe
Ingredients
Filling:
6

cups

fresh berries

such as blueberries, blackberries, or hulled strawberries (I used 3 cups blueberries, 2 cups strawberries, and 1 cup blackberries)

Grated zest of 1 orange

Grated zest of 1 lemon

1

tablespoon

fresh lemon juice

1/2

cup

sucanat

4

tablespoons

arrowroot
Crisp topping:
1

cup

rolled oats

½

whole wheat pastry flour

¼

cup

sucanat

½

teaspoon

salt

¼

teaspoon

allspice

1/3

cup

sliced almonds

¼

cup

butter

melted

2

tablespoons

maple syrup
Instructions
To make filling:
Place the berries, lemon juice, orange zest, and lemon zest, in a large bowl. In a separate bowl stir together the sucanat and arrowroot, then add to the berries and toss gently to combine. Pour berry mixture into an 8 x 8 inch baking dish.
To make topping:
Mix flour, oats, sucanat, allspice, and salt together in a bowl. Add melted butter and maple syrup, stir to combine. Add the nuts and stir again. Sprinkle topping over the fruit.

Bake at 375 degrees F for 30 to 35 minutes. Let the crisp cool slightly before serving to allow the juices to thicken.
What is your favorite way to eat, serve, or store blueberries? Do you have any tips to share with us?