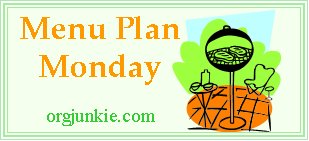 This week I made a departure from my usual style of menu planning.
Since we've been doing this special diet for my husband (a little over a month now), my repertoire of meals has been rather limited. Doing my menu plans each week has felt a bit discouraging, as I stare once again at my (short) list of the meals that I can make, that we all enjoy. I'm sure those of you who have been on restricted diets for any amount of time know what I'm talking about! 🙂
Rather than feel frustrated with it each week, I decided to follow Lindsay's plan of making a seasonal menu plan. It works by giving a theme to each day of the week, and then choosing 3-4 options that fit under that theme. Each meal will be made once a month, or perhaps twice if you only have 3 options on a certain day. I think it will take the brainwork and stump-ed-ness out of my planning (you know, when you sit at the table, tapping your pen and staring
alternatively at your meager meal plan, then out the window, then back
down at the meal plan for way too long)! I spent a while working on this and really digging deep to come up with recipes we could eat, and I'm happy with the results!
Here's how I've set mine up, for the next 3 months or so until we're back to our regular fare:
Monday- Main Dish Salads/Veggie Based
Chicken Meal Salad (a really hearty salad with hard boiled eggs, avocado, lots of veggies, etc.)
Stir-fry with beef or chicken or turkey, served over brown rice
Taco Salad (except that right now we're skipping the tomatoes, sour cream, and he can only have gouda cheese on his)
Avocado/Pepper/Black Bean salad (Ry and I adore this light salad, which I've recently been adding a bit of corn and cilantro to as well. The kids, not so much, so I make them rice and beans)
Tuesday- Sandwiches/Soup
Lentil Vegetable Soup with bread or biscuits
Wrap Sandwiches (homemade tortillas with any mix of protein, veggies, cheese, etc.)
Chowder (either this Garden Chowder, with some slight tweaks to make it diet friendly, or my favorite Salmon Broccoli Sweet Potato Chowder, also with a few changes)
Bierocks or German Beef and Cabbage Pockets (we just tried this tonight and fell in love! I can't use a bread dough, since it would require yeast or sweetener. Instead, I just used Kimi's Ground Beef and Cabbage Filling slightly altered, and put it inside her dairy-free Biscuit recipe, making them into pockets. By doubling the biscuit recipe and making the filling recipe about 1 1/2 times as large, I was able to make 20 pockets, which made one dinner for tonight and one for my after-baby freezer stash.)
Wednesday- Italian or Ethnic Dishes
Cold or hot rice pasta (with chicken or sausage, and any variety of veggies), and either a cashew alfredo sauce, an olive oil based pasta salad dressing, or vegan pesto.
Curry or lentil dahl, over rice or served with homemade chapatis (flatbread, similar to tortillas)
White Lasagna Casserole (this is a new dish I created last week, in an attempt to use up some lasagna noodles I had. It's made without tomatoes, has a white dairy-free sauce, shredded zucchinni and carrots, plus sausage, and a generous helping of feta cheese. Surprisingly good!)
Thursday- Mexican or Casseroles
Sweet Potato Burritos in homemade tortillas (wow, these really are addictive!)
Chicken or turkey pot pie, with whatever veggies are seasonal or on hand
Chicken or beef fajitas
Friday- Favorites
Pizza (using my tortillas as a crust, due to no yeast). I serve Ry's with vegan pesto instead of tomato sauce.
Meat main dish (steak, ribs, roast chicken, etc.) with a grain (rice, millet, quinoa) and steamed or raw veggies.
Feta burgers (no buns), with sweet potato fries.
Saturday/Sundays- Simple and quick!
Leftovers!
Sausages (fried with apples/peppers, or with a grain dish and salad, or with corn on the cob)
Any sort of tortilla sandwich, quesadilla, wrap, etc. Whatever's in the fridge!
Salmon Cakes (from Nourishing Traditions) or Fish Coconut Curry, with rice or other grain and a veggie
Macaroni and Cheese (brown rice pasta, hemp milk, and gouda, Ry's main cheese indulgence these days!)
Ta-da! No stress meal planning! I'm so relieved that I did this as part of my personal retreat this weekend (which was wonderful, by the way).
It's Menu Plan Monday over at Organizing Junkie!
Have you ever tried making a seaonal menu plan like this? How did it work for you? If not, how do you organize your meal planning?