11 Fresh and Unique Green Salad Recipes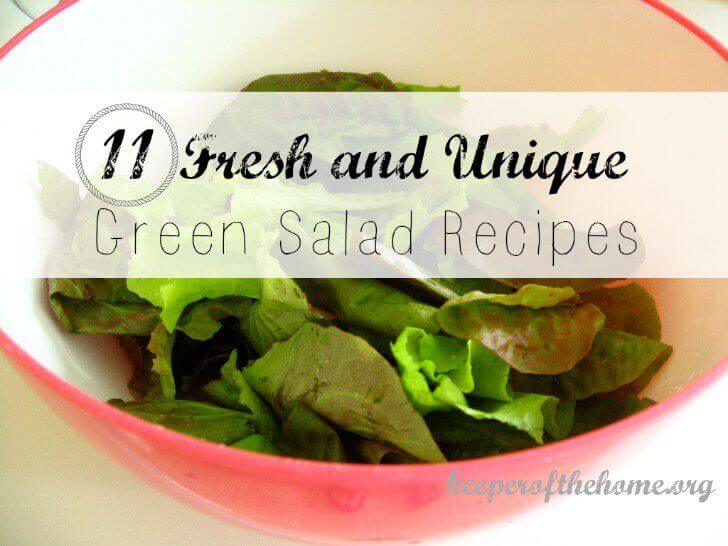 By Beth Ricci, Contributing Writer 
There's just something so right about a fresh, in-season, mouth-watering green salad in the summer, don't you think?
I was raised by a mother who believed in eating seasonally, which meant that I never even knew that you *could* buy things like peaches, strawberries, and tender baby lettuce leaves in the dead of our Canadian winter. I thought they were strictly a summer-only treat. They were in our house, at least.
That's why I tend to especially enjoy salads in the summertime. They're like a reunion party of fresh produce all tossed into one bowl of crisp flavor-explosion goodness. Mmmm.
Over the years I have enjoyed many salads at restaurants, buffets, and in others' homes. [Tweet "(True story: I went to a salad bar for my birthday, giddy with excitement when loading up my plate.)"] I have marveled at the simple gourmet feel that a great salad recipe can bring to a table.
Nonetheless, I have found myself in a salad rut year after year. I typically use a spring mix of greens with dried cranberries
, sunflower seeds
, grated fresh parmesan cheese, and a simple homemade dressing. Over and over again. It's great (and easily made year-round), but I'm itching to break out of my rut and try something new!
Here are 11 of the most drool-worthy recipes that caught my eye as I was browsing around trying to find new green salad inspiration. I specifically chose recipes for this list based on two factors:
1) Uniqueness
2) How much I drooled on my keyboard as I read through the ingredients list. (Figuratively-speaking, peeps. Relax!)
If you are planning a summer meal and are in need a great homemade burger patty recipe to serve alongside any of these drool-worthy salads, check out my easy homemade burger patty recipe. Perhaps you'd like to satiate your thirst with this honey-sweetened lemonade recipe, and then finish off the meal with a no-cook desert of homemade peanut butter cups! I'm getting hungry already… man, I really need to stop writing food posts just before dinner. Mmmm…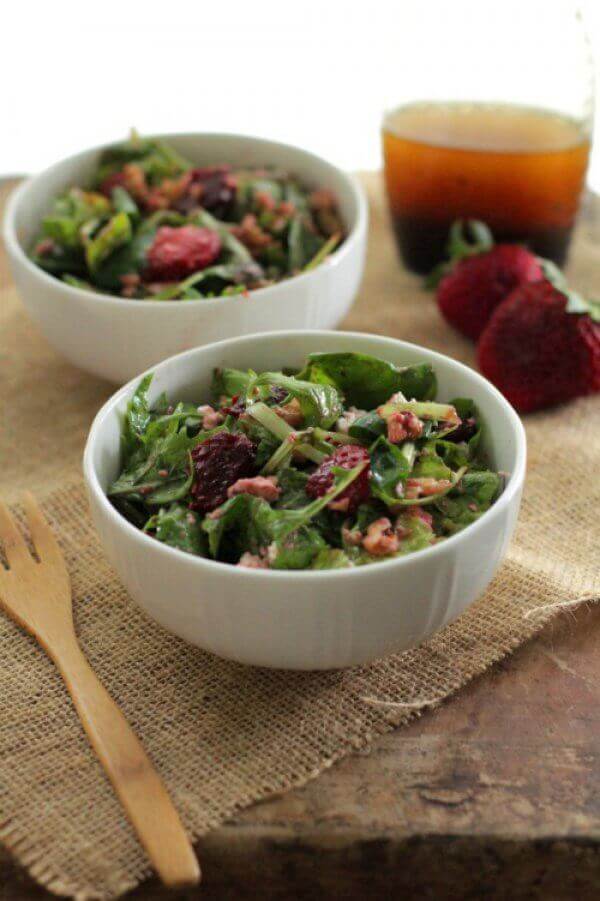 Now, without further ado, here it is. I guess we can call this my Green Salad Bucket List for Summer 2014. Yum!
1. Beet Strawberry Salad with Balsamic Mustard Dressing | Live Simply (above photo, credit to Kristin Marr of Live Simply)
2. Detox Salad with Orange Avocado Dressing | A Harmony Healing
3. Greens with Peaches, Carmelized Rosemary Pecans, and Golden Balsamic | The Organic Kitchen
4. Kale Salad with Cranberries, Avocado, and Feta | Attainable Sustainable
5. Mediterranean Kale Salad | Fresh Bites Daily
6. Chard and Kale Caesar Salad | Health Nut Nation
7. Peanut Butter and Jelly Bok Choy Salad | Hybrid Rasta Mama
8. Baby Kale Raspberry Salad with Nectarine Balsamic Dressing | A Harmony Healing
9. Greens with Blackberries and Passionfruit Vinaigrette Recipe | The Organic Kitchen
10. Beet and Arugula Salad with Grapefruit Vinaigrette | Happy Healthnut
11. Versatile Summer Salad | The Marathon Mom
What's your favorite thing to put into a green salad?
Disclosure: This post contains affiliate links. When you buy through our links, we earn a small commission, which helps to keep this site going so that we can continue to offer free and useful content, so thanks!