Not only are lentils incredibly frugal (as is this entire recipe), but they are nutritionally dense as well! They contain very high amounts of both soluble and insoluble fiber, as well as several minerals (including calcium and magnesium), B vitamins, and of course, they are an excellent source of plant protein.
This recipe is so simple to make and surprisingly tasty and filling! It pairs well with a salad and bread, as it is a bit stew-ish in nature. It may not look incredibly exciting or appealing, but it goes over well with my whole family and makes an easy toddler food as well (you can tell your older child that it has honey in it- that made it a winner at our dinner table!).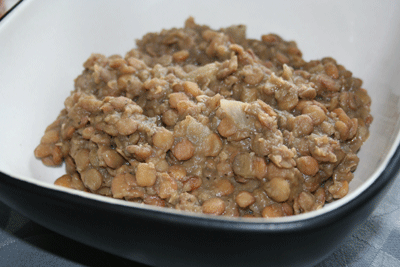 Sweet and Sour Lentils Recipe
Ingredients
Instructions
Soak the lentils overnight or start them early in the morning (using the 2 1/4 cups liquid).

Without draining, bring the lentils to a boil, then turn low and simmer for 1/2 an hour. Add the onions and cook for another 15 minutes.

If there's still quite a bit of liquid remaining, remove the lid and simmer for 10-15 minutes more.

When tender, add oil, vinegar, honey and seasonings. Cook again for 5-8 minutes, mixing well.
Notes
I double this recipe for our family of 4, and it gives me enough leftovers to serve it to the kids and I for lunch.
Do you have any other simple, frugal lentil recipes that you like to make?
Finds lots of other frugal ideas over at Life as Mom!