Save Some Money– Black Friday and Cyber Monday Deals!
I know that many of you enjoy finding a good deal as much as I do, so I've compiled some excellent deals and coupon codes from around the web…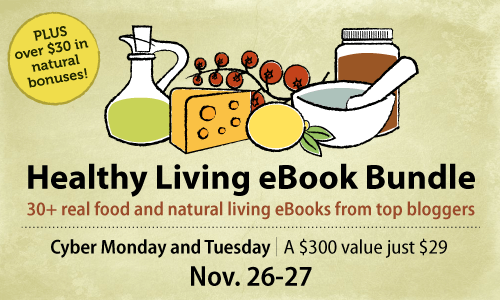 Yes, this phenomenal Healthy Living eBook Bundle is coming back! For those who missed it the first time, in particular those who were dealing with power outages and other difficulties due to Hurricane Sandy, we're bringing back this wildly popular sale.
$300 of eBooks PLUS $60+ in natural bonuses… all for the steal price of $29!
(and yes, it only says $30+ in bonuses, but I have privileged information that it is now over $60, and it is going to knock your socks off!)
Look for it at 8am EST on Cyber Monday, Nov.26th! The sale will last exactly 48 hours, until 8am EST on Wednesday Nov.28th. Put it on your calendars and don't miss out! For those who receive our free email updates, I'll be sure to notify you when the sale begins, as well as remind you before it ends.
Before you decide on any other Black Friday/Cyber Monday deals, you may want to peruse the list of ebooks from the sale (note that the page I'm sending you to has the complete list, but the "Buy Now" links will not work again until Cyber Monday!). Several of the books listed below are in the package, but not all.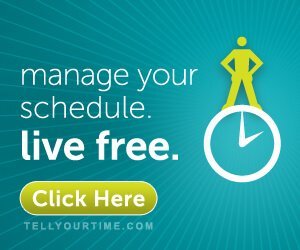 Tell Your Time
This is one that I think absolutely everyone should get… and you all can, because on Cyber Monday and Tuesday, it will be FREE! 
That's right– you can purchase Tell Your Time on Amazon this Monday and Tuesday (Nov.26-27th) for free. And then, you can enjoy this short but extremely practical book on learning how to manage your schedule and make sure that you're intentionally spending time on the things that are most important to you.
Amy, the author, also told me to let you know that she's putting together something special for January so we can all get more organized together! So, they can grab the ebook now for free and then pull it out again once 2013 rolls around!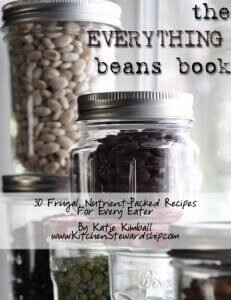 Kitchen Stewardship eBooks– 40-60% off!
code BFRIDAYHALF for half off any of the already reduced eBook bundles! A reader could get all 4 eBooks, over $33 value, for $12.50 with the super pack. Code expires Friday 11/23 at midnight EST.
code BFRIDAYBEANS for 60% off The Everything Beans Book – first 50 customers only
code BFRIDAY2NDS for 40% off The Everything Beans Book, Healthy Snacks to Go, or Smart Sweets – through midnight on Sunday, 11/25
You can purchase any Kitchen Stewardship books here.
(and make sure that you check out Smart Sweets… I just made the most divine cupcake icing from my copy of the book for my daughter's birthday yesterday!)

Modern Alternative Mama– 35-50% off!
And this is where the cupcake recipe came from. 🙂 Treat Yourself and Smart Sweets are my two go-to healthy dessert recipe books.
Complete Collection 35% off code (Black Friday): HOLIDAYCOLLECTION
All books 50% off (Black Friday, first 50 books): BLACKFRIDAY50
All books 30% off (Black Friday): BLACKFRIDAY30
Also, they've just launched a new book in time for the holidays, Festive Traditions, to help you make real food and keep the junk out of your celebrations.
FT 50% off code (Black Friday, first 50 sales): FESTIVE50
FT 25% off code (11/23 – 11/25): FESTIVELAUNCH25
All Modern Alternative Mama books are available here!
This is a great deal for all those meal planners (or wanna-be meal planners) out there!
Plan to Eat is offering Real Plans! They are regularly $39 or $3.25 per month, but for 3 days only (until Nov.26th) get it for just $19.50 or $1.63 per month!
To get the discount, just Real Plans and use the code "givingthanks".
Chaffin Family Orchards
This is a family-run farm located in California, and their products are heirloom and organically-grown. I've bought their olive oil for two years in a row, and it's lovely, plus it makes me happy to cook with something that I know is such high quality.
These are the items that they currently have deals on:
Olive Oil (selling ahead for the next harvest… purchase now for February, I believe)
Black Olives for Curing- shipping is free on cases of olives
Sweet Satsuma Mandarins- shipping is free, plus an extra $5 off cases right now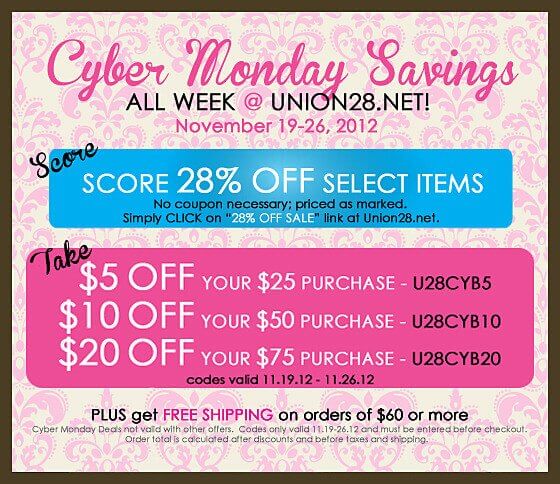 Union28
I still love wearing my marriage-honoring shirts from Union28. Thinking of buying some for gifts? Now's your chance!
$5 off $25 – U28CYB5
$10 off $50- U28CYB10
$20 off $75- U28CYB20
28% off select products (just click the 28% off sale button on the website)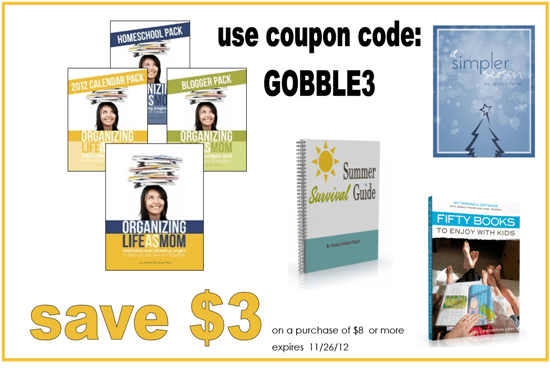 Life as Mom– Save $3 on any $8+ purchase!
This weekend in the Life as MOM estore, you can save $3 on any ebook purchase of $8 or more.
Just use the coupon code GOBBLE3 when you check out.
This is a great opportunity to snatch up one of these books to help life go a little more smoothly.
Promotion ends Monday, 11/26.

Your Blogging Business
I know, you're not all bloggers, but many of you are and even if you're not, this book has excellent help for those needing to know more about taxes and bookkeeping for their small business!
Here's what Nikki says about her book:
Your readers can learn the in's and out's of Bookkeeping in a simple approach. Your Blogging Business: Tax Talk and Tips caters to anyone wanting to learn a bit more about what they NEED to know for their personal books and their small business! This book is not just for bloggers!

Usually $4.99 I am dropping the PDF price to a whopping $1!

Yes, no mistake there, it is $1 on Black Friday! Offer expires midnight on Black Friday. Code: "BLACKDOLLAR".
Still in shopping mode? Make sure you visit our Christmas Gift Guide as well! 🙂
It's not Thanksgiving weekend where I live (up here in Canada, we celebrate in October instead), but I hope that you all had a wonderful Thanksgiving celebration with family and friends! But, seeing as we don't share your Black Friday tradition, I am curious to ask…
Are you one of those Black Friday shoppers? Do you actually go out to thestores or do you stick to online deals?
Disclosure: This post includes several affiliate links. When you make a purchase through one of my links, I received a small commission. You are certainly not obligated to use these links, but when you do so, it helps to keep this site going, so thank you for your support!