Plan It- Don't Panic: Last Week of the Meal Planning Challenge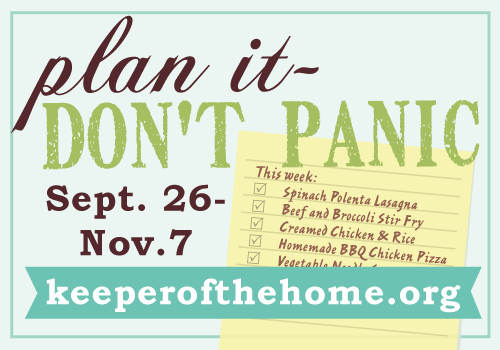 We're on week 6 of the meal planning challenge (well, 7 for some of us). So many of you have participated so faithfully and consistently, and I have loved doing this alongside of you! It has challenged and spurred me on to get back on track with my planning.
This may be the last week of the challenge, but I truly hope and pray that it has become a habitual effort. That's the whole point. As we keep doing this, week after week, and reap the benefits (saved time, money, sanity, better meals), we become more motivated to keep up with what we're doing.
How This Meal Planning Challenge Has Helped Me Personally
I thought that I would share some of the benenfits I've noticed and the things that I have learned or been reminded as I've gotten back on track with my meal planning this past month and a half:
1. I have stayed on target with my grocery budget. Just as I have experienced in the past, this careful planning enables me to watch what I buy (and what I spend), reduce our food waste, and prepare meals that are more frugal. Sticking to my frugal budget feels really good.
2. I was reminded that I have to look at my menu plan frequently if I want it to actually happen. I can't just make the plan and then glance at it briefly at 4:30pm. Keeping it on my fridge, taking a look at it in the morning or early afernoon, and then again the evening before bed, helps me to make sure that I do the things that make my healthy meals come together as planned.
3. It doesn't have to be fancy to be effective. Even this week, upon coming home from being out of town for a week and not even knowing exactly what was in the fridge/pantry already, a simple, bare bones meal plan has allowed me to prepare meals and grocery shop with little extra stress. Which in turn frees me to tackle the suitcases, and the mounds of laundry, and the overflowing email inbox and the dirty tooilets.
4. Planning doesn't have to take a lot of time. Sometimes I make meal planning more complicated than it needs ot be, and I will spend a couple of hours, pouring over cookbbooks, looking at new recipes online, trying to make the "perfect" meal plan.
Then there are other weeks, like this one, where I mixed and matched and grabbed meals from 3 wweeks worth of previous plans. It wasn't fancy or gourmet, but they were meals I knoow how to make, and know that my family enjoys, and guess what? Meals have happened smoothly and we are satisfied and nourished. And it was easy.
5. The more I do it, the easier it becomes. When I start to incorporate meal planning as a regular hour during my weekends (or on Friday afternoon or Monday morning, or whenever you like to do your planning), it doesn't feel daunting or difficult. It just happens and becomes another part of my weekly routine.
Our Menu Plan This Week:

Monday

Tuesday

Wednesday

Breakfast: Fruit smoothie and toast
Dinner: Beef stewPrep: Thaw ground beef

Thursday

Friday

Breakfast: Eggs and toast.
Dinner: Taco salad (made with 1/2 ground beef from Thursday, added to beans from Monday)

Saturday

Breakfast: Breakfast sandwiches
Dinner: Chicken meatloaf, brown rice, baked squashPrep: Thaw chicken broth

Sunday

Breakfast: Homemade granola with yogurt and fruit
Dinner: Chicken noodle soup
Your turn to share this week's meal plan…
I know I'm not the only one who has made observations about myself or about how meal planning benefits our family over the course of this challenge.
Maybe you have learned tips or tricks that work well for you, or simply become more committed to keeping this practice a habit in your life. Maybe you really struggled through these weeks, hoping it would get easier, but you still have kinks that need to be worked out and you have more questions than answers.
Whatever you have to share, we'd love to hear it! Seriously, I want to hear your own words of wisdom and helpful suggestions and thoughtful contributions to this conversation!
So let's talk… what did you learn? What makes meal planning work for you? What benefits have you seen? What struggles or challenges still exist?