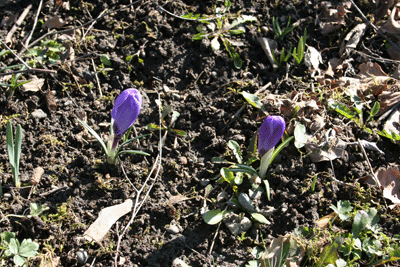 Though there may still be patches of snow on the ground, leftover from what fell on Sunday night/Monday morning, I am in denial. Spring is springing, ladies! I can feel it!
The first three little purple crocuses have popped up in my front yard, my garlic that I planted last fall has leaves about 1/2 a foot tall, and the Farmer's Almanac tells me that I could have started my frost-hardy crops on Saturday. Need I say more?
It's gardening time!!!
I think I'm just about all ready to get going. My broccoli and cauliflower seedlings are about 3 weeks old now, and doing quite nicely, as are my herbs (except the silly lavender and peppermint that didn't want to germinate). I've got all of my spring seeds ready- snap and shelling peas, various kinds of lettuce, spinach, oriental greens, carrots, turnips, radishes, beets, and onion sets (I just bought some white and red to add to the yellow that I did last year). I originally forgot to buy kale seeds, and attempted to do so at Home Depot (who didn't have kale and didn't even know what it was!), but I'll find some yet.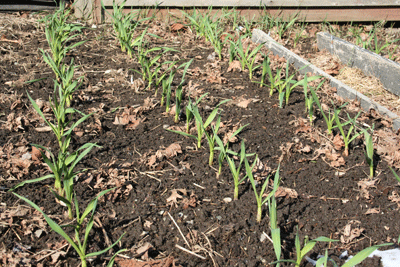 As soon as the snow finishes melting and the really cold chill leaves the air, you better believe I'll have the kids bundled up and we'll be breaking up that soil! Sometime this week I just need to write out my garden layout plan for the year, and I'll be set.
Anyone else getting as anxious to be gardening as I am? Have you mapped out your gardens and bought your seeds yet? What are your gardening plans for this year?