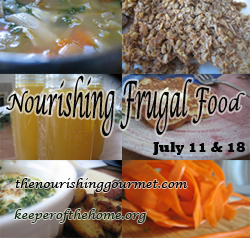 Inspired by the recent rise in grocery costs, and our ever-present desire to cook whole, nourishing food for our families (and encourage you to do the same!), I will be collaborating with Kimi of The Nourishing Gourmet to bring you a carnival that we are really excited about!
Actually, it was all Kimi's brilliant idea… after expressing my discouragment over a recent grocery shopping trip where I found that many food prices had risen, yet again, she casually mentioned the idea of a carnival. I loved it, and immediately emailed her saying I thought we should do it, and to make a long story short, here we are, promoting the carnival!
And so, we proudly announce the upcoming
Nourishing Frugal Food Carnival!
Here's how it will work:
The fun begins on Friday, July 11, when we will all head on over to The Nourishing Gourmet to post our most nourishing, frugal, and yes, tasty Main Dishes!
The following week, Friday, July 18, we will continue right here, at Keeper of the Home, for our best Sides, Salads and Desserts (get creative- this can include a lot of different types of recipes!).
How can you join in?
Start thinking now of recipes that you would be interested in sharing, and then be ready to post them up on your blog on the carnival dates. For the first week, you will find a Mr. Linky up on Kimi's blog for you to add your link to, and the second week, the Mr. Linky will be on this blog. If you don't have a blog, your ideas and comments are extremely welcome and appreciated!
The more participation from all of you lovely ladies, the more successful this carnival will be! I know that I am always in need of new ideas to inspire me as I seek to feed my family healthy foods, on a strict budget. Trying new recipes, or being inspired by different meal ideas, are great ways to get our creative juices flowing and help us in our important task of serving our families wholesome foods and stewarding what we have been given!
If you've never joined a carnival before, why not take this opportunity and join us? The more the merrier!
How can I help spread the word?
I'm so glad you asked! 🙂 Please feel free to use the carnival banner in order to promote the carnival on your site, either through a blog post or simply by adding it on your sidebar. Word of mouth is the best advertising there is!
I'm looking forward to all of your wonderful ideas and recipes!
In the meantime, here are a few of my recent posts on this very topic, to get you started and give you some food for thought as you deal with your own budget challenges:
Rising to the Challenge of Higher Grocery Costs
Cost-per-serving for Dinner Menus
Frugal Cooking Carnival
Frugality with Food, Part 1
Frugality with Food, Part 2
(Part of Frugal Friday)