Scalloped Potatoes Recipe
A couple of years back, I realized that so many of the more ethnic, unique, vegetarian-influenced dishes that I had been making just didn't appeal to my husband (lentil casseroles, cold rice and bean salads, various curries, squash soups, that sort of thing).
The leftovers would sit around, and only I would eat them. My husband isn't a particularly picky eater, but I came to the conclusion that it's comfort food that he loves. I've had to strive to learn to make those standard recipes in more nourishing ways, adding in plenty of vegetables, good fats (in place of bad ones), raw dairy, and finding plenty of ways to keep it frugal.
Blogger Kate Tietje also realized that comfort food was something that she and her family loved and even craved, and so she wrote the book Wholesome Comfort… 
"I love comfort food. As soon as the weather turns cooler, or any time I'm feeling stressed or tired, I just want something warm, creamy, or carb-heavy. Foods like mashed potatoes, stuffing, roast turkey, cheesy or creamy casseroles, fudge…. These are the foods that make me feel better. And I know I'm not alone.
The thing is, many of our favorite comfort foods aren't so good for us. A look at the ingredients panel on a bag of storebought stuffing mix reveals bleached flour, soybean oil, high fructose corn syrup, and yucky preservatives. Don't even get me started on the canned cream soups and the casseroles they're used for. I have given up eating my beloved green bean casserole at parties because of the awful canned soups.
I knew there was a need here. I didn't want to give up my comfort foods just because I don't want those processed versions anymore, and I know others don't want to either. So I set out to re-make all my old favorites with real food. They were so delicious and wonderful that it naturally led to the book idea. Who doesn't love comfort food, really? Real meatloaf, scalloped potatoes, chicken and dumplings, hot chocolate…it's the stuff of winter. And to some, happiness. And no guilt, because this version is totally real food. I feel good serving it to my family, and I feel good after I eat it. Pure awesomeness.
Another new feature in this book that I want to mention is that we added an allergy-friendly code. All recipes are soy and seafood-free. There are little icons in the book (both in the table of contents and the recipe pages themselves) indicating if a recipe is grain, egg, dairy, or nut-free. This makes it really handy for those with restrictions."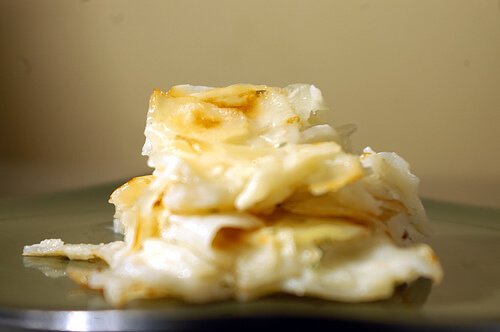 Scalloped Potatoes = Comfort Food
Kate has generously allowed me to share one of the recipes from the book, and I had to pick Scalloped Potatoes.
We love scalloped potatoes and have been making a vegan version that I started using back when we ate a little closer to vegetarian and dairy-free (which we don't anymore– we've switched over to a traditional diet, which includes plenty of animal fats and raw dairy).
I kept up with the recipe because it's still very good, I can substitute my raw milk in place of the "milk" alternative, and I didn't feel like searching for another recipe. But I'm so excited to try this! My husband LOVES scalloped potatoes and so do I.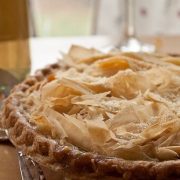 Print Recipe
Scalloped Potatoes Recipe
Ingredients
4

– 5 medium potatoes

thinly slice (about 1/8")

¼

c.

onion

minced

½

tsp.

sea salt

¼

tsp.

black pepper

¼

tsp.

thyme

2

tbsp.

butter

2

tbsp.

arrowroot powder

2

c.

milk
Instructions
Arrange the potato slices in a 9x13 baking dish.

In a small saucepan over medium heat, melt the butter. Saute the onions until softened.

Add the salt, pepper, thyme, and arrowroot powder and stir until smooth. Add the milk and stir until bubbling and slightly thickened.

Pour the mixture over the potatoes.

Bake at 350 for about an hour.
Notes
Serving Suggestion: Serve alongside Italian Chicken or Meatloaf.
Are you a potato fan like me?