Nourishing Crockpot Carnival: My Crockpot, My Friend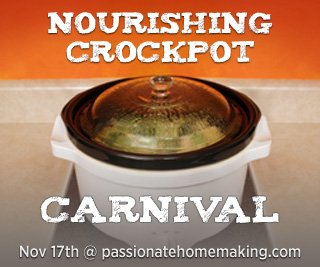 She may not see as much use in the summertime, but come fall and winter, my crockpot is my very good friend.
I think my favorite thing about using a crockpot is that all it takes is a small time investment in the morning, usually as we're finishing up breakfast and I'm tidying the kitchen. That small amount of time (usually no more than 5-15 minutes) ensures that by dinnertime, there is a hot and nourishing meal waiting for us with no added effort or dishes on my part!
Lindsay must love her crockpot as much as I do, because today she's hosting a Nourishing Crockpot Carnival over at Passionate Homemaking! I'm joining in by sharing some of my frequently-used recipes and favorite ways of using this handy, time-saving appliance!
Broccoli Beef– Really delicious, really easy asian style broccoli and beef to go over rice.
Chili– This isn't specifically a crockpot recipe (it's my regular recipe that I wrote up as a guest post for The Nourishing Gourmet), but sometimes I make it that way. I use the same basic ingredients, but I pre-cook the beans and meat, then add it all to the crockpot at the same time, including the seasonings. I would set it for 6-8 hours on low, or about 3-4 on high.
Crockpot Chicken and Quinoa– A lovely stew using quinoa to bulk it up, rather than potatoes or another grain like barley. I often make this for a simple Sunday night dinner during the winter.
Slow Cooker Beef Stew– I've tweaked this recipe slightly to make it healthier and more to our liking. I use chopped onions while sauteeing the meat instead of doing them on their own at the end (and I find 3 onions a bit too much- more like 1-2 is fine). I substitute the 2 cups of boiling water with 2 cups of beef bone broth instead (doesn't need to be boiling). It usually needs a bit of extra salt to make up for the soup mix. I use regular, chopped carrots instead of baby carrots. And if you don't have red wine, apple cider vinegar makes a good substitution.
Beezie's Black Bean Soup– A super frugal recipe that makes a huge amount of soup with a kick! I soak the beans overnight and skip Step 1, then just cook them as in Step 2. Also, I use brown rice instead of white, so it needs to be added much earlier than 20 minutes (more like 40-60 minutes).
As well as these recipes, here are a few other ways that my crockpot sees a lot of use:
1) Cooking a roast.
I like to marinate mine in buttermilk or kefir (as per one of the Nourishing Tradition's recipes), so I put it in the pot, pour the cultured dairy over it, and let it sit in the fridge overnight. The next morning I add a bit of apple cider vinegar, salt, pepper, some garlic cloves and a small chopped onion, plus a bit of liquid for making gravy with the drippings. Sometimes I add other herbs like thyme or dill (but not both together!). If I'm in the mood for cooking up my veggies in the crockpot, I will add some diced potatoes, carrots, celery, etc. to the pot also. We usually eat some of the roast the first night, and I use the leftovers to make other meals, like fajitas, stew, etc.
2) Roast a whole chicken.
After breakfast, I rinse off my chicken and put it in, breast side up. I add a few pats of butter, sprinkle it with salt and pepper, throw in some garlic cloves, and sprinkle it with sage (sometimes I put in lemon wedges, too). I let this cook until the mid-late afternoon, then I pull it out and separate all the meat from the bone. I put the meat in 1 cup packages for the freezer and use them in lots of different meals (pastas, soups, casseroles, chicken salad, etc.). Then I…
3) Make Chicken Broth.
I put all the bones right back into the crockpot after removing the meat and leave any drippings in the pot as well. I add a few Tbsp of apple cider vinegar, and then pour a couple quarts of cold water over the bones. I put it on low overnight. In the morning, I add a bunch of veggie scraps from my bag in the freezer (carrots, celery, onions, etc.) and let it simmer away all day on low. That evening, I add some parsley, sea salt, maybe some thyme, etc. and give it 10-20 minutes more, then I pour it through a strainer and put the broth in the fridge overnight to cool. The next day, I put it in jars to freeze for whenever I need chicken broth (it's handy to have it in ice cube size servings as well).
You might also be interested in the post Making Cooking Easier: Using Your Slow Cooker, which includes several other ideas for letting your slow cooker make life easier (read the comments as well for some more great ideas).
Do you use a crockpot very often? What types of things do you use it for? Any recipes to share?