Making Cooking Easier: Using Your Slow Cooker
I would agree that slow cookers can be a busy mama's best friend some days. I get a lot of use out of mine, especially in the winter when we enjoy a lot of hot, hearty stews, soups, chili, etc. One of my favorite sites for recipes is A Year of Slowcooking. Check it out, enjoy the post and happy slowcooking!
*******

Guest Post by Nola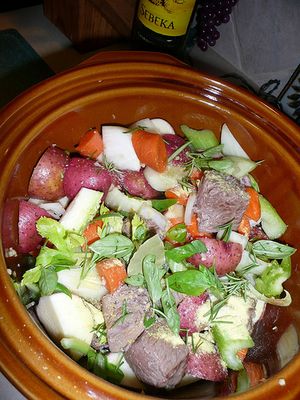 Lately I have been trying to use my slow cooker (also known as a crock pot) more. I had a basic one that broke right before my second child was born, and my husband decided to replace it with a nice 7 quart model. It even has a "keep warm" and "buffet" setting. I've been coming up with more and more ways to use it, so I thought I would share some ideas about getting more out of your slow cooker. Maybe you have some ideas to share too!
1. Why Use a Slow Cooker?
•    Slow cookers cook all day with no or minimal attention. Perfect for busy moms!
•    With a slow cooker, you can go out and come home to the delicious aroma of home-cooked food…and thus also avoid having to throw something together at the last minute, which means you may avoid unhealthy or expensive options, due to hunger and no time.
•    You can make supper in the morning and then avoid the rush in the late afternoon, which usually coincides with the time children need the most attention.
•    Having supper on time can be easier since it was all put together in the morning. This is much appreciated by hungry husbands and kids! Sometimes life gets crazy and supper is late due to unforeseen things that happen with the kids or whatever.
•    You can use it on tougher cuts of meat and they come out tender. I no longer even cook a roast in the oven.
•    If it's a hot day, you can cook things without turning on the oven. Its not just a winter time appliance!
•    You can cook big batches of something without attention and then (depending on family size and size of the slow cooker) freeze some for later use.
•    You can cook in your slow cooker when the stove is occupied with other pots and pans. For me, during canning season the stove is often occupied (and I don't want the kitchen any hotter by using the oven) and I am too tired to think about what is for supper if I have to make it late in the day. It's a perfect option to use my slow cooker!
•    You can cook great food for having company or house guests. I often use mine when I am having family stay for a few days, since that way we can be out and about doing things and come home to supper. I have also served supper guests from my slow cooker. Its so simple and easy, and then you can have all the clean up done in the morning, and relax and enjoy your guests before and after supper. After all, having company isn't about the food, its about the people! The slow cooker makes time for what really matters. This is my favorite way to have supper guests.
2. What Slow Cookers Cook:
Slow cookers seem to cook certain types of food best. The types of foods that cook best are those that can cook slowly all day, not things that would need very little cooking time. I have found slow cooking to be best with roasts, chicken parts, spaghetti sauce, soups and stews. I've also done beans, and breakfast cooked cereals. I've even seen recipes for desserts and hot drinks, but have yet to find healthy recipes for those. You can even adapt many recipes to the slow cooker!
Do you have a slow cooker? Are there any ways you can think of that you aren't using your slow cooker to its full advantage? Any other ideas, favorite recipe sources, or other ideas on how to make better use of this handy kitchen appliance?
Nola is a homemaker and mother to two girls: 6 months and 3 years. She enjoys finding healthy ways to serve her family better.
Image by lindyireland