Carrying Burdens That Don't Belong to Us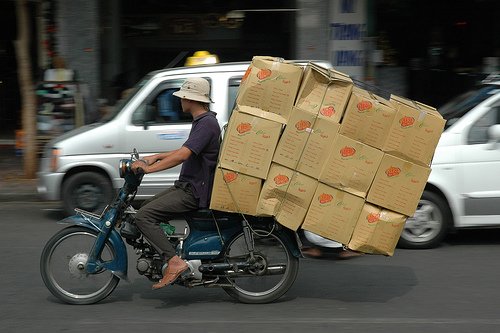 Image by grame_newcomb
Are you feeling overwhelmed? Is it possible that those burdens you're carrying were never yours to carry in the first place?
When we get off course, God is so faithful to intervene and use any number of ways to gently guide us back to where we ought to be. In my case, He most recently used my husband to bring some correction and encouragement that I so desperately needed.
Since the birth of my 3rd baby, about 3 months ago, I have been dealing with a significant amount of stress. Almost daily, I have felt entirely overwhelmed and far too busy. I didn't feel that I had enough time to do all that needed to be done. I was struggling with discouragement, anger and some depression.
My husband had often admonished me during this time that God does not give us more to do each day than we are capable of handling and accomplishing (through His grace, of course). Truthfully, I couldn't see how this was true and felt that indeed, God was giving me more than I could handle. The combination of life events (not just the birth of a new baby, but many other circumstances in addition) just felt like too much and I felt sorely inadequate. I was allowing my circumstances to distort my perception of God, believing that He was allowing me to be in this stressful place and doubting in His goodness.
A few weeks ago, my husband and I had a much needed conversation where I finally admitted how I was feeling. He suggested that I was letting many other feelings of obligation, expectation, and my own pride get in the way of the few things that God was actually calling me to focus on and accomplish. Many of the things that I was allowing to stress me out were far above and beyond the true priorities that I needed to be focusing on.
To help me get back on track and simplify the to-do list that I kept creating for myself, Ryan made this for me: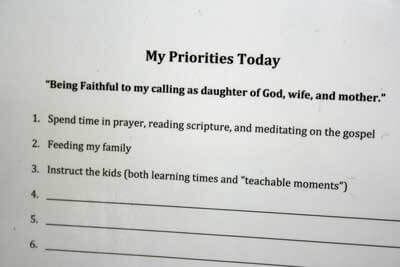 You can see that I have 3 main priorities:
Spend time in prayer, reading scripture, and meditating on the gospel.
Feed my family
Instruct the kids (teaching and training)
In addition to this, I can add 3 other items, but they are not to take priority until my first three items are under control. If that is all that I accomplish each day, it is enough! My day is a success. I have done what is most important and everything else can slide if it has to.
I cannot even begin to tell you what a weight has dropped off of my shoulders. These are my priorities in this season of life and I am not a failure if I do not accomplish some self-imposed list of other things!
I was reflecting on this during my quiet time the other day and here is what I wrote in my journal:
"I quickly become overwhelmed in life when I try to do and accomplish all that I think needs to be done, without bringing it before the Lord and asking instead, what does He have for me? He does not give us more than we can bear. His burden is easy; His yoke is light. If it feels heavy, oppressive, or impossible then chances are good that I have picked up burdens that are not mine to bear."
Have you picked up burdens that you do not need to be carrying? How do you stay faithful to the calling that you have received?