Menu Plan Monday- Dec.1 (and the start of some great giveaways!)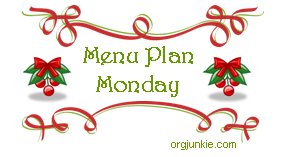 Here's another 2 week menu plan, as I continue to work on cooking to please my husband more:
Monday: Chicken Divan over rice
Tuesday: Samosas (homemade, using the Nourishing Traditions recipe) with plum sauce and spinach salad
Wednesday: Quinoa Stuffed Tomatoes and Chicken Apple Sausages
Thursday: Lasagna, salad and garlic bread (with guests)
Friday: Taco Salad
Saturday: Sandwiches
Sunday: Leftovers
Monday: Beef Stew (using bone broth, not soup mix, and adding onions, as well as some turnips and cabbage, because I have some that needs to be used) with homemade bread or biscuits
Tuesday: Crispy Potato Pancakes (I shred extra veggies into the batter) with Whole Baked Salmon (ok, so this fish still has the head and eyes on it, and my daughter has decided to name it Bella, and since I bought it, she has come up to me multiple times and asked to see "Bella the Fish" from the freezer! We've gone over and over how Bella was already dead, and how we're planning to eat her just like all the other fish I buy- think she'll need therapy over this??)
Wednesday: Spud Special Soup with raw veggies and dip
Thursday: Root Vegetable Millet Cobbler
Friday: Baked Beans (I'm looking for a new recipe to use in my crockpot- any suggestions?) with Dijon Scalloped Potatoes and a side veggie
Saturday: Homemade Pizza
Sunday: Leftovers or something creative to clean out the fridge (this is becoming my new Sunday dinner ritual- I like it!)
Lots more great menu plans at Organizing Junkie!
Now here's the giveaway…
Who wants to win a stainless steel water bottle?
Me, me,
me… oh wait. I can't win one. I already have one. Besides, I think
there might be a blogosphere riot if I started giving away my giveaways
to myself. 🙂


Guess I'll have to give it to one of you instead! One awesome water bottle. Every week. For four weeks in a row. How fun is that???
Here's
the scoop. When I was at the Baby Purity Conference last month, I met a
sweet mom from Vancouver, who happened to be selling stainless steel
water bottles and food storage containers, for 1/2 the price you'd find
them anywhere else. I ended up buying two, to get a complete set of 4
for our family (we already had two Klean Kanteens).


These bottles are virtually the same as Klean Kanteen, and are actually made by the same manufacturers. They are high quality stainless steel, with the same type of lid variety that Klean Kanteen offers, but for a much (much!) friendlier price.
Carolyn first began looking into affordable plastic alternatives for the same reason as most of you have- to keep her kids safe from harmful and unknown chemicals in the plastics, and now she has expanded that into her business The Tickle Trunk, where she sells not only water bottles, but also food storage containers, cutlery, cups, and more items coming soon.
Here's how to get in on the giveaway:
1) Head on over to The Tickle Trunk to take a look around and choose which bottle you would like to win.
2) Leave me a comment letting you know which product you like the best, as well as which bottle you would choose if you won.
3) To be entered a second time, mention this giveaway on your blog with a link to the giveaway, and leave me a comment with the url for the post where you've mentioned it.
4) Contest ends Friday, at 3pm PST.
5) If you didn't win, make sure to come on back next Monday, to enter yourself for the next bottle giveaway! There will be one every week, for the next four weeks!
Edit: Comments are now closed- thanks everyone!