During the Q&A last week, I was asked if I had any more bread recipes that I wanted to share, and it was great timing, because I've just recently been quite happy with what I've been making (a very good thing, as I am somewhat baking-challenged).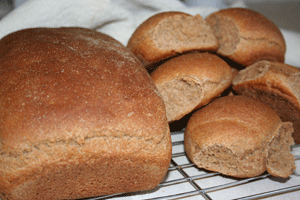 Soaked, yeasted whole grain bread
The first recipe that I've been using and loving is a soaked and yeasted bread recipe, from Sue Gregg's Baking with Whole Grains. I was pleased to see it on The Nourishing Gourmet last week, and doubly pleased to see that Kimi had discovered a link to where the recipe is posted on the web (thanks Kimi)!
Though this bread takes a bit of forethought and time, it does make two loaves (or else you can do one loaf and a pan of dinner rolls, etc.). My only complaint with this recipe is that I either have to have sprouted flour on hand (which I don't always, and it takes several days to make more) or it is suggested to use unbleached flour (which doesn't really exist when you use spelt or other alternative flours- whole grain is often the only option). The rising time with all of the flour (1/2 of the flour is soaked overnight, so that part is fine) is not sufficient to neutralize the phytates completely.
Nonetheless, this is a great recipe, certainly better than using a regular yeasted, non-soaked recipe, and if you do have sprouted flour, it's fantastic! Lighter than some other whole grain breads I've made, so it's nice for sandwiches.
Sourdough bread
This is what has me a bit more excited these days! I made my own starter, as I have before, but this time I am so much happier with it. I have previously made my starter using spelt, but this time used rye flour (as per Nourishing Traditions and Sue Gregg's recommendations). What a difference! Wow!
The recipe that I'm using is Sue Gregg's Sourdough Bread, though I've tweaked it slightly and have actually made it two different ways.
The recipe (from Sue Gregg's whole grains book, which I love, love, love)
Sourdough Bread Recipe
Ingredients
The night before:
1 1/2

cups

warm

not hot filtered water

1

cup

sourdough starter

4

cups

spelt flour or whole wheat flour

I use spelt, but I also substitute at least one cup with whole rye flour
Next day:
2

tsp

salt

1/3

cup

melted coconut oil or butter

2

tsp

diatatic malt or 1/4 cup honey

I don't add this

Optional yeast

1/4 cup very warm water, 1 Tbsp active dry yeast, 1/2 tsp honey- mix and let sit for 5 minutes, then add with above ingredients to bowl

3-4

cups

flour for kneading
Instructions
The morning before:
Remove the sourdough starter from the fridge, let it sit for 12 hours (give it a stir, too).
The night before:
Blend together (in non-metal bowl with non-metal spoon): filtered water, sourdough starter, 4 cups spelt flour or whole wheat flour.

Cover with damp cloth and let stand overnight. (Make sure you replenish your sourdough starter with equal parts water and flour and let it sit out for a few hours before putting it back in the fridge).
Next day:
Add to bowl and mix well: salt, melted coconut oil or butter, diatatic malt or honey, optional yeast.

Add flour in the bowl until dough can be handled outside of the bowl, and need for about 20 minutes, until dough is smooth and resistant to kneading (when you knead it, it starts to bounce back at you a bit). Use around 3-4 cups flour for kneading.

Place in lightly greased bowl (grease top of dough lightly), cover with damp cloth. Let rise in a warm place until double (can take around 3-4 hours, or even more).

Punch down, turn dough over, cover and let it rise until doubled again (usually takes about half the time of the first rise).

Punch down, knead briefly (a minute or two), let it rest 10-15 minutes. Shape into loaves, and put into greased pans. Let rise again until doubled (or almost doubled, about 20-30 minutes).

Bake at 350 F for 35-45 minutes (I find closer to 35 minutes is usually enough, but I suppose it depends on your oven and baking pans).

Place loaves on a racks to cool before slicing.
This recipe has worked really consistently for me the 3 times that I've done it, and my husband really loves it (and he's a bit picky about which bread recipes he likes).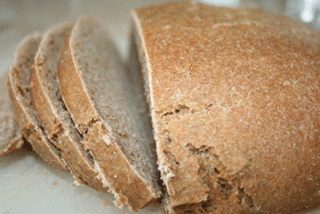 However, I still wasn't loving that the second batch of flour added for kneading wasn't getting quite long enough of a soaking/rising period (though it's definitely better than in the yeasted bread recipe, in my opinion). Still not wanting to have to bother with sprouted flour, I decided to play around with the recipe a bit more.
I left out the yeast (which Sue says is optional, but you need to know that it will definitely change the recipe- more dense, doesn't rise as high or nearly as fast). Instead, I added 6 cups of flour all at once, including the ingredients in 2 and 3 (except the yeast mixture, of course). I then immediately kneaded it for 20 minutes, and then left it as in Step 5, except I went to bed for the night.
The next day, probably late morning, it was around doubled in size, so I continued on with Step 6, etc. Each rise took longer than it would have with the yeast (the second rise took all afternoon, and the third rise took more than an hour). These long rising times are to be expected when making sourdough in the traditional way, though. The only catch is you need to make sure it has truly risen enough before you bake it, because it won't rise that last little bit in the oven like a yeasted bread will.
This bread was also quite nice, and my husband definitely liked it better than my old sourdough recipe (though a bit less than the sourdough with yeast, as above). It didn't rise quite as high as I would like it to, but I could give it more rising time and that should take care of that problem.
Hope that satisfies the bread makers out there for awhile! I have one more recipe that I intend to play around with, but I don't have much extra baking time quite yet, so it might be a little while. I'd love to hear how you all make your sourdough bread, though, and what you use for your starter!