Spirit-Led Parenting: How Motherhood Calls Us to Lay Down Our Lives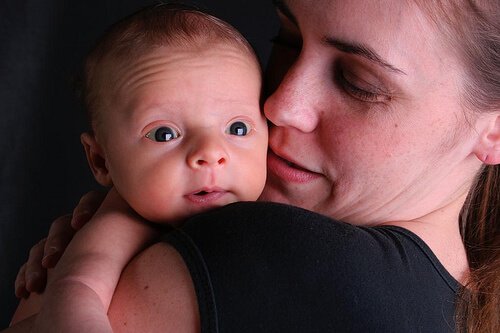 I vividly remember those weeks so many years ago, when I began my journey as a brand-new mom. I was clueless.
I spent my pregnancy reading all sorts of good books but I somehow skipped over the very important topic of "what to do with your crying/hungry/needy bundle of joy once they are OUT of your womb".
My initial weeks and months as a new mom were utterly bewildering to me. I read everything from the strict schedule-and-sleep-training books all the way to books on practicing complete attachment parenting. My sweet baby didn't know whether she was coming or going— one day I let her cry, the next I let her nap in my arms, the next day I picked her up and put her back down 30 times while trying to get her to go back to sleep and finish her "prescribed" length of nap time.
So very confused. I wanted badly to do my best, but I just had no idea what that looked like.
But maybe I was also afraid…
Today, I'm reviewing the new book Spirit-Led Parenting: From Fear to Freedom in Baby's First Year by Megan Tietz and Laura Oyer. One of the over-arching themes in the book has to do with moving away from our fears as mothers (of failing our babies, of not meeting other's expectations, of disappointing God), and instead towards freedom.
There was certainly struggle and a grasping at something in those early days and weeks, although I've never pinpointed just what it was. While reading this book, I tried to wrap my brain around the idea of fear… I think that I had been fearful. But of what, exactly?
Last night, it finally came to me, although I couldn't have put it into words at the time. I think that I definitely feared I was failing as a mom. I was also deeply afraid of losing control of my own life.
I was scared that every short or missed nap meant I would have a baby that never learned to sleep well, one that was difficult and demanding. On the other hand, I was also scared of having to give too much– to sleep with baby and nurse constantly through the night (would I ever truly sleep again?), to never be able to leave my baby for any period of time, to live perpetually in this new-mother fogginess and unproductivity.
Ultimately, my fear rose out of my desire to control. I liked my tidy, type A life the way that it was. I had no idea that becoming a mother was the thing that would rip the false notion of control away from me faster than anything else.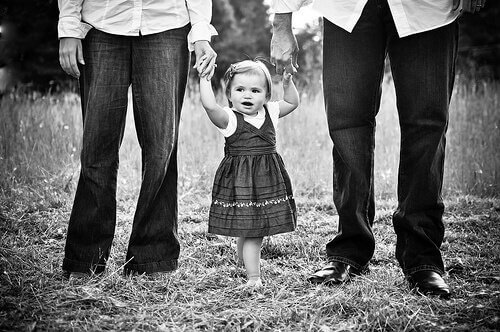 How mothering our babies teaches us to lay down our lives
What I resonated with most in their book was the concept that, at its core, mothering is about servanthood. It's about giving up our own rights and desires and schedules and conveniences, out of love for our children and obedience to Christ.
The call to follow Christ is inextricably connected to the call to serve others in love. Who needs to experience the ministry of the body of Christ more than the insecure, the weak, and the helpless? Into our arms He delivers these new ones, and He is faithful to empower us to have all that we need to be His hands and feet to them." Spirit-Led Parenting
I just gave birth to my fourth baby a mere 9 weeks ago, so there is no sweet sentimentalism in me as I ponder what the sacrifice looks like.
I know that it is no small thing to be awakened every 2 hours to nurse a baby that just won't latch (as you spray breastmilk to the far corners of the room). Or have nipples so raw that each time that latch does come you wince through those first minutes until the pain begins to subside. Or to make dinner for your family with a crying baby, who needs to be worn on your chest, bounced, and patted simultaneously, as you attempt to chop vegetables without rendering yourself fingerless in the process.
"If we were to look at our spouse, or at a neighbor that God has placed in our lives who has needs to be met, and say, "I'm sorry, what you need from me isn't convenient at this time. You'll have to learn to require those things at an appropriate time," we would surely consider that attitude to be one from which we need to repent.

Why would we see our children, the most precious gifts that God has placed in our care, any differently? Perhaps parenting an infant is one of the purest examples of living out the gospel because it is truly a give, give, give relationship. It is a constant opportunity to allow God to refine us by laying down our own desires to care for the needs of another." Spirit-Led Parenting
Nothing sucks the selfishness straight out of you faster than being a mother. We must learn to pluck our own feathers daily.

So how should we care for our babies?
As for the nitty gritty of caring for a baby, this book doesn't read like a how-to, although it does give many helpful ideas and suggestions. However, it will encourage you, sweet mother, to trust yourself and your ability to mother your children.
I have learned to give in to the ebb and flow that is known as life with a newborn. Having my four precious babes has taught me that it is not possible to spoil a newborn too much, that babies are meant to be enjoyed, that there can be routine and calmness even while nursing on-demand, and that sleeping near and sometimes with my baby allows me to get MORE sleep, not less.
My mothering has ultimately evolved into this very comfortable place of part routine and gentle training for my baby, and part flexibility to simply attend to my baby's needs as they arise. And it really works for me. I don't think there is anything wrong with using some methods to establish a flexible routine, or to gently sleep train in a way that works for both you and your infant, just as there is nothing wrong with choosing a much more relaxed "attachment" style, either.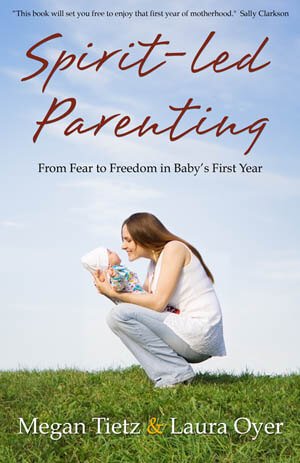 What I think that Megan and Laura really want us to hear and grasp and know deep in our heart of hearts is that there isn't just one set way of doing things.
If our parenting doesn't follow along with the one-size-fits-all guidelines of popular parenting books or sleep manuals, despite the warnings they give, we haven't failed with a capital F. We aren't heretics. Our child isn't doomed. Our marriage won't fall apart.
So long as we are listening to the gentle nudging of our wise and loving Holy Spirit, and we are willing to surrender our lives and our sense of control as Jesus calls us to do, we ARE succeeding. We are being the mother that He intended and created us to be.
How have you moved from fear to freedom in your mothering journey?
Spirit-Led Parenting: From Fear to Freedom in Baby's First Year is now available for purchase (and Amazon finally has copies back in stock)! It is available in either paperback or Kindle versions.
I'm a part of the official Spirit-Led Parenting Blog Tour, along with these other fabulous blogs:
This post includes affiliate links.