Living Simply Saturday: Keeping Christmas Simple and some Birthday Party Fun
As you may have guessed by the title, I'm taking a week off from the book I've been going through. 🙂
While I'm skipping a week, might as well skip one more, right? I've got something special planned for next Saturday, that I'm really looking forward to!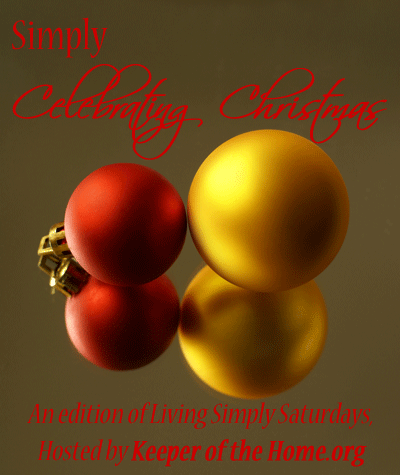 Christmas seems to be one of the most difficult seasons to keep simple. There are work parties and concerts and special events and living nativities and church services and family get-togethers to attend. There's shopping for or making gifts, or some combination in between. There are Christmas cards, family photos or yearly letters to be written, addressed and sent. There's baking, baking, and more baking. There's a tree to be chosen, set up and decorated with care, and magical, memorable moments to be made with the children.
In the midst of all the busyness, it is so easy to forget the reason for the season (I know it's a bit cliche, but it's true). Christ coming to earth, as God incarnate, to set His people free from the bondage of sin and to reconcile them to God forever… so simple, so beautiful, so worthy of celebration.
How do we keep the focus where it truly belongs, on Christ and what He has done for us and on the kindness of God to send us a Savior? What can we do to keep our priorities straight, to slow things down a little a lot, to make things as simple and meaningful as possible? How can we find time and energy to serve and love others? What can you share with me (with all of us) about how to simply celebrate Christmas?
Announcing the…
Simply Celebrating Christmas Carnival
When: Next Saturday, Dec.6 (carnival will be up by Friday night)
What: Anything that make Christmas more simple and meaningful, less busy and stressful, etc. The ways that you minimize or prioritize or say no or find shortcuts. Practical is good!
Please feel free to use the button I've made, to share about the carnival on your blog (there is a smaller one on the sidebar if you prefer). The more people that participate the more valuable the carnival will be!
Now, a little birthday party fun!
I've been known to go a little overboard with my daughter's birthday parties. Okay, okay. A lot overboard!
I could tell you about her insanely big 1st birthday party, where I rented a room, invited practically everyone we knew, made a huge cake and tons of appetizers, and wore the birthday girl out to tears by the time she was opening her presents (did I mention she wouldn't take her nap?). Or her 3rd birthday, which although it was fantastic, had me up to nearly 1am the night before trying to complete everything and have the house ready for a gaggle of preschoolers!
Not this year. Cheap and easy, but still a blast. Here's what I did for the big shindig this morning:
Used Evite to send out adorable, spring themed invitations (we wanted something bright and sunshiney in the midst of the grey clouds and rain)
Grabbed a cute (cheap) paper tablecloth with matching napkins at Walmart last week while doing my couponing
Made the party from 9:30-11:30am. Short and sweet. Just enough time to get ready, and it will be over in time for a small lunch and much-needed naptimes after all the excitement.
Craft- I decided to combine this with making Christmas gifts, and it's
super cute and easy, but I can't tell you what it is because some
family members who read this blog are getting some (so here's the link- but anyone named Mom or Grandma is forbidden to click on this link! 🙂
Instead of gift bags (or homemade playdough like I did last year- sheesh!) and in addition to the craft the kids took home, we gave out two small gifts (very inexpensive) and a simple gift tag cut out of leftover scrapbook paper, with a "Thank You" stamp, a flower punch out, and Abbie helped me write "Love Abbie" on them (we had fun making these during our learning time this morning- letter writing practice!)
Food- One Gingerbread (spelt/kamut) Cake with cream cheese/honey icing (very simple to make), two large blenderfuls of fruit smoothie (so yummy and easy to whip up), a plate of veggies, plus coffee/tea for the moms.
Gathered a few "springy" decorations (stuffed birds, flowers, butterflies, etc.) from around the house to do some simple decorating (took 10 minutes flat)
That's it! We still had 9 kids over (including younger siblings), plus my own 2, and 5 moms (plus myself). It was a full house but I didn't go insane, we had tons of fun, everyone left happy, and my house was almost clean by 2pm! 🙂
How do you keep birthday parties simple and easy to pull off, but still fun and memorable? And, are you in for Simply Celebrating Christmas?