Menu Plan Monday- November 3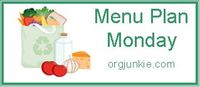 Gosh, it's been months since I posted my meal plan! But based on my post last week, and seeing how many people are in the same boat as me, with wanting to cook the comfort foods their husbands love (but still in a healthy way), I thought I'd share what I'm doing.
I've been meal planning two weeks at a time lately, as much as I'm able to. I like having it planned that much ahead (because it means I don't have to do it as often!), and I've been trying really hard to go shopping less often (to save time, money and gas).
On a side note, this week I got some bonus raw milk from my cow share and I'm planning to try my hand at cheese making. With the way that the cost of my wonderful raw cheese has shot up over the last while, not to mention that I buy it from the US with a now-lower Canadian dollar, and I have a family who could eat cheese at three meals a day, I'd love to see if making my own cheese is economical and practical.
Any cheese recipes you can pass on to me? Thoughts from those who've tried it? Was it worthwhile? Tips for a first timer? Thanks!
Monday- Root Vegetable Cobbler with Millet Dumblings (basically a pot pie, which I like to add just a bit of chicken to), with raw veggies on the side
Tuesday- Cheesy Beef and Rice, lightly steamed broccoli and cauliflower
Wednesday- Turkey Stromboli, with a chunky veggie salad
Thursday– at a church event
Friday– Burritos (with homemade, soaked tortillas, sour cream, rice, onions, peppers, corn, pinto beans, cheese and guacamole)
Saturday– Leftovers or sandwiches with fresh sprouts
Sunday– Dinner with family (not sure what I'm making yet)
Monday– Spaghetti squash with Janet's Tomato Sauce (we love to use spaghetti squash in place of pasta)
Tuesday– Roast beef, with mashed potatoes, carrots, celery and onions.
Wednesday– Fajitas (using leftover beef, peppers, onions, homemade salsa and sour cream)
Thursday– At a church event
Friday– Breaded white fish (Nourishing Traditions), with brown rice and broccoli salad
Saturday– Refried bean dip (basically refried beans, layered with diced tomatoes, seasonings and cheese, warmed up in the oven) with organic tortilla chips and raw veggies with dip
Sunday– Homemade macaroni and cheese (with rice pasta) and a green salad, or leftovers if the fridge is too full.
Part of Menu Plan Mondays, hosted by Organizing Junkie.