Living Simple Saturdays- First time, all the time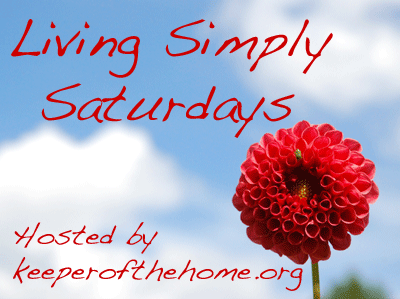 (We now interupt our regular broadcasting to bring you this special announcement: Stephanie is a very real, very normal person who simply did not have enough time this week to read her chapter in From Clutter to Clarity, much less consider it and attempt to apply it's principles to her life… next week, God willing, we'll be looking at Chapter 4 or 5)
Sometimes, God uses even the blogging world to get my attention. Both this post, and this, as well as a few other happenings in real life came together last week to make me realize that something needed to change in how I was disciplining and training my children.
Confession time once again: I really struggle with requiring first time obedience. There. I've said it.
I tend to let myself believe that it won't be a big deal and that I will be able to get more done, if I postpone disciplining or training for just a few minutes. So, I sometimes end up giving first and second (even third) chances, trying to reason (with a three year old- now seriously, what am I thinking?), or worst of all, ignoring until the steam builds up inside of me and I get angry and blow it.
It's just the absolutely wrong approach, all around. I *know* that requiring first time obedience, immediately in the moment is what needs to be done. I agree with the concept. I admire others who do it. I want to do it myself. And yet, I find myself struggling to carry it out day after day. There are a lot of things I could try to blame it on, but the yucky truth is that the main reason I don't do what I know I need to do is usually laziness and selfishness.
The longer I don't do this completely, and keep letting "little things" slide with my children rather than immediatley stopping what I am doing to discipline and/or train them, the greater the problem will get. It feels easier in the short term, but the long term consequences are enormous for my children,and ultimately require much more work and effort and time on my part. Procrastinating on things that must be done is never simple and never time saving.
I've made a commitment, with my husband's help and support, to try to turn this situation around now. Time to stop flip flopping between my inconsistentcy in this area (some days, I really am on the ball and doing well, and others days I'm not- what a confusing message to send to my children!). What I'm really telling them is that obeying Mommy(and Daddy) isn't truly the most important thing, it just depends on Mommy's mood and energy level and how preoccupied she is. Ouch. Ouch. Ouch.
So… lesson well learned. All else on my to-do list has lost any prominence or urgency (hence, not doing my regular From Clutter to Clarity post, and not getting this up until Saturday morning), as I have committed to stopping everything, to love my children by dealing with behaviors (but more so, the underlying issues of their hearts) right away, the first time, all the time.
And although this feels like a sacrifice because of the effort that it is taking to do it now (because there's so much to undo first, it feels a bit all-consuming), this is ultimately a much more simple way to do life. The long term payoff will be well worth it, in every regard (in my children's hearts and attitudes, in my own response, in a more peaceful and orderly atmosphere).I'm aiming to tomato stake all next week, and I don't know if I'll accomplish anything else around the house, but simplifying my priorities like this makes it easy. If I'm being faithful to love and train my children above everything else, no matter what does or doesn't get done, my week will be a true success.
Does anyone else struggle with this issue? Any encouragement for me from moms who have worked to overcome inconsistency in their mothering?