Is the Pomegranate Worth the Price? {5 Reasons + 3 Recipes to prove that it is!}
Guest Post by Dena Norton
Pomegranates are everywhere lately – food blogs, Pinterest boards, clothing lines and magazine covers.
Pomegranates have been on the scene for a while now (some say since the Garden of Eden), and it doesn't look like they're giving up the spotlight any time soon. They hit peak production worldwide in 2013, but some are projecting new records in the coming year.
Pomegranates are definitely popular, but they're also pricey! My (usually affordable) grocer charges $5.00 for a 5-ounce package of pre-packed seeds! I love the convenience, but $1.00 an ounce? Yikes!
If you're turned off by the price (or the mess), keep reading!
Here are 5 reasons I believe the pomegranate is worth the money:
1. Whole pomegranates are much cheaper than pre-packed seeds.
A whole fruit costs around $2.50 where I live, and it yields up to 16 ounces of seeds – that's an 85 percent discount off of pre-packed seed prices! Pomegranates can be purchased in season (fall/winter) and frozen for additional savings in spring/summer.
2. When done right, extracting the seeds isn't messy.
Don't believe me? Here are two simple, mess-free methods of extracting the seeds: the water method and the tapping method. I've tried both and like the water method best.
3. They taste amazing!
The gorgeous ruby-red color, the burst of refreshing juice when you bite in, the super sweet taste with just a hint of tart. Amazing.
4. They display the beauty of God's creation!
All of God's foods are wonderful, but there's something extra exciting about those that have such a unique appearance, texture and flavor. The process of "unwrapping" these little gifts from our Maker is a perfect opportunity to appreciate (and talk with our kids about) how creative our God is!
5. They're healthy!
Did you know that pomegranates:
have more Vitamin C than blueberries or cherries?
have more ellagic acid (antioxidant) than red wine?
help protect against heart disease, prostate cancer and breast cancer?
Now, 3 fantastic ways to use pomegranates: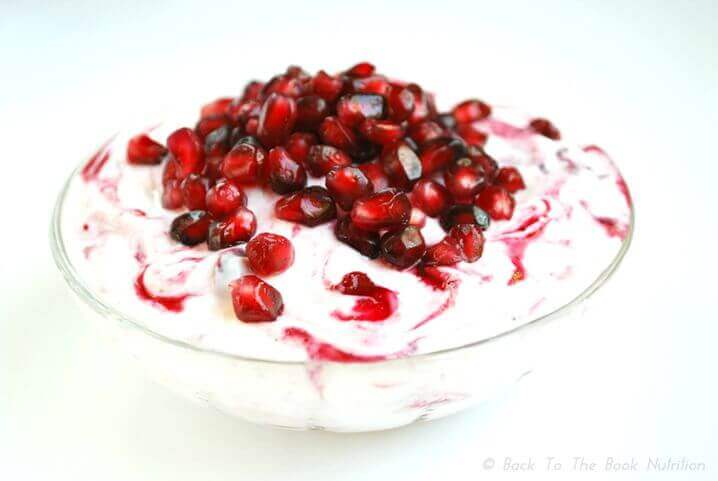 Cranberry-Pomegranate Yogurt
Stir together:  Plain yogurt, honey, pomegranate seeds and chia seeds (optional); then add a generous swirl of our Very Best Cranberry Sauce. Top with additional pomegranate seeds to serve.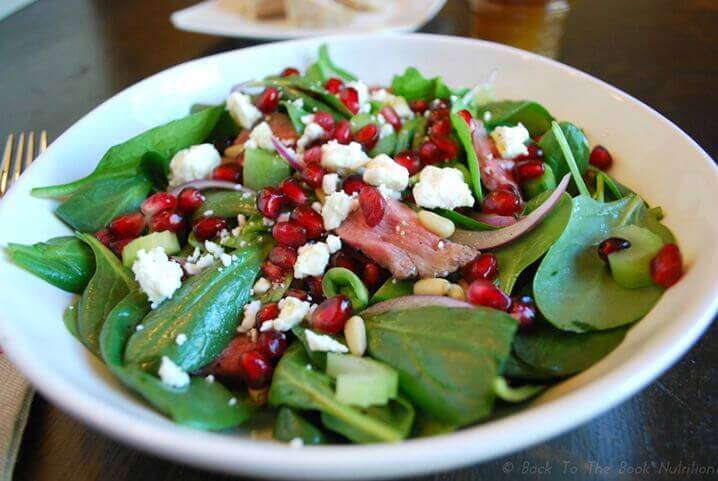 Spinach Salad with Pine Nuts, Pomegranate Seeds and Feta
Toss baby spinach in a bowl with pomegranate seeds and other favorite salad ingredients. The combination pictured above includes celery, snap peas, red onion, pine nuts, feta cheese, an ounce of sliced steak and pomegranate seeds – all tossed with our homemade Seasame Lemon Vinaigrette.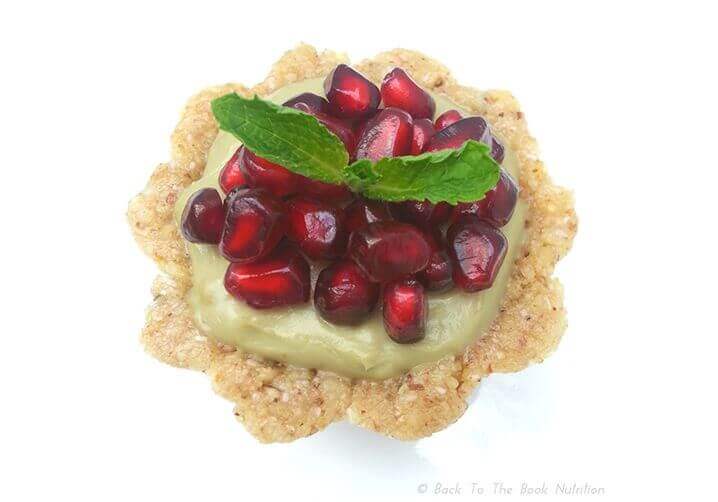 No-Bake Pomegranate Cheesecake Tart
The red and green version of this no-bake tart is perfect for Christmas, but the avocado can be omitted from the cream cheese mixture for a non-holiday treat as well. If using avocado, the filling should be made just before serving to preserve the green color.
For the crust, pulse in a food processor until mixture resembles course crumbs: 1 1/3 cups walnuts and 1/3 cup shredded unsweetened coconut. Add 5 tsp raw honey, 4 tsp liquid coconut oil, and 1/8 tsp salt. Press mixture into 8 mini tart molds (or 12 mini muffin molds).
For the filling, blend in Vitamix until smooth: 4 oz cream cheese, 1 small avocado, 3 Tbsp honey, and 1 tsp lemon zest. Pour mixture into tart crusts and top with pomegranate seeds and a sprig of mint.
Does your family eat pomegranates?
If not, I hope you'll give them a try after reading this! If so, I'd love to hear your favorite pomegranate recipes or your ideas for making it more affordable or less messy. Leave a comment below to share your ideas!
Dena Norton is a registered dietitian who practiced clinically for six years before coming home in 2009 to start a family with her husband, Rick. They currently have two precious children. Recently, Dena published an e-book – Nutrition By The Book – and started Back To The Book Nutrition, an online business that aims to spread the message of enjoying and worshipping God through nutrition and health. Subscribe to her blog or join her on Facebook and Twitter.