Lemon Chicken with Dried Figs
I think I got a bit of my motivation back, after last week (I was feeling frustrated with cooking for my very restricted diet and planned a bunch of the same meals we had just recently eaten). All new recipes for this week!
On a side note, I've been losing weight on this cleanse, unintentionally, but significantly. I didn't realize how much until we were at the naturopath's yesterday for my son's re-test and I weighed myself and realized I had lost 10 lbs! Wow! I had been wondering why all my clothes felt and looked so baggy- no wonder!
The good news is that he is doing very well- his Candida levels are back down to zero, and the parasites are gone. Much of his eczema has cleared up and we are hopeful that the rest of it will continue to decrease as well. I am so thankful for this, praise God!
As for me, I've had more energy and clarity lately, but I've also had wickedly bad indigestion, and my eczema has been quite bad this past week (likely because I am not absorbing my fats properly due to the indigestion). The recommendation is for me to use a digestive enzyme until this clears up, and continue on with the diet for at least another month, as planned. I am also adding avocados back into my diet, and upping my intake of fats and protein to try to regain the lost weight.
Here's this week's menu, and a yummy chicken recipe below:
Monday: Lemon Chicken with dried figs (recipe below), quinoa and breaded zucchini on the side.
Tuesday: Brown rice pasta with Sage Cream Sauce (from The Allergy Self-Help Cookbook, lent to me by a friend who did the diet I'm on a couple years ago), and steamed cauliflower.
Wednesday: At a church event, our last week before it's back to cooking on Wednesdays. 🙂
Thursday: Samosas with plum sauce (Nourishing Traditions recipes), and Lentil Dahl (I might make Roti, Indian flat bread, as well but we'll see how much time I have that day).
Friday: Polynesian Chicken Dinner (a type of sweet and sour dish, with pineapple and green peppers), over rice (probably millet or quinoa for me).
Saturday: Beans/rice/cheese burritos, made with homemade spelt tortillas (I'll make these Monday during my Kitchen prep time), and salsa or guac, plus sour cream (my husband hates to eat Mexican food without sour cream- is this a male thing?)
Sunday: Crockpot Moose Stew with salad (the stew based loosely on this recipe).
And a recipe (oh, this is so, so yummy!)…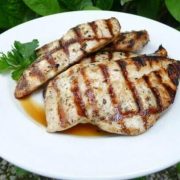 Print Recipe
Lemon Chicken with Dried Figs Recipe
Ingredients
2

tsp

olive oil

1

cup

chopped onions

2

cloves

minced garlic

Reduce to medium heat and saute until onions are soft

1

cup

slivered dried figs or dates

1

cup

chicken broth

1/2

cup

chopped fresh cilantro

2

TBSP

lemon juice

4

chicken breasts
Instructions
Heat 2 tsp olive oil (med-high heat)

Add 4 chicken breasts, saute until brown, about 5 min. each side

Remove chicken and place in baking dish

Add olive oil, chopped onions, minced garlic

Reduce to med. heat and saute until onions are soft

Add figs or dates, chicken broth, cilantro, and lemon juice

Reduce heat and simmer, stirring occasionally, until figs are quite soft (about 15 minutes). Season with salt and pepper. Spoon fig sauce over chicken; cover baking dish and bake about 15 min at 350 F. Serve sprinkled with 3 Tbsp chopped cilantro.
What's your favorite way to prepare chicken?