Growing a Potted Apple Tree
Did you know that you can grow your own fruit trees, regardless of whether you live in a small apartment or townhouse or a home that you rent?
Anyone can grow fruit trees in containers, and it's just another way that we can frugally produce more of our own food, and as a huge bonus, it can be done organically!
Just a few weeks ago, I brought home this beauty: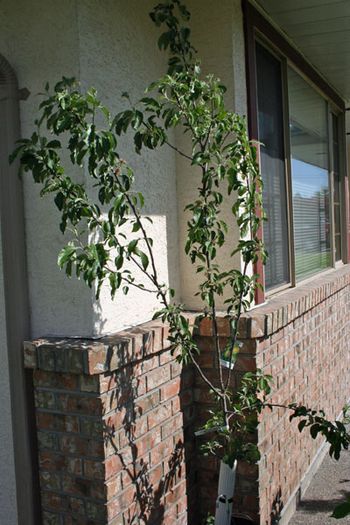 Freshly inspired by the book The Backyard Homestead, I decided to take the leap and get my very first fruit tree.
There were a few important considerations in my decision:
We live in a rental and are not sure when we will buy, so the tree needed to be small enough to survive in a container for several years and possibly indefinitely.
I was only prepared to buy one tree right now, so it needed to be self-pollinating, rather than requiring a second tree to cross-pollinate with
We're apple snobs and we're ok with it. We like the fancier brands (Gala, Ambrosia, Pink Lady, Fuji, Honeycrisp), rather than Macintosh, Granny Smith, Golden Delicious, etc. I wanted to find a more unique brand with a fantastic taste.
I'm not an incredibly patient person. I wanted apples now. This year. A girl needs at least a little bit of instant gratification when she's learning to grow her own food! 🙂 I determined to find a tree mature enough to produce at least a little bit by this fall.
Here's what I chose: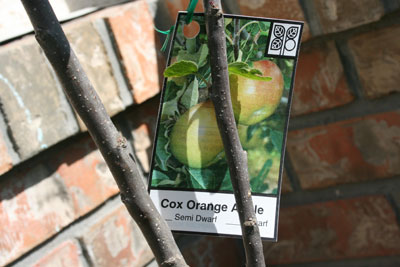 It's a Cox Orange Pippin Apple, a really lovely but somewhat rare (at least, in North America) variety that comes originally from the UK. Not only is this an incredibly delicious eating and dessert apple, but it also bears the distinction of being self-pollinating! I chose a Semi Dwarf version, which should only grow 7-10 feet tall (the way that I prune it will also play a role in how it grows). As a slightly smaller tree, it will do well in large containers for at least several years and longer if I keep it well pruned.
I purchased mine from my new, favorite local nursery, Arts Nursery. They carry more heirloom and rare types of plants, trees, seedlings and seeds than any other local nursery, in addition to more conventional varieties. My only admonitions to those going out to buy a tree would be to do your research before you go (I was so glad that I had done this!), take your time and make sure you've thought of how you're going to get your tree home! It took me longer than I thought it would to select a tree, and I hadn't considered how tall it might be. Fitting it in our little car was quite a feat!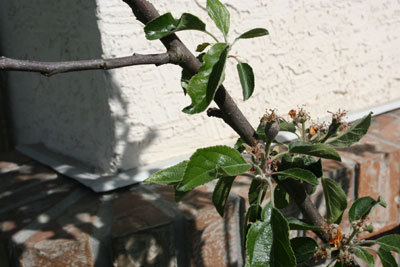 And look! I know you can't see it very well, but towards the center and slightly to the right, you can see the teensy tiny beginnings of an apple! I examined the tree today, and found quite a few little apples like this and I expect more will develop since the blossom petals have only just started falling off this past week.
For those interested in trying to grow your own fruit trees in containers, here are a few links I've found so far:
Fruit Tree Varieties: Includes common and antique/heirloom varieties and tells you whether they are early/mid/late season as well as whether they need a pollinator. Look on the left sidebar for other kinds of fruit trees, such as plums, peaches or cherries.
Orange Pippin: A site with extensive apple tree variety information, as well as links for where to buy them in the UK, France, Canada, USA and Australia.
Growing An Apple Tree in a Container: This is an excellent, in-depth article about growing container apple trees, with much helpful information for both before and after your buy your tree. This site, Life on the Balcony, also looks like it would be a great reference for anyone who is seeking to grow their foods through container gardening.
Growing Apple Trees as Container Plants: A succinct article that gives you the basics you need to know if you're considering getting a container apple tree.
Apple Trees in Containers: A short video on how apples are grown in pots.
Dwarf Fruit Trees: A good overview of information on a variety of fruit trees (pear, cherry, apple, peach, nectarine, plum, apricot) that may be grown in containers.
Growing Organic Apples: Some tips for growing your apples organically. I expect I will do a lot more research on this during the summer!
I look forward to showing you the progress of my little apple tree this summer, and especially to taking my very first bite of an apple that I grew! 🙂
Have you tried to grow your own fruit trees? In containers? Would you like to? 
This post is part of Frugal Fridays!