Delicious Homemade Baked French Fries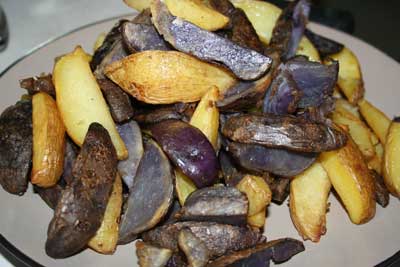 Whenever I make these baked french fries, we just can't get enough of them! They really are good!
If you're wondering why it looks like some of my french fries have turned an interesting shade of blue, it's because they are made with blue potatoes. They're called Russian Blue, and I grew them myself this summer. The deeper color signifies the presence of antioxidants, so these potatoes are actually very nutritious (but taste just like regular potatoes), and hey, they're just fun to eat! This summer I grew orange and pink tomatoes, purple cauliflower and beans, yellow cucumbers and blue potatoes– I feel just a little bit like Sam I Am. Yes, I could and I would eat greens eggs and ham.
Delicious Homemade Baked French Fries
Ingredients
Potatoes

regular or sweet potatoes/yams are a nice variation although they take just a little bit longer to cook

Coconut Oil

unrefined or virgin is best
Instructions
Preheat oven to 350 F. (Edit: I now usually bake them at 400 or even 415 F. I find they stay crispier and cook up a bit faster.)

Scrub and slice potatoes. Coat slices well in coconut oil (I find it easiest to do this by putting them in a plastic bowl with a lid, adding the oil, and then shaking them for a minute or two). Add a bit of extra coconut oil to the cookie sheet as well. (Another edit: My preferred method for oiling the fries is now to put frozen chunks of beef tallow, or else a spoonful of coconut oil, on the pan and stick it in the oven while it preheats. The oil melts nicely and the pre-warmed tray helps them cook better)

Spread slices out on oiled cookie sheet. Sprinkle lightly with sea salt.

Bake for 20 minutes, then flip. Bake another 20 minutes and flip again. Then bake for 10-20 minutes until finished, depending how crisp you like them.
A very yummy (and still healthy) addition to any late summer or early autumn meal!
Any other french fry lovers out there? And just out of curiosity, what do you think of the whole blue potato idea?