How to Make Colorful Homemade Sprinkles (plus DIY yellow cake mix!)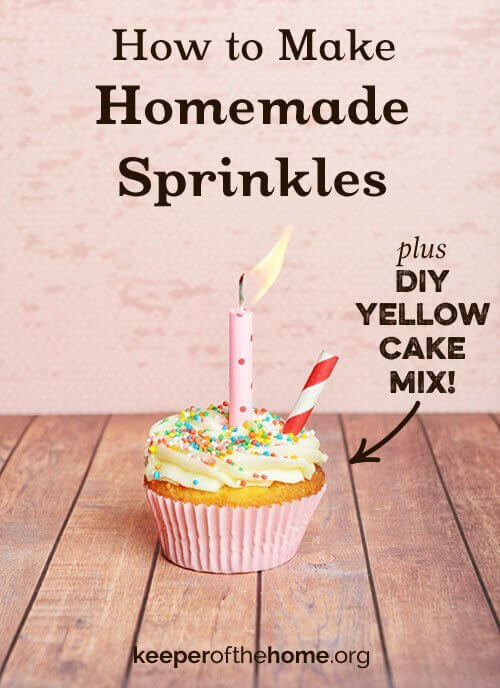 By Kresha Faber, Contributing Writer
While I was writing my book, The DIY Pantry
, it was essential to me that the book include the staples that people actually USE regularly in their kitchens.
A few things were obvious, like taco seasoning and ketchup, but of all the vast array of foods we eat, what's actually essential? And perhaps more importantly, what are the items people really want to skip at the store yet still want to have available as they cook?
So I asked my readers for a few suggestions, and to my surprise, homemade sprinkles showed up more than once on the wish list for items to be able to make at home. Actually, it shouldn't have been a surprise to me, since homemade food coloring has been one of the top-trafficked posts on my site for two years running, but homemade sprinkles made the list nonetheless.
Thus, today I'm excited to share the recipe for homemade sprinkles here. They're easy, they're definitely fun, and they add a certain je ne sais quoi to cakes, cupcakes, and other festive foods.
If you're wanting to pair these homemade sprinkles with yummy cupcakes, skip the highly-processed boxed versions of cake mixes and get the recipe for a super-easy homemade cake mix here: DIY Yellow Cake Mix.
And since I mentioned taco seasoning and ketchup earlier, here are three other DIY articles not to be missed:
Happy festive party prepping!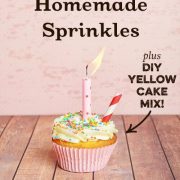 Print Recipe
Homemade Sprinkles
Ingredients
1/2

cup

powdered sugar

1/2

cup

cornstarch or arrowroot powder

1

teaspoon

extract

almond, peppermint, vanilla, cherry, etc - optional

Natural colorants

see how to make homemade food coloring

1-2

tablespoons

vodka or water
Instructions
Place the powdered sugar and cornstarch into a sifter and sift 2-3 times into a medium-size bowl to make it fluffy and to remove every single clump.

If you're wanting multiple colors, divide the powder into equal portions in small bowls according to the number of colors you want. Add a few drops of extract to each, if desired; then add the colorant and vodka a few drops at a time until the mixture becomes a very thick, smooth paste. Have a large piece of waxed paper, parchment paper, or a silicone baking mat at the ready.

Spoon the paste into a piping bag with a very fine, single round tip or into a sandwich baggie. Cut a tiny corner off of the sandwich bag after the paste is inside, if using.

Pipe the paste into long, thin lines down the length of your prepared sheet. Set aside and let dry until the insides are completely dry - the line will snap when you break it, about 24 hours. If you are in a hurry, you can place them in a food dehydrator on the very lowest or "fan only" setting for 4-6 hours.

Break the lines into the desired size and store in an airtight container for 3-6 months.
Notes
Don't worry about the vodka in this recipe, even if you're making the sprinkles for kids. The alcohol evaporates off completely, and using vodka instead of water speeds up the drying process. You may certainly use water if you prefer, but be sure to give it at least the prescribed 24 hours to dry fully.Also, you may certainly increase the ratio of powdered sugar to starch if you prefer sweeter sprinkles.
What kind of kinds of party food do you love to make from scratch?
Disclosure: This post contains affiliate links. When you buy through our links, we earn a small commission, which helps to keep this site going so that we can continue to offer free and useful content, so thanks!