Once A Month Meals Giveaway: Win a 1-Year Pro Membership Subscription to Simplify Your Meal Times!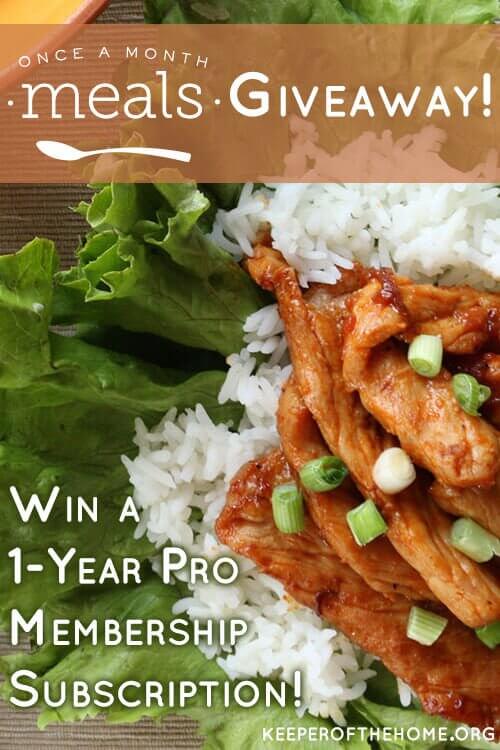 Want to fill your freezer and free your schedule? Then you'll love today's giveaway from one of my favorite online resources, Once A Month Meals!
Once-a-month cooking is a wonderful way to keep your freezer stocked with ready-to-eat meals. All you have to do is pull them from the freezer, heat them up and you've got a nourishing, home-cooked meal on the table for your family.
The problem, however, lies in being able to find recipes that convert to freezer cooking, making grocery lists, and figuring out when you're going to actually be able to make all those meals. Who has time for any of that?
This is where Once A Month Meals comes in. It's a convenient, tried-and-true service that offers delicious recipes, detailed instructions, and thorough grocery lists, to help you stock your freezer full of nutritious meals.

Actually, with baby #5 arriving very shortly, this is on my to-do list. Each time I prepare to have a new baby in the house, I try to fill my freezer with as many nourishing meals or meal components as possible so that we still eat well during those bleary, sleep-deprived early days and weeks.
In fact, freezer cooking is helpful any time you're going through a busy season OR for the mom who wants to find a way to remove some of the stress from what can be a really hectic time of day.
Meal planning in and of itself is a huge help for reducing late afternoon and dinnertime chaos, but having full meals already prepared and in the freezer takes it even a step further
What makes Once a Month Meals particularly helpful in these situations is that it removes so much of the prep work involved. For me personally, one of the most challenging aspects of freezer cooking has always been the planning.
Finding freezer-friendly recipes, creating these huge grocery shopping lists, figuring out how to structure my day so that I can get the work done as quickly as possible… it's a whole lot of hard work.
BUT, with their meal subscription, it's all given to you, ready to go. You simply choose which type of menu you want to make (more on this in a minute), buy what's on the pre-made grocery lists, and then follow their instructions for making your cooking day a success.
That sort of help is exactly what I need to actually make freezer cooking a reality. You can see what it includes and how it will streamline your process here.
Got a special diet? They've got you covered!
One of the things that I love best is how many different types of menus there are to choose from, such as a whole foods menu, gluten-free/dairy-free menu, Paleo menu, and more.
Nearly every kind of culinary preference or special diet is covered- and I know what a big deal that is, as we have so many readers with families on restrictive diets, dealing with food allergies or intolerances, or simply wanting to eat really wholesome, real foods.
And, if you decide you want to customize your monthly menu, you can also swap out recipes from other plans and all of the instructions and grocery lists will be automatically updated. You can see how it all works here.
I absolutely love this service!
It's wonderful knowing that when 5 o'clock comes and I haven't had a chance to even think about supper, I can just pull a meal I made earlier in the month from the freezer and not have to resort to take-out or convenience foods!
Today we're giving away a 1-year pro subscription to Once A Month Meals. Enter your details in the form below to enter!