Organization in the Real Food Kitchen: Favorite Recipes Lists
My poor hubby. He really dislikes piles, and yet he married a gal who's just a little bit "out of sight, out of mind". Thus, I'm a piler.
All through the Christmas holidays, there was one particular pile that continued to be moved around from table to table, dresser to desk, and back to the table again. I am thrilled to announce, though, that the pile is soon to be completely gone as I am nearly done my recent recipe overhaul!
My recipe organization has been a two part process. Yesterday I hinted about one aspect of it that I will share today, which is my favorite meal lists.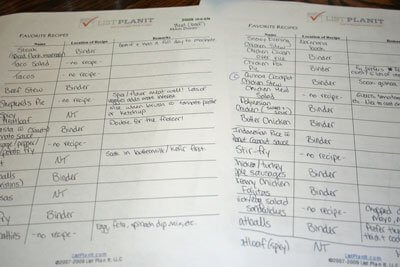 Using my lovely ListPlanIt lists (did I mention I love these lists and that there just might be another giveaway coming up soon?), here is what I've done. These are my Beef and Chicken Recipe lists. I know you can't see it really well in this picture, but the left hand column lists the recipe name, the middle column tells me where to find that recipe (my recipe binder, the name of a specific cookbook, or if there isn't really a recipe, rebellious cook that I am), and the right column is for any notes about that particular recipe (variations on it, things to serve it with, whether hubby really loves it, etc.).
The beauty of these lists is that when I need to come up with a recipe including chicken, I don't need to rack my brains to try to remember which chicken recipes I have and like. One quick glance at my handy dandy Chicken page and I can find a recipe that suits my needs, and I know exactly where to find that recipe as well.
Here's another example: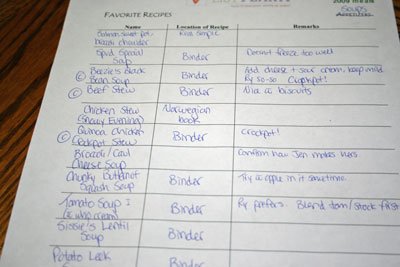 My Soups and Stews list shows off another fun feature I added in. The "C" that is circled to the left of my recipe names denotes a recipe that is crockpot friendly! I've even thought of adding another page of purely crockpot recipes, which would be such a nice reference for my meal planning when I have days coming up that I know will be busy and could use the ease of a ready-made meal at 5:00pm.
So far, here are the lists that I've made for myself:
Main Dishes- Beef (I also use these with moose meat)
Main Dishes- Chicken (turkey, too)
Soups and Stews
Veggie Side Dishes
Salads (both meals and sides)
Condiments/Dressings/Seasonings
Desserts/Treats
Breads and Baking
still plan to add a Candida/Maker's Diet list, to make it easier each time we do a diet like this
also planning to add a "Good Meals for Guests" list
Want to Make Your Own Favorite Recipe Lists?
Though it can be a little bit time consuming, the process is fairly simple (and time consuming or not, you will not regret that you did it!). Here's how I did mine:
I dumped all the recipe cards out of my recipe binder. Threw out the ones we don't like and never use. Re-sorted all the ones that are actually healthy and tasty into organized piles according to type of recipe.
Used these recipes and my previous list of favorite recipes (which I made about 1 1/2 years ago) to start compiling my lists.
Asked hubby many times along the way, "Do you like this recipe? Which do you like better? What are your favorite ___ recipes?" (Because a well-fed man is a happy man!)
Carefully printed up my lists, making helpful notes to myself along the way
For those who haven't done this before, you will need to do a bit of extra work to get these to completion. If you've never made a list of your favorite recipes before, then you will need to spend some time going through your beloved cookbooks and any recipe binders/card holders that you use, so that you can make a list of everything you love and where to find it.
This was my 3rd time creating lists like these (over the course of about 5 years). Every time it gets easier and faster. The only reason it sat around a lot this Christmas season was because I was struggling to find the time to actually sit down and finish it up in the midst of our activities, and because I wanted it done in a neater and more organized fashion than it had been before.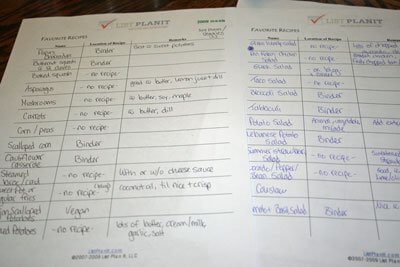 Once you've made your lists, there are two options for using them. One is to actually put them in your recipe binder and add tabs onto them, making them into binder dividers for the different sections of your binder (if you even use a recipe binder like I do at all, which I'll show later this week).
The other option is to include them under the Meal Planning section of a homemaking binder. Yesterday I re-worked my homemaking binder because I wasn't using it the way that I had previously set it up. Now it is going to function as my Monthly/Weekly/Daily planner, as well as hold my Meal Planning pages, my Blog pages (future blog posts, to-do's, advertising management, etc.), as well as some other household management areas. I'll get to the homemaking binder in a few more weeks, though I will let you know throughout this organization series whenever I do something that is being added to the binder.
I love having these favorite recipe lists with my Meal Planning pages in my homemaking binder, but I'm thinking they would be right at home and very useful in my recipe binder as well, so I think I'm going to photocopy them and then I'll have them for both purposes. Only thing about that method is that if I update one with a new recipe, I need to update the other!
More to come on making your recipes organized and stress-less later this week!
Do you have a special system of organizing your recipes? How do you keep track of your tried-and-true favorites?