Healthy Holiday Eats and Sweets Carnival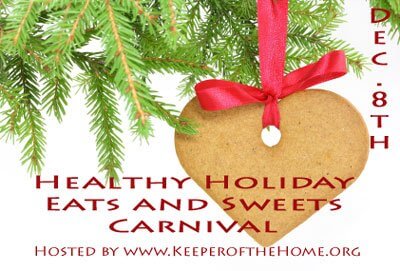 It's time to share all of our favorite, tried-and-true recipes! You know, the ones that you can't really imagine not having at your holiday table and that just taste like Christmas to you. Traditions are such an important part of how we celebrate holidays, and traditions involve all of the senses- including our smell and taste. Establishing food traditions, alongside our other relationally and spiritually significant traditions, helps to ingrain both the special times spent with loved ones as well as the rich meaning of those holidays deeper into our hearts and minds.
So what's unique about this collection of holiday recipes? They're made with real, whole, nourishing foods. They nourish the body as well as the soul. The allow us to keep a focus on good nutrition, without compromising on ingredients we wouldn't normally eat, while still enjoying the extra-special feast foods that set holiday meals and gatherings apart from everyday life.
Have you got a recipe to share?
1) Post your whole foods holiday recipe (ie. real fats like butter, coconut oil, tallow or olive oil, wholesome sweeteners, whole grains, fresh fruits and veggies, etc.) on your blog. Recipes can be absolutely ANYTHING that you like to eat or drink during the holiday season: cookies, vegetables side dishes, how to cook the perfect turkey, homemade food gifts, breakfast favorites, beverages, etc. They don't have to be new either, but it's perfectly fine to pull up your previously posted recipes that fit the bill.
2) Leave a comment below with a link to the recipe that you'd like to share (and yes, you can leave multiple recipes!) and the name of the recipe. I will go through the comments throughout the day and will add your recipe link to the carnival page. I will be adding each of the links manually (so note that it might be a couple hours before your link is added to the carnival), to ensure that there are no problems with Mr. Linky, as well as to give each blogger a legitimate link that contributes to their google ranking.
3) Please make sure that you link back to the Healthy Holiday Eats and Sweet Carnival (this post) in each of the recipe posts that you are contributing.
4) If you don't have a blog, please share your recipes or recipe links in the comments section! We'd love to hear from everyone!
And now, let the recipe fun begin!
Beverages
Incredibly Yummy Homemade Egg Nog @ Keeper of the Home
Hot Buttered Cranberry Apple Cider @ New Nostalgia
Sparkling Pomegranate Drink @ Hallee the Homemaker
Spiced Kombucha @ Cracking An Egg With One Hand
Sweet Treats
Janet's Cheesecake (my MIL's amazing recipe) @ Keeper of the Home
Rich Carob Balls and "Sugar" Cookies (using honey) @ Keeper of the Home
Scrumptious Gingerbread Cake @ Keeper of the Home
Praline Pumpkin Pie @ Healthy 'n' Happy Home
Healthy Chocolate Chip Cookies @ What's Cooking?
Peanut Butter Chocolate Chip Cookies @ Creative 2X Mom
Tree Trim Cranberry Trail Mix @ New Nostalgia
Sugar Free Peppermint Bark @ Organic & Thrifty
Almond Date Hearts @ Organic & Thrifty
Marvelous Maple Muffins @ Hallee the Homemaker
Sugar Free Chocolate and Peanut Butter Fruit Dip @ Inspired Homemaking
Gluten-Free Pumpkin Bread @ Modern Alternative Mama
Dairy Free Ice Cream @ Modern Alternative Mama
Honey-Sweetened Apple Pie with Spelt Crust @ Nourished Days
Coconut Flour Orange Cake with Coconut Oil Frosting (GFCF) @ Nourished Days
100% Whole Wheat Chocolate Chip Cookies @ Kitchen Stewardship
Gluten-Free Friendship Bars @ Green Acres
Healthy Pumpkin Pie @ Passionate Homemaking
Cinnamon Oranges @ Joy Comes From Within
Chocolate Chocolate Chip Muffins @ Heavenly Homesteading
Healthy Pumpkin Muffins @ Kitchen Stewardship
Savory Snacks and Appies
Cheesy Spinach and Artichoke Dip @ Inspired Homemaking
Breakfast Recipes
German Pancake @ What's Cooking?
Breakfast Bread @ Nalaville Chronicles
Blender Gingerbread Pancakes @ Passionate Homemaking
Christmas Dinner- Main and Side Dishes
Chunky Butternut Squash Soup @ Keeper of the Home
Marinated Cucumbers and Onions @ Creative 2X Mom
Apple Cranberry Sauce @ Creative 2X Mom
Gluten-Free Ravioli @ Organic & Thrifty
White Bean and Ham Soup @ Inspired Homemaking
Turkey, Stuffing, Mashed Potatoes, Cranberry Sauce and Gravy (gluten/casein free) @ Modern Alternative Mama
Baked or Mashed Sweet Potatoes @ Our House in the Middle of Our Street
Roasted Butternut Squash and Garlic Lasagna shared by Kelly
Sweet Potato Maple Cups @ Joy Comes From Within
Homemade Edible Gifts