Healthy Holiday Recipes: Incredibly Yummy Homemade Egg Nog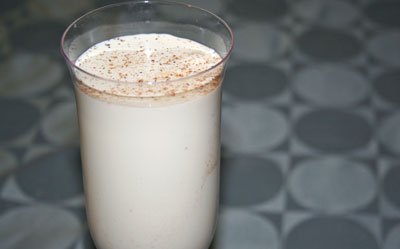 Living somewhere foreign is an excellent way to challenge yourself to make more foods from scratch. While living in Japan, I missed North American food so very much (though I definitely like Japanese food as well). At times, I went to great lengths to make something that tasted like home.
Like the time I made my own wheat-free lasagna noodles because I was 10 weeks pregnant and craving lasagna like nobody's business. Or my attempt to re-create a Thanksgiving "turkey" by covering up a mound of stuffing with slices of chicken breast, then wrapping with foil and baking (the answer is a resounding NO, it didn't work, but at least I thought it was a valiant effort to make up for the unavailability of whole chickens/turkeys for roasting).
My most successful recreation attempt, however, was for that undeniably delicious and oh-so-Christmas-sy of drinks, egg nog. My husband hasn't stopped talking about it in nearly 6 years, so I guess it must have made an impression! We wanted to surprise our Japanese friends, so we threw a Christmas party in our itsy bitsy apartment and made them goodies like chocolate dipped shortbread cookies, apple cider, and the belle of the ball, egg nog. Here's the recipe: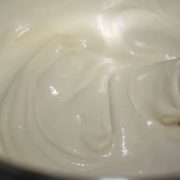 Print Recipe
Homemade Egg Nog Recipe
*Inspired by the Egg Nog recipe in the Better Homes and Gardens Cookbook*
Ingredients
6

beaten egg yolks

free range is best

2 1/4

cups

whole milk

raw, if available

1/3

cup

unrefined sugar

like Rapadura or Sucanat (I bet Coconut/Palm sugar would also work, though I haven't tried it)

1

tsp

vanilla

1

cup

whipping cream

avoid ultra-pasteurized

2

Tbsp

unrefined sugar

or 1 Tbsp honey, or a few drops or maybe 1/2 packet of Stevia (just enough to add a touch of sweetness)

Ground nutmeg
Instructions
(Note: You may want to begin the recipe the day before you want the egg nog- it's an easy recipe, but does need time to chill properly)
In a medium pot, mix the egg yolks, milk and the 1/3 cup sugar. Cook and stir over medium heat until mixture just coats a metal spoon (see photo). Remove from heat. Place pot in a sink or bowl of ice water and stir for 2 minutes to cool mixture off a little. Stir in vanilla. Cover and chill for 4-24 hours.

When you're ready to serve: Beat the whipping cream and 2 Tbsp of sugar (or sugar alternative) until soft peaks form.

Transfer the chilled egg/milk/sugar mixture to a punch bowl. Fold in the whipped cream. Serve immediately. Sprinkle each serving with nutmeg. If you find it a little too thick or too sweet, simply stir in a bit of milk to thin it out.
Notes
Makes about 10 small (4 oz) serving, or 5-6 larger servings.
You'll never want to go back to the store bought variety again, and with lots of nourishing ingredients like eggs and raw milk, egg nog can actually be a legitimate once-in-a-while treat! Wondering about the whole issue of too many fats? See why my family liberally eats of good, whole fat foods, and yes, even saturated fats.