Living Simply Saturday: The "A Mother's Work is Never Done" Edition
** I apologize for yet another departure from the book I'm working through, but since leaving our house in such a hurry, I completely forgot to bring it with me. I'm going to diverge for two weeks, until I'm home again, then I'll continue on with where I was at!**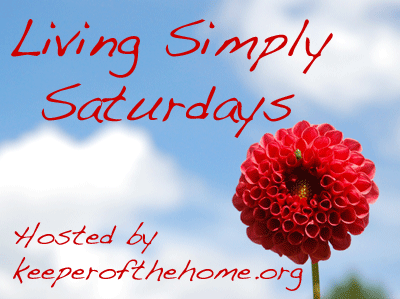 I think that being a mother and homemaker must be one of the most constant, full-time careers out there. Fortunately for us, it also happens to be one of the sweetest and most rewarding!
I'm willing to bet, though, that most of us have times when we just wish that we could take an actual "vacation" day. A true day off. No cooking, no cleaning, no bath giving or diaper changing. Not that we don't love the work that we do, but everyone just wishes for at least a small break from the everyday sometimes.
Hungry tummies always need to be fed, though, and the dishes don't stop either. Dirty laundry happens and sometimes needs to be dealt with quickly to prevent stains. Babies need to be nursed, changed, dressed and rocked. And if you are anything like me, you find it difficult to stop and rest in your own home, because it is also your place of work and you see it through the eyes of one who is constantly seeking to keep it tidy, homey and well cared for.
In keeping with the theme of this Living Simply carnival, focusing on what makes our lives simpler (and thus frees us up for what is most meaningful), I wondered if it might serve all of us to share some of the techniques, tips and tricks that we use to bring the work to more of a minimum at certain times, such as weekends.
It's important to find times when we are able to rest and refresh ourselves for the upcoming week and all that it will hold. To be able to spend enjoyable and meaningful times with our families, rather than worrying about everything that is left undone or yet to be crossed off of our to-do list. To take Sundays as a true Sabbath, a day of rest, where we can focus on worship, hearing the Word, and having fellowship with other believers.
Next week (see, don't worry- I'm giving you a whole week to think about it!), I would love to hear your ideas:
** How do you keep the weekends (or whatever your family days are) simple? Restful? Worshipful?
** What techniques do you employ to keep your kitchen or other housework minimal?
** What ways do you pre-plan or prepare during the week, so that your load is lighter?
** Anything else you'd like to share with us along this topic!
Anyone else interested in sharing ideas for keeping our weekends more simple and restful? Has this been an area of struggle for you? Will you join us for the carnival next week? 🙂 I can't wait to hear your wonderful ideas!