Simple DIY Hand Sanitizer
By Leigh Ann Dutton, Contributing Writer
I'm not a germaphobe. I think dirt is good, and I like to keep beneficial bacteria around. I believe these things strengthen the immune system, which is especially helpful as we come upon cold and flu season yet again.
Needless to say, I'm not running around wiping everything clean 24/7, rubbing hand sanitizer on my children's hands at the drop of a hat, or refusing to enter the public domain for the next six months. We can't avoid every sickness. When we do succumb to the flu bug, you better believe I'm ready to fight.
However, I like to do what I can to avoid sickness whenever I can, especially when I'm out and about and not home near my natural medicine cabinet.
We're currently on a month long road trip with our 3-year-old and 1-year-old. Before setting out, I knew I needed to be prepared because we would be traveling all over the country during the start of the cold and flu season. We would be exposed to germs our bodies aren't used to dealing with as we travel thousands of miles away from our hometown. Not to mention, the inevitable stress of traveling and the occasional loss of sleep lowers our defenses, which makes us more susceptible to sickness.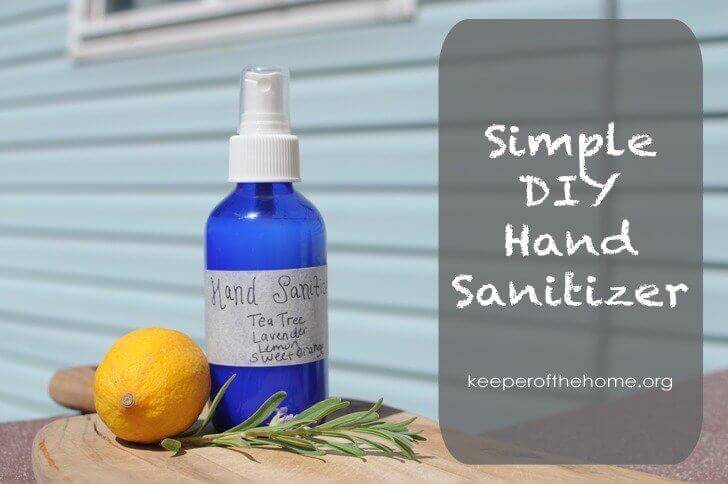 "Since starting our journey into natural living, almost everything I need can be made at home."
Therefore, I've concocted my own hand sanitizer to take on the road with us. I like the fact that it is completely natural and doesn't contain harsh alcohols or synthetic ingredients. Plus, I hate the smell of commercial hand sanitizers, not to mention the ingredients.
If you need something you can use when you're out and about, this DIY hand sanitizer should do the trick. The smell of this simple hand sanitizer isn't overwhelming like commercial brands. In addition, we have found this hand sanitizer to leave our hands feeling refreshed, not dried out and cracked like commercial sanitizers do.

DIY Hand Sanitizer
Ingredients
Method
Start by pouring your essential oils into your glass bottle.
A note about bottles: You want to use glass bottles when using essential oils. The essential oils will eat away at a plastic bottle rendering this formula useless. Glass bottles are easy to find at a local health food store or online.
When mixing essential oils for a spray, the rule of thumb is to add 10-15 drops of essential oil per ounce of liquid.
I added 20 drops of tea tree oil, 10 drops of lavender, and 5 drops each of lemon and sweet orange oil.
Gently swirl the oils together in your glass spray bottle. Then, fill the remainder of your bottle with witch hazel and aloe vera.
I used a witch hazel and aloe vera formula I got from our local health store. If you're using them separately, then just fill your bottle 2/3 with witch hazel and the remaining 1/3 with aloe vera.
Put the lid on your bottle and give the mixture a good shake.
If you have Vitamin E oil, then add a few drops to your mixture as well. This is not necessary, but it will extend the shelf life of your hand sanitizer as well as add additional healing properties to your spray.
Label your spray bottle and use your DIY hand sanitizer when you're out and about during the cold and flu season.
Do you use hand sanitizer? What are your favorite essential oils to ward off bad germs?
Disclosure: This post contains affiliate links. When you buy through our links, we earn a small commission, which helps to keep this site going so that we can continue to offer free and useful content, so thanks!