A Day in the Life: Natalie (Our First Day of School…With Nine Kids)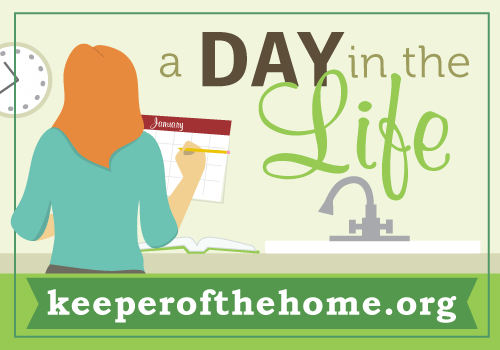 Written by Natalie Klejwa, Contributing Writer
Here we are, minus the baby, gathered around the table for lunch. Praying. It's something I do a lot. I need to. I've got nine kids. I started my 15th year of homeschooling on September 4th, and this is the day I've chosen to share with the KOTH readers this month.
The Perfect Plan
So for starters, here's my hopeful PLAN for our school day:
6:00 Wake up, exercise, Bible study and prayer, shower and dress.
7:00 Fill orders for shipment for our online business. Make breakfast.
8:00 Get kids up, feed them breakfast, clean up, get kids ready for the day.
9:00 School starts
11:00 Make lunch. Eat lunch. Clean up.
12:00 More school.
1:00 Littles go down for nap. Older kids finish studies and work on projects. I work on our home business and/or writing.
4:00 Make dinner
5:00 Eat dinner/clean up/family worship
6:00 Everyone works on projects/plays/etc.
8:30 Get kids ready for bed
9:00 Read to kids
9:30 Get myself ready for bed, read in bed.
10:00 SLEEP!!!
School in a tutu is more fun
Our Reality Show
A good day starts the night before, so I try to get to bed by 10:00, before my second wind hits. I successfully managed to get to bed at the appointed hour and dutifully set my alarm for 6:00. The two year old must have been messing with it again, because it never went off. I woke up at 6:50. Well, that's not entirely true. I FIRST woke up at 3:30 to my other alarm. His name is David, and he's 6 months old.
It's all good though, because I didn't need to shower. Today is perfume day. Got ready for the day…made sure to put on some make up and dangling earrings because they put me in a good mood, grabbed my coffee, and headed downstairs to throw in a load of laundry and pray. I passed my 18 year old son, Sam, who was already up reading his Bible. He works full time at his own business now that he graduated from both high school and college. We're hoping he'll buy us a home in Beverly Hills next year.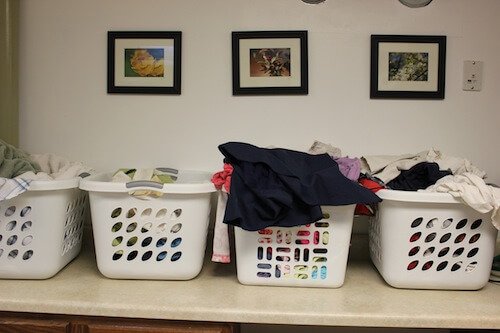 I like to walk and pray out loud…and I'm kind of shy about it, so I have to hide out in the basement. At 7:25 Sam came down to let me know David was awake. I finished praying while nursing. Went to make hard boiled eggs and toast for breakfast. Only 8 eggs available. Guess we'll just have toast. I finished my time alone by continuing my study in the book of Revelation using an exposition written by David Chilton. (I'm finally "getting" it!)
I share something cool I just read with Sam, and we enjoy a good conversation. A child gets out of bed "early"…and I send her back upstairs to wait until "wake up time." This quiet time ends all too soon, and it's time to get the kids up. They all tumble out of bed, pull their covers up, and get dressed before trooping down the stairs for…toast.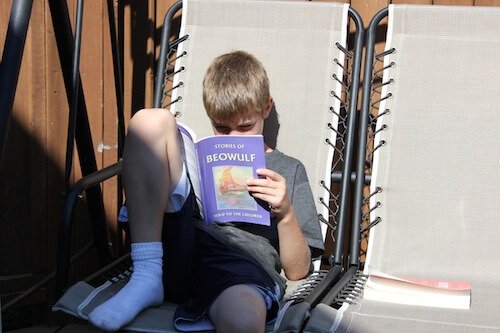 While the kids are getting their breakfast and having their own quiet times, I answer a couple of business e-mails and get the day's packages ready to ship. At 8:45 I read a portion of Leif the Lucky and The Vikings to the 9, 7, and 4 year olds. The baby is in his exersaucer, and the 2 year old "sort of" listens too.
At 9:00 I do math drills with the 9 year old. Two minutes into the process, she has her first melt down of the day and gets sent downstairs. I do math drills with the 7 year old instead. At 9:25 the baby goes down for a nap, and I do math drills with the 9 year old who is now more cooperative. Then I do reading, spelling, and writing with the 7 year old…and then do it all over again with the 9 year old. Are we having fun yet?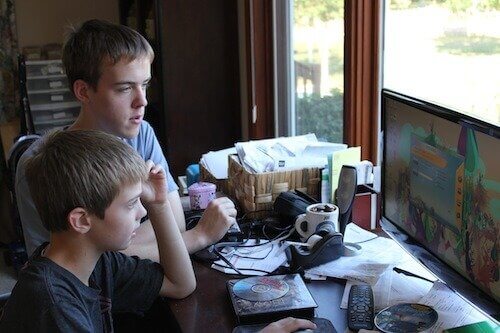 At 10:50 I answer a couple of e-mails…trying to sell some stuff on Craig's List. Not having much luck. (Junk, anyone?) Filled another order that came in. Baby wakes up...feed and change him. Make lunch.
By noon we are all cleaned up, and Sam takes the little ones out to the back yard for phy-ed. His job is to run them ragged for 30 minutes so they will take a nice, long nap. While they are occupied outside, I do spelling with the 10, 12 and 16 year old, and then I do our read-alouds with the 10 and 12 year old.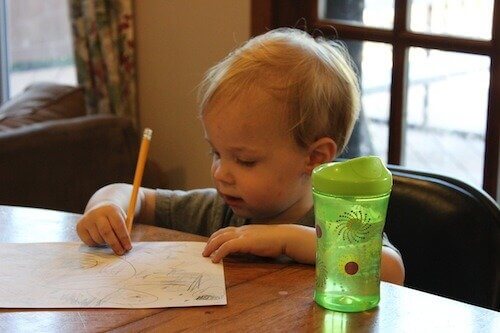 At 12:30 the littles come dragging into the house, sweaty and red-faced. They get drinks of water, and we go upstairs, crawl into  bunk beds, and read. We're reading through Adam of the Road and Gods Care and Continuation of His Church. The 2 and 4 year old stay in bed for naps, the 7 and 9 year old get free time, and I do writing and grammar with the 10 and 12 year old.
By 1:35 we are done with school, the baby goes down for his nap, and I'm free to work on our soap business. Today I am finishing up some research to help me formulate a brand new recipe for a conditioning bar. I get my recipe completed, pour the lye so it can sit and cool off for several hours, and cut two loaves of shampoo bars that were poured the day before.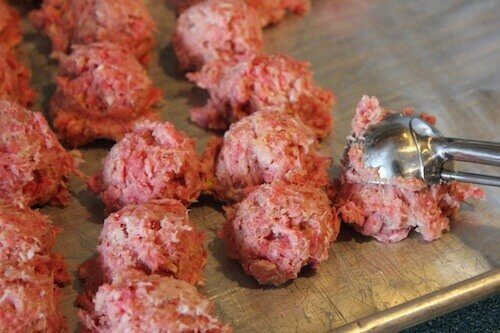 At 3:00 I get some potatoes ready for baking. These were grown with Goliath in mind, and they take for. e. ver. to bake. Baby's up again, so I feed him and then get the meatballs ready for dinner while he watches. After cleaning up the kitchen, I answer more e-mails and plan out the rest of the week's responsibilities regarding my blog and our business.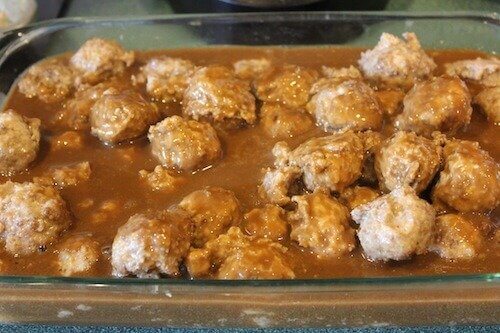 Dinner's on at 5:00. We eat, enjoy a loud discussion rotund with opinions, work on our memory verse, sing Amazing Grace amidst insane silliness, and pray for God's mercy on our crazy family. After dinner chores are completed, Joe makes chocolate malts. Huge Bummer. They taste horrible. We figure out it is the generic chocolate syrup from Walmart and throw our malts down the drain. Good thing there are still some Popsicles left.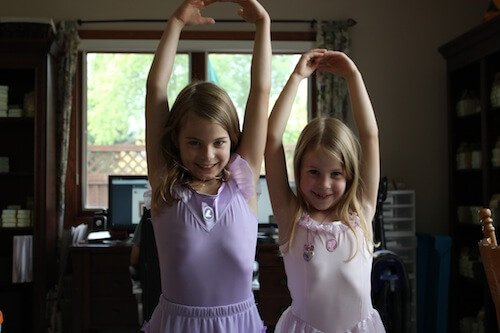 At 6:30 I feed the baby and watch the 4, 7 and 9  year old do a ballerina show. Time to finish up that batch of new conditioner bars, so while the kids go on a bike ride with Dad, I make my soap, clean up the kitchen (does the kitchen cleaning never end?), and get ready for bed myself. I'm not feeling well.
8:00 the kids come home, have a snack and get ready for bed. I read to them, tuck them in…and then crash. I've got a fever of 100!
So there you have it. The first day of school went pretty smoothly. The second day of school?
We won't go there.