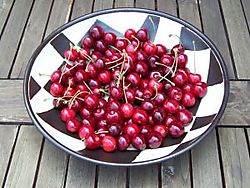 For those who have read of my struggle with eating well these days, you may also remember that I mentioned doing a bit of a cleanse/sugar fast with my family when our students leave. Well, they're leaving next Monday, so it's time to start gearing up to do just that!

Why are we doing this?
For the past 6 weeks we've  had ESL homestay students with us. Though we enjoy having our students for the most part, these particular two sets of students we've taken have been the most challenging we've ever had, food-wise. They particularly have not liked Canadian food, and have made somewhat of a fuss about it.
Actually, to say they don't like Canadian food isn't entirely accurate. They don't like my bean soups or salmon skewer's or green salads, etc. They dislike all that I make that is good and nourishing, and the only Western food they want to eat is packaged, sugary and chemical-laden. With the first set of students, I tried to fight through it a bit, doing mostly my regular fare, just toned down a bit, and buying a few junkier things for their lunches to make them happy.
With this current set of younger girls, every dinner became a nightmare, and so I have resorted to having an unhappy amount of junk in my home, serving Korean or Asian styled foods more often (sometimes this is fine, other times it is not), and just overall compromising quite a bit. Yes, I suppose I could have put up more of a fight, encouraged them to try more Canadian food, etc. but I am weary from fighting about food all summer long and quite frankly, I just wanted everyone to eat and leave the issue alone.
Needless to say, my family has been consuming much food that I would not normally allow anywhere near us, including far too much sugar, and we have not been able to properly eat our usual diet full of vegetables and alternative grains and many varied nutrients. I feel that a strict diet will help to combat any rising Candida (as we've been feeding it through our unfortunate choices), and just to help repair and strengthen our bodies again (I've been feeling on the verge of sickness this last week, my daughter has complained of an owie tummy, etc.).
The Plan
We will do a 3 week special diet, due to the fact that we only have a 3 1/2 week window between our students and our trip to Arizona. Though we will be buying and cooking as much of our own food as possible on that trip, I know that we will naturally eat out a fair bit as well. Continuing on with the diet during that time won't be feasible or pleasant to attempt, so we will probably go back on this diet again briefly when we return.
Week 1
The Maker's Diet– Phase 1, but with one moderation. We will continue to use cow's dairy (rather than only goat's and sheep's dairy, as is recommended). I can't just turn off my cow share for a week, and my husband really dislikes anything else.
Basically, this week will include: free range poultry, grass fed meats, free range eggs (except for me), most fish (we don't eat shellfish ever), raw dairy products, most vegetables (minus potatoes and corn), lentils, almonds and seeds, simple and natural spices and seasonings (sea salt, apple cider vinegar, etc.), berries and citrus (minus oranges), and either water, herbal tea, or fermented beverages (kefir, kombucha, etc.).
Week 2
Maker's Diet- Phase 2. We're going through the diet twice as fast as you normally would. Week 2 allows us to add back in sweet potatoes, yams and corn, a few types of beans and nuts (all soaked), most fruits, some raw honey.
Week 3
Maker's Diet- Phase 3. Lastly, we will return to eating the rest of the beans and legumes, nut butters, dried fruit and the last of the very sweet tropical fruits, and whole grains (if properly soaked or sprouted). As well, we will continue to stay off of wheat for this extra week, as we are all sensitive to it, and will also try our hardest to avoid it even in Arizona.
Although my husband and I will be following this strictly, our children will not be. They will not be allowed to eat anything with sugar or preservatives, coloring, etc. (as unfortunately our daughter has been fed some of these things by our students). They will mostly go along with what we are eating, but will stay on properly prepared grains the entire time, as well as fruits.
As well, because I'm still nursing a few times a day, I cannot be too hard core about this. I will not be taking any supplements to help detox (though my husband will be). If I am getting too hungry or my milk is running low, I will have to beef up what I am eating (hee, hee, no pun intended), and possibly add back in a small amount of sprouted and soaked grains or some nuts, etc. Fortunately, though, it is completely possible to get all of the nutrients and calories I need on this diet, I just need to plan carefully for meals and snacks to do it.
For more info on doing the Maker's Diet, which we have done many times over the past few years, see this post I wrote back in the spring.
What do you do when you've been eating poorly for a season? Do you do something like this, or do you just jump right back into a more regular, healthy diet? Has anyone else used the Maker's Diet, and what did you think of it?