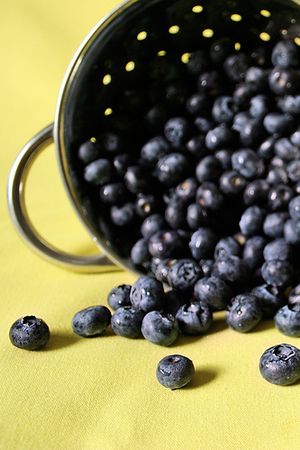 Image by lepiaf.geo
I've been mulling it over since I was asked for this recipe, and realized that I don't have an actual recipe. Just sort of a method and some not-very-accurate measurements. 🙂 But since you asked…
Here goes:
1) Thaw frozen blueberries in the fridge overnight. Probably 3-4 cups of them.
2) In the morning, I put the still partially-frozen berries in a pot, with just a little bit of water, over low-medium heat. I stir them here and there, until they are soft and have some nice juice/syrup in the pot.
3) Next, I add sweetener. It could be honey, or Rapadura or Sucanat. I just add it until they seem sweet enough, and the fact is that some blueberries are just naturally sweeter than others (shucks- you're just gonna have to taste it!). I would guess that it's somewhere between 1/8-1/4 of a cup (less with honey, more with raw sugar). It also just depends on how sweet you like it! I keep the burner on low while I add the sweetener, giving time to bring out the flavors.
4) When it's all nice and juicy and well mixed, I pour it in the blender and whiz it up. Done.
This is a yummy, healthy and frugal (at least, if you have a freezer full of berries!) option for drizzling over pancakes or waffles instead of maple syrup.
If I want something chunkier, to use as a topping along with whipped cream, I will just follow the same basic recipe but I won't blend it. This makes a really nice berry topping, with the mixture of whole berries and sweet juice.
This also works easiliy with other berries, like raspberries, blackberries or even strawberries. I just happen to have a plethora of blueberries right now, which is not a bad problem to have! 🙂

Does anyone else like to make berry syrup for pancakes? Do you have an actual recipe to share with us? 🙂 If not, how do you usually top pancakes or waffles?