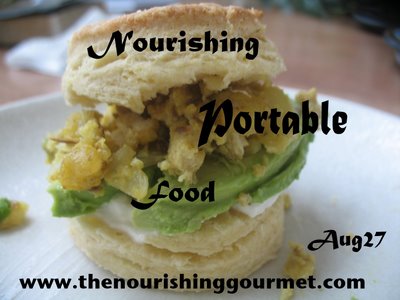 I'm actually so thankful for this carnival, as it comes at a great time for me. I'm really struggling with what to send with my husband for lunch lately.
I think the reason I struggle with making lunches is because it is not consistent. One week he may only need one lunch, the next he might be home for 3 days, and need a lunch 2 days, another week he may be gone all week and be unsure of exactly where he will be each day for lunch (so leftovers may or may not work).
The unknown factors make it a source of frustration for me, and I am sad to say that I have not given it my all to find a solution that works for my husband and I. Many times I have had to toss together a lunch spur of the moment (not always the best, as you can imagine), many days he has had to eat out, and occasionally he has even just skipped lunch and had a few snacks here and there. Not ideal at all.
Since I desire to learn to serve my husband better in this area, it has been a good activity for me to think through the options I have and start to be more purposeful in this area. I haven't had the time these past two weeks to do any experimenting, but I thought I would at least give it some thought and suggest some of the things that we enjoy taking with us for lunches on the go.
Lunch Entrees:
Our favorite sandwich variations– rolled in tortillas, in pita pockets. on buns or biscuits or bagels, and of course, just plain old bread. My husband loves it when we have our favorite nitrate-free sandwich meat, but when we don't, it's any combination of lettuce, sprouts, pickles, cucumber or tomato slices, and definitely always cheese.
Salsa, guac and tortilla chips– not necessarily completely filling, in and of itself, but combined with something else, it's a nice, fresh lunch.
Rice and bean salad– This tangy salad is quite filling, and won't go bad easily in a lunch bag. Other salads that would be nice are Greek salad, this Black Bean and Avocado salad, or Tabbouli.
Homemade meatballs (these just feel like a very portable and easy finger food, but they're yummy and filling)
Samosas (these are tasty little pastry-like pockets that come from Indian cuisine, filled with a rice, veggie and meat filling, and then baked. I love using the Nourishing Traditions recipe and making a huge batch for the freezer!)
Meal salads (usually a garden salad, topped with either diced or sliced meat or chicken, canned salmon, chunks of cheese, or hard boiled eggs, with a small jar of dressing on the side)
Soup or stew in a thermos (we haven't always had a nice thermos, but now that we do, this will be a great option in the winter, and so easy to just make a larger dinner the night before)
Crackers, with meat and cheese slices (sometimes I buy nice nitrate-free deli sausages, and these are really nice in little cracker "sandwiches")
Hummus (with veggie sticks, with pita, with organic tortilla chips)- here's my favorite recipe:
Homemade Hummus Recipe
Ingredients
28

oz.

can chickpeas

or equivalent amount of your own cooked chickpeas

7-8

cloves

garlic

2 1/2

lemons

juiced

1/2

tsp

salt

3

tsp

tahini

sesame seed paste- available in most ethnic food aisle and health food stores
Instructions
Put 1 28 oz. can of chickpeas in a pot and boil until darker, then let cool (since I cook all my own beans, I just make the approximate amount, and overcook them slightly).

Food process or blend the chickpeas, garlic, lemon juice, salt and tahini until smooth. If needed, add small amounts of water to help blend, until you reach a consistency that you like.
This recipe freezes really well, too!
For many more fantastic healthy and portable food ideas, make sure you check out the Nourishing Portable Food Carnival, over at The Nourishing Gourmet!