How to Pit and Freeze Sweet Cherries & 18 Unique Cherry Recipes
By Emily McClements, Contributing Writer
One of our family's most favorite things to do in the summer is to visit local U-pick farms and spend the day enjoying the beauty and bounty of God's creation. We have fun and work together as a family, and we leave with fruit-stained fingers and boxes full of the most delicious fruit to eat and preserve to use throughout the rest of the year.
One of our favorite fruits to pick in the summer is cherries. We prefer sweet cherries but I know other's love tart cherries too, and I've figured out a way to easily pit cherries to get them ready to freeze.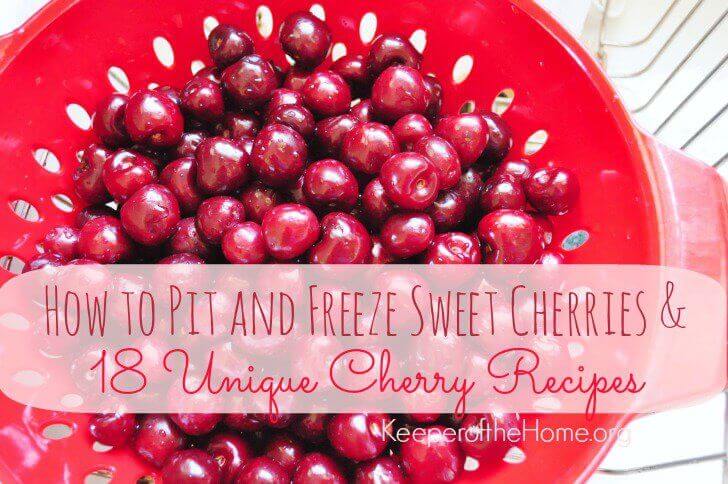 My personal preferred way to preserve our summer fruit harvests is freezing because we have a large freezer to store everything and because I also have a glass top stove that is not the best for canning. We freeze strawberries, blueberries, cherries, peaches, applesauce, and hopefully some raspberries every year. We love to be able to enjoy these summer fruits throughout the year!
How to Freeze Cherries
The hardest part about freezing cherries is pitting them. The farm where we pick cherries offers a pitting machine for tart cherries, but not sweet. I considered investing in a cherry pitter
, but then found this method that works just as well, and it's free!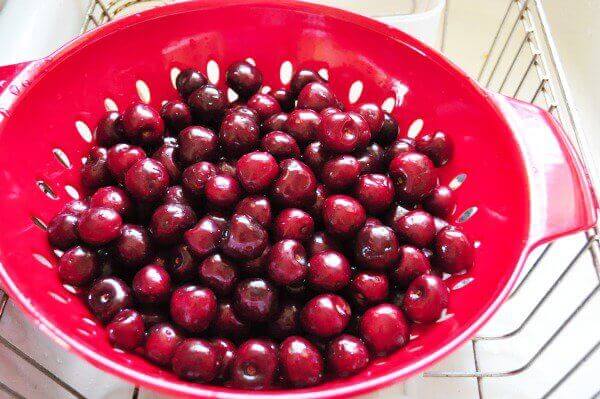 1. Wash the cherries, removing stems and other debris, and place them into a large strainer
.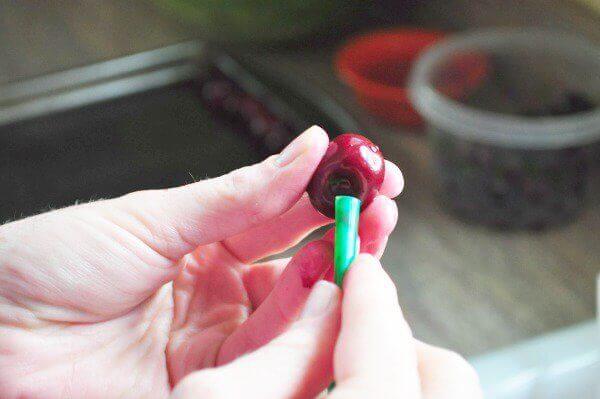 2. Using a firm straw (I've actually found that Starbucks straws work really well for this), place it at the point where the stem was attached and push it through the cherry to remove the pit.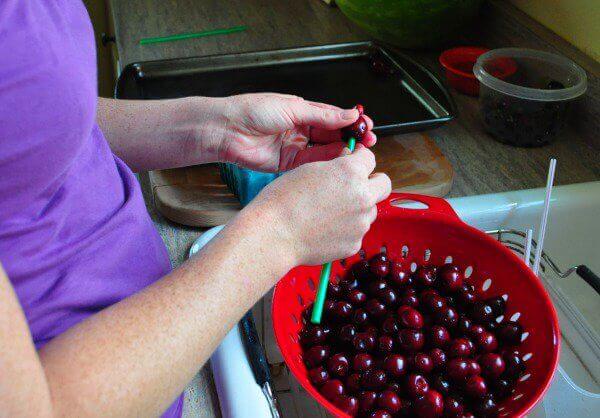 3. Place the cherries in a single layer on cookie sheets and flash freeze them for about an hour.
4. Transfer the cherries from the cookie sheets
to freezer bags for longer term storage.
We try to freeze as many sweet cherries every year as we can. [Tweet "Frozen sweet cherries are the perfect sweet treat for hot afternoons."] As one of my kids' favorite bite-sized treats, they're almost better than popsicles!
We love to enjoy our cherries fresh and frozen throughout the year! They're great as snacks on their own and also used in these delicious and unique recipes! 
18 Unique Cherry Recipes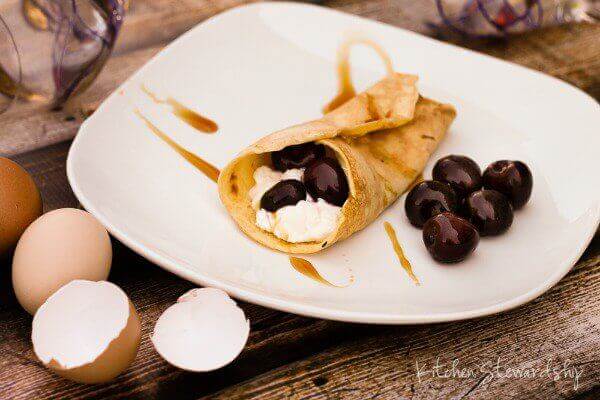 Photo credit: Kitchen Stewardship
Breakfasts or Desserts
Sweet and Simple Cherry Hand Pies from My Humble Kitchen
Cherry Almond Coconut Crepes from Kitchen Stewardship
Cherry Pie Crockpot Oatmeal from Real Food Outlaws
Chocolate Chip Cherry Muffins from Gutsy by Nature
Sweet Cherry Cobbler from Health Starts in the Kitchen
Cherry Pie (Gluten-Free, Egg-Free, Nut-Free) from Raising Generation Nourished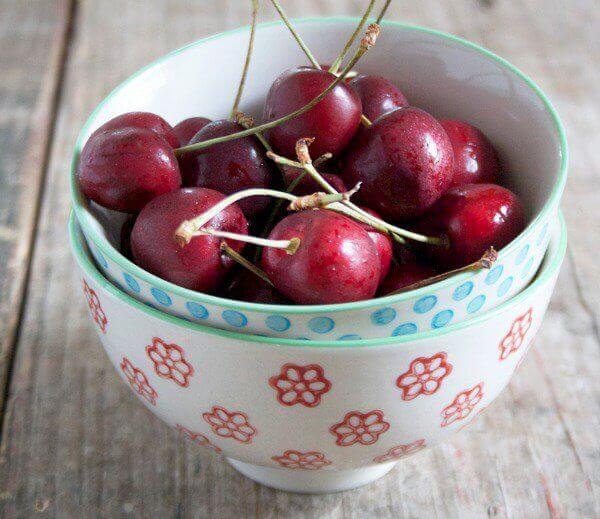 Photo credit: My Humble Kitchen
Delicious Meals
Easy Chicken Salad from Live Renewed
Greens with Cherries and Passion Fruit Vinaigrette from The Organic Kitchen
Roast Pork with Cherry Rhubarb Sauce from Gutsy by Nature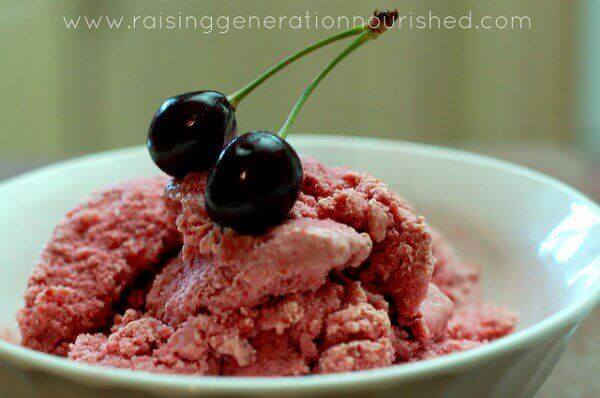 Photo credit: Raising Generation Nourished
Frozen Treats
Cherry Vanilla Sorbet from Raising Generation Nourished
Black Cherry Creme Fraiche Ice Cream from And Here We Are
Salsa and Jam
Cherry Salsa from Fresh Bites Daily
Cherry Berry Rhubarb Salsa from The Greenbacks Gal
Cherry Vanilla Jam from My Humble Kitchen
Raspberry Cherry Conserve from Homespun Seasonal Living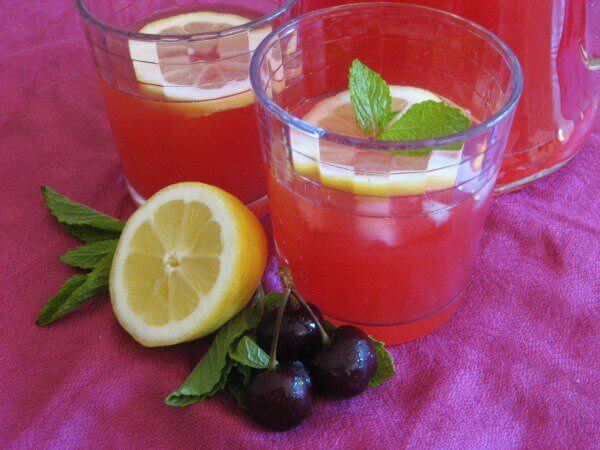 Photo credit: Recipes to Nourish
Drinks
Green Smoothies from Live Renewed
Homemade Cherry Limeade from The Greenbacks Gal
Cherry Mango Water Kefir Smoothie from The Humbled Homemaker
Cherry Mint Lemonade from Recipes to Nourish
What is your family's favorite fruit to pick at U-pick farms? Do you have a favorite way to use cherries, share the recipe with us in the comments!
Disclosure: This post contains affiliate links. When you buy through our links, it helps to support this site, so thanks!