28 Delicious and Healthy Grain-Free Snack Ideas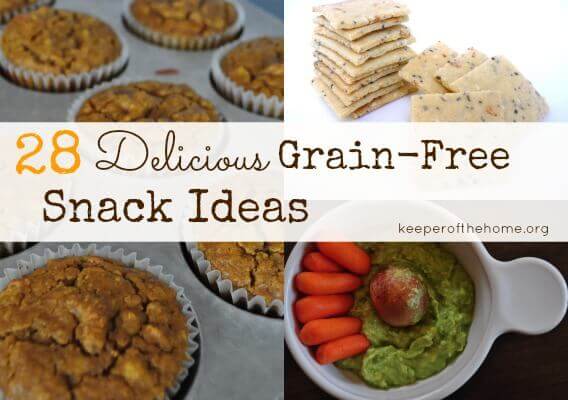 By Emily McClements, Contributing Writer
Grain-Free, paleo, primal and gluten-free diets seem to be everywhere these days. All you have to do is scroll through Pinterest for a while and many of the recipes you're likely to see will boast one of those descriptions.
There are many different reasons your family may be reducing or eliminating grains from your diet, or maybe you're considering going grain-free, but you're not quite sure how to make it work for your family. 
Over the past few months, my family has been moving toward mostly grain-free eating. We're not on any specific diet, or have serious health reasons for cutting out grains. We just knew that we wanted to eat more fruits and vegetables on a daily basis, and we also wanted to see how we would feel eating fewer grains.
We have thought about doing the GAPS diet to deal with some minor issues, but the idea of such a drastic diet change was overwhelming, and difficult for me to wrap my mind around.
So we have been easing into eating grain-free, and we've been really happy with how we feel and how our kids are reacting, and we think we'll lean toward the fewer grains/grain-free wagon for the long haul.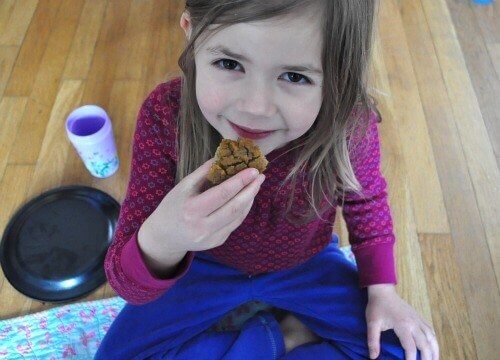 One of the hardest things to think about switching to a grain-free diet is often snacks and lunches. Our family had been eating a lot of PB&J sandwiches for lunch, and crackers, granola bars and similar things for snacks. So coming up with grain free lunch and snack ideas became high on my priority list.
These days, unless we're eating leftovers for lunch, most of our lunches and snacks are interchangeable. I just serve a couple of these together to make up a full lunch. So, I wanted to share some of my favorite healthy, grain-free lunch and snack ideas with you, as well as many more that I would like to try soon!
28 Delicious and Healthy Grain-Free Snack Ideas 
Dips
• Easy Black Bean Hummus – This is my favorite hummus to make, and it doesn't require tahini. It's great with veggies, and I'd love to try it with grain-free crackers.
• Or try this Healthy Homemade Hummus from Creating Naturally.
• Kid-Friendly Avocado Dip – Another one of our favorite dips; my kids actually love to eat this on it's own!
• Cream Cheese Ball or Dip – We haven't had this dip since going grain-free because I usually serve it with crackers; I can't wait to try it with the multi-seed crackers recipe below!
• This Creamy Cucumber Dip from Creating Naturally also looks delicious!

Fruits and Veggies
• Of course, raw fruits and veggies are some of the simplest and easiest snacks. We try to keep lots of fresh produce in our kitchen, and I tell my kids that they can always have a fruit or veggie snack any time they want.
• We haven't made our own kale chips yet, but have had some at a friend's house and they were yummy! This recipe from Learning and Yearning looks simple and easy.
• Apples with cheese or nut butter is a simple and filling snack.
• We definitely miss chips and having nachos when eating grain-free, I love this carrot chip nacho recipe from The Greenbacks Gal!
• Veggie Confetti Spread from The Nourishing Home – Another great one to have with homemade grain-free crackers.
• Bananas with peanut butter and raisins is one of my kids' favorites.
• Healthy Homemade Fruit Snacks from Magnolia and Boothe – My friend served these as a snack at a play date and my kids devoured them. Then she told me how easy they were to make, and now I need to get some gelatin so I can make them myself!
Treats
• These grain-free banana muffins have become a staple at our house. I've tried other grain-free banana muffin recipes, and these are by far our favorites!
• Sometimes you just want to give your kids, and yourself, a sweet chocolaty treat, this healthy chocolate peanut butter fudge from Creating Naturally fits that perfectly!
• Coconut Cookies from Raising the Barrs
• Sesame Honey Bites from Nourishing Treasures
• We're just beginning to use chia seeds at our house and I'm looking forward to trying this chocolate chia pudding from Whole New Mom.
• No Bake Chocolate Coconut Macaroons from Red and Honey
• Magic Coconut Bars from Simply Living Healthy
• It's really hard not to eat the entire batch of these grain-free "cookie dough" bites at one time!
• Homemade Lemon or Lime "Jello" from Whole New Mom
• Cinnamon Walnut Buttons from The Nourishing Home

Other
• My hubs made us some homemade beef jerky when we first began cutting out grains, and it was one of my favorite snacks.
• Grain-free granola is great for breakfast, lunch or as a snack, especially with yogurt and fresh or frozen fruit.
• Hard-boiled eggs are one thing I know my kids will always enjoy.
• Grain-Free Multi-Seed Crackers from The Nourishing Home – Crackers are usually a staple of snack time, but we haven't had them since going grain-free. This recipe looks perfect.
• Sometimes when you're grain-free, you just miss bread. I can't wait to try this Nut-Free Paleo Bread from The Paleo Mom, with some butter and homemade jam.
At first, when we decided to go grain-free, I thought it would be hard to come up with easy and healthy snack ideas, but now that we've been eating mostly grain-free for a few months, I've been surprised that it hasn't been that difficult after all!
What are some of your family's favorite grain-free snack and lunch ideas? Share with us in the comments!